A little show & tell and keeping up with BOM's
One of my favorite things about some of the monthly quilting groups that I belong to is the show & tell time.  I love seeing what everyone is working on, and I'm often inspired to create something based on what has been shared.
Here on my blog, I often share my progress of BOM projects, quilts that I'm working on, and other various projects.  So today, I have a little show & tell for you!
I am a sucker for a good block of the month or sew along, so I have many that I'm participating in – both online and in person.  I'm sewing along with Amanda at The Patchsmith and her Patchsmith Sampler Sew Along.  There are a total of 50 (6″) blocks in this weekly sew along, and we're already up to number 23!  I've missed a few blocks, but here are blocks 19 (Everyway), 20 (Pumpkin), and 22 (Spinning Churn Dash).
Aren't they adorable?  Amanda's instructions are excellent and I love the variety.  Her book, The Patchsmith's Sampler Blocks, is available on Amazon (affiliate link).
I am making smaller versions of the Quilter's Planner Block of the Month blocks.  The instructions are written to finish at 12″ square.  My blocks are both 6″ and 3″ finished.
Yes, I'm making two for each month, and the blocks for July were the hardest yet.  I had to draw them on graph paper at the exact size I wanted (finished) and then measure the size of each flying geese to come up with the correct cutting measurements.  The smaller, 3″ block has flying geese that measure 1/2″ x 1″ finished.  Yikes!  But so gratifying when they are perfectly complete!
In case you're wondering, I'm using Essex linen yarn dyed in black for the background and mostly Alison Glass fabric for the colors.  Each month's block is a different color from the rainbow.  So far, my rainbow looks like this:
The Heartland Heritage block for August is the Sweet Pea block.  This 6″ block was easy to put together.  I am planning on this becoming a baby quilt when I'm done.  Pretty sweet, huh?
I'm co-teaching the Vintage Sampler BOM at my local quilt shop and I'm having a hard time keeping up with my own class!  One of the most recent blocks is this "Square and a half" block.  I really like the design – the center of this block is an Ohio Star.  I have a great tutorial on how to make those quarter square triangles for that block here.  That tutorial has been one of my post pinned blog posts!
This sampler quilt has a lot of variety and it's being put together in sections.  I have the first section finished.  I'm going to quilt each section individually and then put them all together with sashing strips.  I'll provide a detailed description of that process when I get to it in November or December.  Right now I have my section basted and I'm auditioning some quilt stencils to use for the quilting.  If you want more information about using stencils with quilting, check out this blog post.
And finally, I have a quilt top finished!  This pattern is called Bee Hive and I'm using one of my current favorite fabric lines, Pepper & Flax by Corey Yoder for Moda.  The pattern and fabric (Jolly Bar) were included in May's Sew Sampler Subscription Quilting Box from Fat Quarter Shop.  I love getting one of these boxes in the mail each month!
I changed the pattern just a tiny bit.  I had leftover scraps from my fabric, so I cut 1 1/4″ squares and added corner triangles to each block.  I like how it turned out.  Now it's off to the quilter!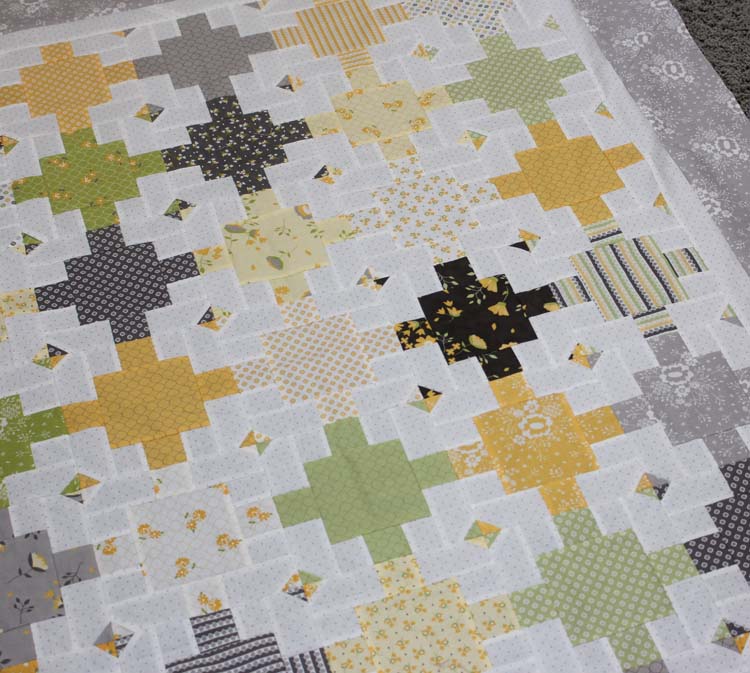 I will begin the next Save The Bees block this weekend.  I really appreciate all of your wonderful comments from the first block.  When I do giveaways, I'm unable to respond to each comment because there are so many.  I DO read each comment and who its from.  I see a lot of familiar names and many new ones.  Welcome to my blog if you're a new follower, and thank you for allowing me into your media space!
While reading the comments, I noticed that you seemed to really like my fabric choices and I'm so glad to hear that!  They're all from my stash – so  it's a mixture of old and new. Also, I asked what quilt size you make the most of.  I see that a lot of us quilters like to make smaller quilts so that we can move on to the next one!  And there were many of you that like to make larger, bed-sized quilts.  They are so useful!  And sometimes it's "whatever size I'm currently working on" that's your favorite.
For me, I like to work with smaller projects.  I like that I can quilt them myself, make them quickly, give them as gifts and learn new techniques in a short time span.  However, I'm always happy when I conquer a larger quilt and that could be a large throw size or a queen size quilt.  I still have yet to complete a king size quilt, but it's on my bucket list!
You still have time (until Sunday, 8/12/18) to enter the giveaway for a copy of the Splendid Sampler.  Go to my Save The Bees Month 1 to enter.  I hope you're having a wonderful week and tackling your own bucket list!