Save the Bees BOM, month 1 and giveaway
Welcome to month one of the Save The Bees Block of the Month hosted by Jacquelynne Steves.  I am so happy to be one of the participating bloggers again this year!  If you haven't already, you can still sign up for this free BOM here.  Thank you Jacquelynne for your generosity in putting together this awesome block of the month!
Each month (through December) there will be giveaways hosted on EACH participating blog, ending with a grand prize giveaway in January, 2019.  This month's giveaway is sponsored by Martingale, and all the details can be found at the end of this blog post (giveaway is now closed).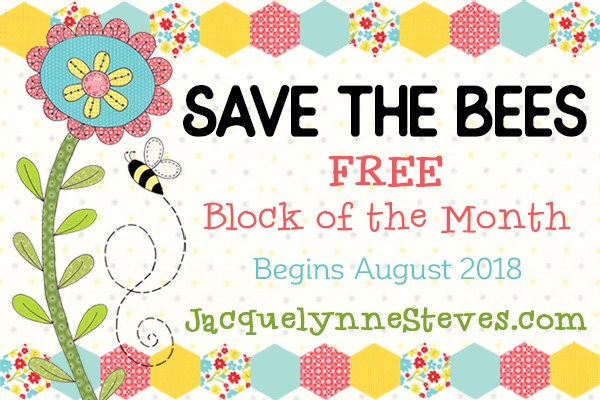 If you're new to my blog, then please have a look around.  You will find lots of tips, free tutorials, and inspiration scattered throughout these pages.  You can sign up to receive each new blog post delivered straight to your inbox on the upper right side of my blog (mobile access is at the bottom).
I'm absolutely smitten with this first Save The Bees block!  My color palette for the quilt will be black, gray and white with a little yellow mixed in.  Isn't it adorable?
The construction of this block is very straight forward.  If you don't like applique, then you can substitute a favorite large-scale print or you can embroider it.  I'm using raw edge machine applique with black thread and a "scribble" stitch.  It's modern and rustic at the same time!
This is by far the fastest way to do applique.  No need to pivot around each curve or worry about your stitches being perfect.  You are free motion stitching around each shape.  To do this, you need to drop your feed dogs, attach a free motion foot, and practice!   Another option would be to do the stitching after the quilt is basted.  Then you'll be appliqueing and quilting at the same time.
I used a stabilizer (Quilter's Select Cutaway) on the back of my block that's very lightweight and can stay in the block.  In other words, I don't need to tear this stabilizer away (or dissolve it) after stitching.  It gives me more control and stability and helps to keep my stitch tension more even.
I like to stitch around each shape two times to give it more substance, and it's more "scribbly" in appearance.  One thing that it doesn't do is prevent your fabric from fraying (see the bee below).  This is part of the charm of this technique and it's perfectly fine.  If I were planning on a quilt that would get lots of use and need frequent laundering, I would opt for a different stitch such as a zig zag or blanket stitch.
I am fairly new to this type of applique, but I can tell already that I'll be using it more in the future.  If you are interested in more fusible applique techniques, check out my applique series.  You can see in the comparison below, the difference the stitching makes.
I promised that I would share a new, not-so-secret tool for this project.  It's the Pentel Gel Roller for Fabric
.  This is my new best friend for writing on fabric!  The ink is permanent, acid free and waterproof.  It does NOT bleed into the fibers like some permanent markers do.  It produces a bold line, it glides on freely and it's really easy to use.
For this project, I'm using the pen in place of the embroidery stitches.  Again, another time saver!  This pen would be perfect to use for your quilt labels and for a signature quilt.
I used this AGPtek 17-Inch Tracing Light Box
to transfer the embroidery lines.  This is another tool that I use frequently and the price is right!
My completed block makes me so happy!  That bee is just too cute!
August Giveaway (closed)
This month's giveaway prize is sponsored by Martingale and one lucky winner on EACH participating blog will win a copy of The Splendid Sampler!  I love this book and I have made about 50 quilt blocks from it.  Thank you Martingale for your generosity and for providing the quilting and crafting community with so many outstanding books!
For my blog, all you have to do to enter the giveaway is leave a comment on THIS blog post (not from my home page) telling me your favorite size quilt to make.  Make sure to scroll down to the bottom and look for the rectangle that says "Enter your comment here".  On August 13, I'll randomly pick one winner!  This giveaway is now closed.
Here are the giveaway rules:
To enter, leave a comment telling me your favorite size quilt to make.
You must comment by 11:59 pm PST on Sunday, August 12, 2018. (closed)
Your email MUST be included in your profile information or in your comment. If I choose your name and I cannot contact you, I will choose another name.
Giveaway is open to everyone.  If you're located outside of the US, you'll win a digital copy.
Winner will be chosen at random.
You can visit the other participating bloggers and enter their giveaway for another chance to win AND to see what they have done with their block .  Plus you get to meet new bloggers; they are a bunch of talented quilters.  Here's a list of the participating bloggers:
Make sure to visit Jacquelynne Steves to get all of the information for this month's block.  Jacquelynne also has a Facebook group that you can post your own photos to.  Show us your Save The Bees photos on social media using the hashtags #SaveTheBeesQuilt and #SaveTheBeesBOM.
Thanks for visiting today and come back again!