Happy Little Things BOM Month 2 & giveaway
It's time for the Happy Little Things BOM Month 2 and a terrific giveaway (now closed)! This FREE block of the month is hosted by Jacquelynne Steves and you can still sign up here to receive each month's pattern directly to your inbox. Check out the latest information from Jacquelynne about today's block here.
Happy Little Things Block 2
As one of the participating bloggers, I get to make each block ahead of time so you can see what it looks like in different colorways and settings. My blocks are being scaled down to half size, so my finished quilt top will measure 23″ x 31″ and each block will be 6″ finished. I'm also adding applique words to make mine into a Winter wall hanging.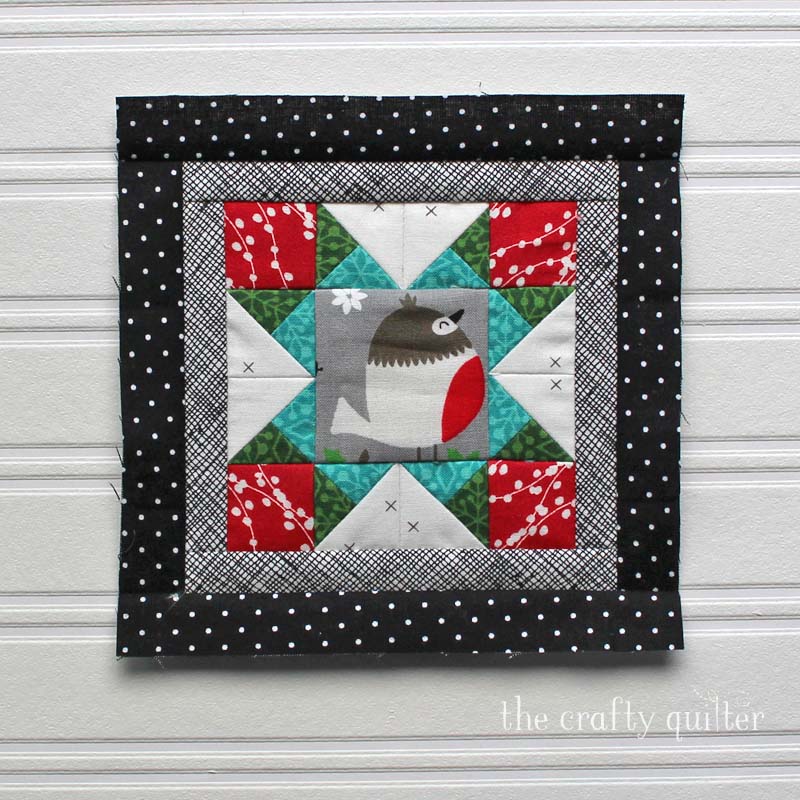 This month's block is similar to last months, but slightly more complex. Instead of flying geese, you'll be making (what I call) half quarter-square triangles. These are made over-sized and then trimmed down. I used the Tucker Trimmer I by Deb Tucker's Studio 180 Designs to trim these perfectly. It's such a handy ruler to have!
To trim these with a square ruler, you need to know what the center measurement of the unfinished size is. Since my block is 1 1/2″ unfinished, the center would be half of that which is 3/4″. I placed the 3/4″ lines at the center of the block, and made sure the 1 1/2″ lines were placed at the corner seams. Then I trimmed the right and top edges. After that, I rotated the block so that the trimmed edges lined up with the 1 1/2″ lines and then trimmed the other two sides.
Note: If you're making the original size, these units will measure 2 1/2″ unfinished, so the center will be at 1 1/4″.
These units are easy to make, but matching the diagonal seams when you sew the block together can be a little tricky. The seams I'm referring to are circled below. Visually, you want to see a straight line where the seams connect.
I like to use a setting pin when matching diagonal seams. The setting pin goes through the seam intersection on top and comes out at the seam intersection on the bottom. Notice in the photo below that I pressed my seams open. This made the construction easier and flatter (usually I press to the side).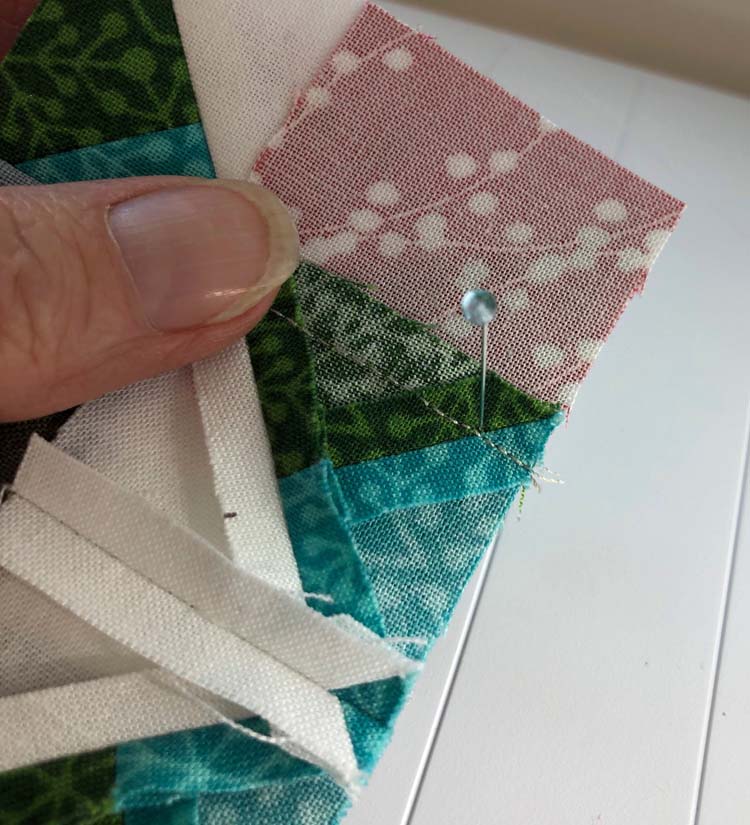 The final pressing of this block required a little clipping. Sometimes a seam intersection does not want to be pressed in the same direction as the rest of the seam. You can see below where I clipped in the seam allowance (but not too close to the stitches) so that it could lay flat.
It's so much prettier on the front side! This is a super cute block.
Mini Version cutting instructions
The mini version of this block will finish at 6″ square. All of the assembly instructions are exactly the same as the original. Remember, you still need to sign up for Jacquelynne Steves' block of the month to get the complete directions.
You can download the cutting instructions for the mini version of block #2 here:
Giveaway
(Update: This giveaway is now closed.) This month's giveaway is sponsored by one of my favorite thread companies, Aurifil, and includes a Designer Thread Box valued at $50. The giveaway is open to US and international entries.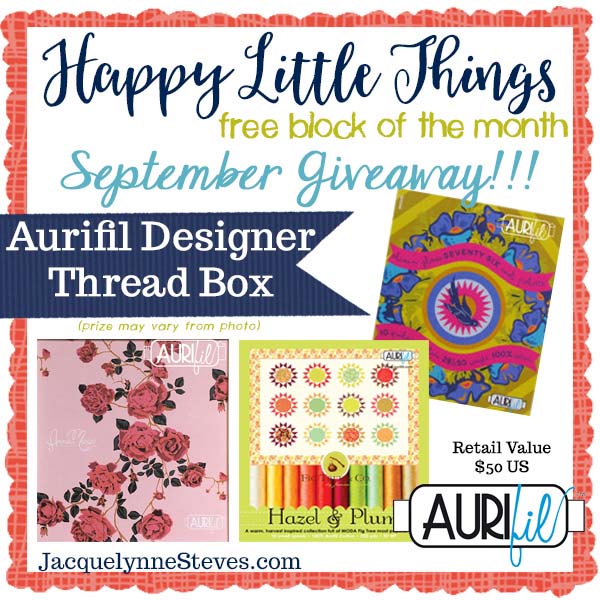 To enter the giveaway, please leave a comment telling me if you prefer video tutorials or written (such as blog post) tutorials. It seems like videos are really popular these days, but I still prefer to read a tutorial.
NOTE: To leave a comment, make sure to scroll down to the bottom of this blog post (not from my home page), and look for the rectangle that says "Enter your comment here". On September 9, I'll randomly pick one winner!
Here are the giveaway rules:
To enter, leave a comment telling me if you prefer video tutorials or written (such as blog post) tutorials.
You must comment by 11:59 pm PST on September 8, 2019 (Now Closed).
You must leave a contact email so that I can reach the winner.
There is ONE prize per person per month (in other words, the same person cannot win two prizes within the same month.)
Giveaway is open to ALL.
Winner will be chosen at random.
Due to the high volume of comments, I won't be able to reply to you (unless there is a direct question), but I will read each and every one. Thank you in advance for your participation and for leaving a comment.
Participating Bloggers
Make sure to visit all of the participating bloggers to see their version of Happy Little Things! You can also enter the giveaway on each respective blog so you have more chances to win.
There is also a Facebook group where you can stay up to date and post photos:https://www.facebook.com/groups/SewQuiltyFriends.JacquelynneSteves/
If you use social media, please use the hashtags #HappyLittleThingsBOM and #HappyLittleThingsQuilt .
I hope your week is off to a good start!