Staying organized with my Quilter's Planner
The start of a new school year is always a good time to get organized, develop a routine and schedule, and do some fall cleaning.  Many people use a planner to make their lives run smoothly.  This is my third year using The Quilter's Planner and it really works for me.  It's a great tool to keep my personal life, business (blogging) priorities, and quilting projects all organized in one place.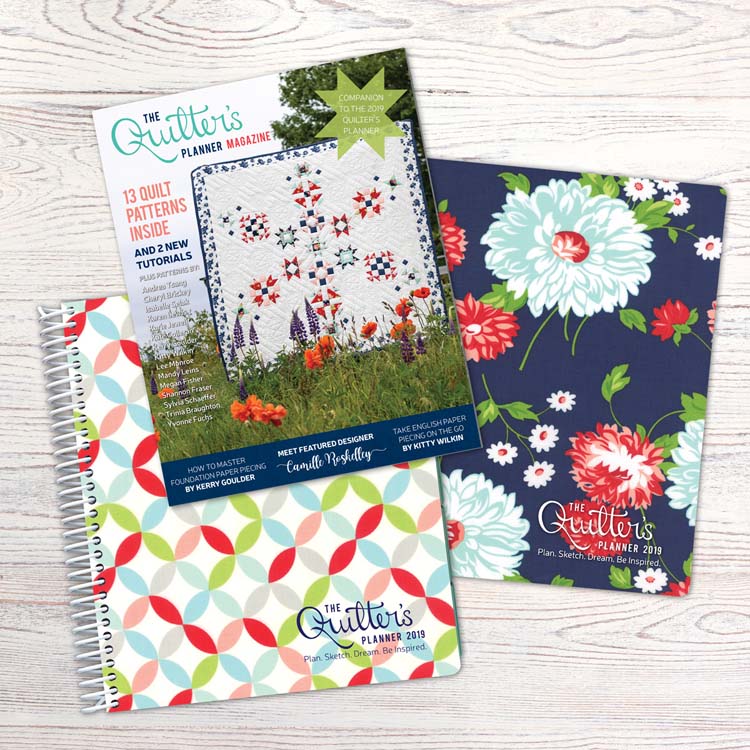 Full disclosure:  I am an affiliate of the Quilter's Planner and if you purchase a planner using any of the relevant links on this page, I will receive a small commission with no additional cost to you.  However, this does not affect my recommendations and thoughts about using this planner.  It truly is a fantastic tool for me and I like sharing what works for me with you guys.
Typically, I start off the year really "gun-ho" with my planner and then by the end of the summer I get lazy and let go a little.  I'm not especially creative with stickers, colored pencils and cute artwork, but I do get inspired once in a while to try.  This planner comes with cute stickers designed by Alison Glass, and I bought a little stencil set to help me add in some creative details of my own.
When September rolls around, I'm ready for a re-set!  I start making lists and updating my calendar with my fall teaching schedule and holiday project ideas.
If you're a creative person, you'll love The Quilter's Planner.  It keeps me inspired with  monthly quilt block patterns, beautiful quotes, doodle pages, project planning pages, stickers and a reference section.  It's a fun way for quilters to stay organized, inspired and playful at the same time.
For 2018, The Quilter's Planner came with its own magazine featuring a sampler quilt, lots of projects and they hosted a 2018 Block of the Month Sampler Quilt Sew Along.  I've been keeping up with it all year and I love how it's turning out!  You probably remember seeing my rainbow blocks throughout the year.  The original size blocks are 12″ square.  I've been making them half-size (6″) and mini-size (3″)!  I'm using a variety of fabrics designed by Alison Glass for Andover and the background fabric is black yarn-dyed Essex linen.
Another thing I love about my planner is the lovely cover I made for it.  This was a free pattern from The Quilter's Planner and you can find more of them here.  I love the zipper pocket and inside pockets for holding business cards, pens, sticky notes, etc.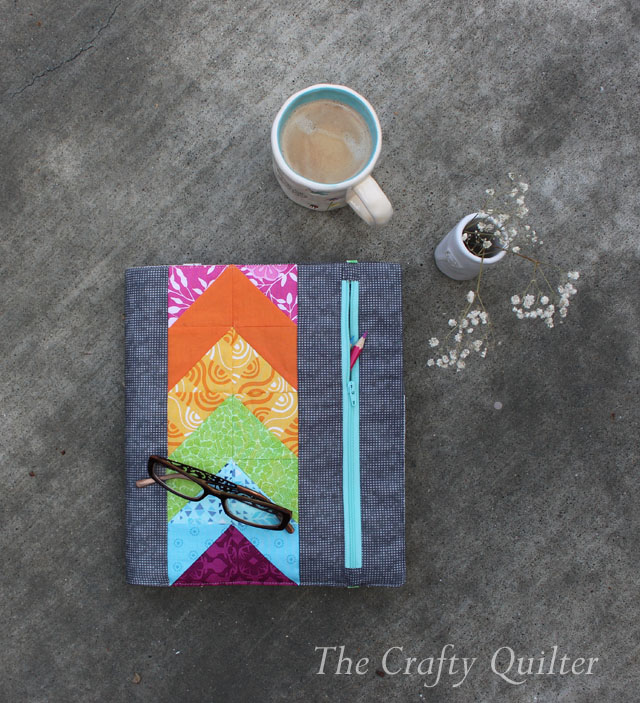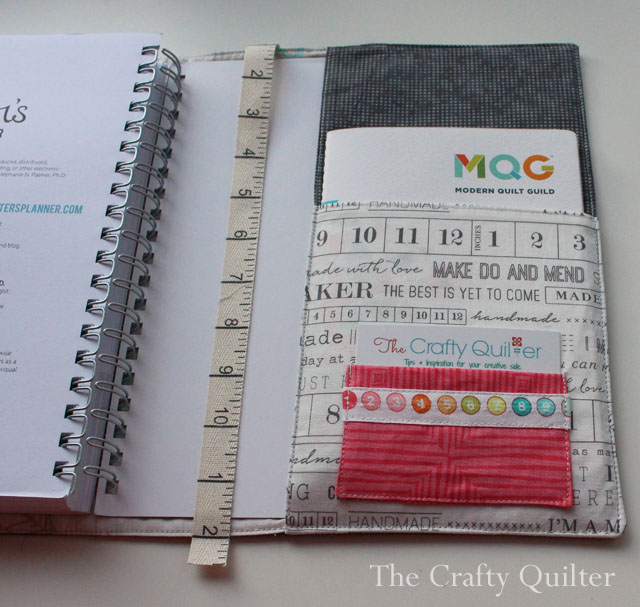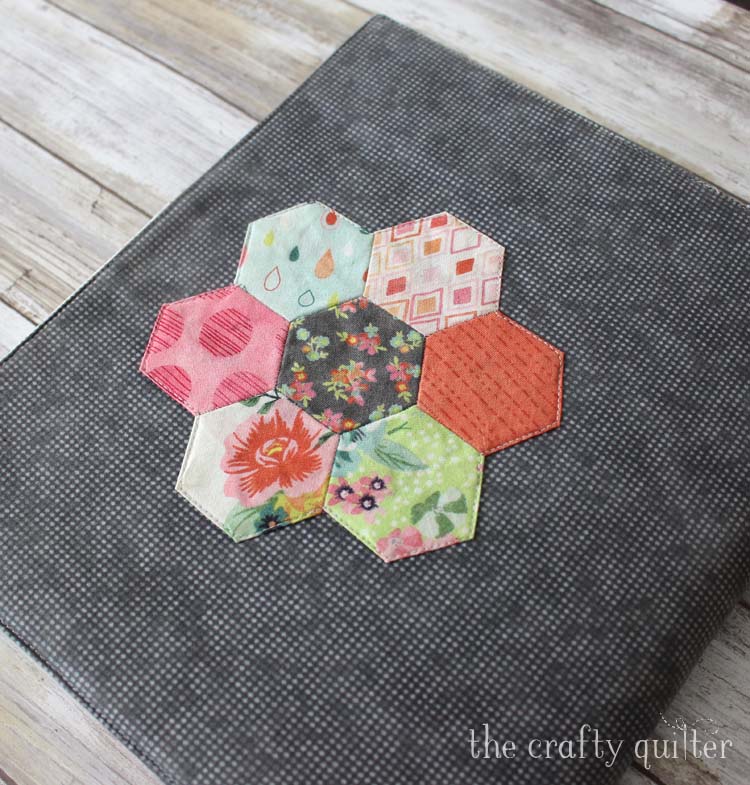 Tips for using your planner and keeping your creative life organized
Whatever planner you choose, make sure you love the design.  It's going to be with you for an entire year!
The inside layout should work with your personal flow.  Do you like a weekly layout or is a daily planning page more your style?
Start by filling in all of the monthly important dates such as birthdays, appointments and vacation time.
Write down any goals you have for the month or year.  Maybe you want to finish one UFO each month or get in the habit of drinking 6 glasses of water every day.  Whatever it is, make sure it's specific and attainable.
Schedule a weekly planner session.  I do this on Sundays and it only takes me about 10 minutes.  I make sure the monthly calendar is up to date and then I transfer any important dates or appointments to my daily/weekly page.  Then I add in anything else coming up that's important or that I want to get done.  This really keeps me on track and I'm able to see the week ahead more clearly.
If you schedule it, it's more likely to get done!  That includes errands, sewing time, "me" time and all the little things in between.
Make a daily "to do" list and stick to it!  The first thing I do in the morning (after I've walked the dog) is write down three things that I need (want) to get done.  The list is usually longer, but I start with three priorities.  Once those are checked off, I can breathe a little deeper.
Keep important notes in your planner.  I like to use the monthly graph page or Idea-saver pages (if you have them) to write down things that I don't want to forget or lose in the paper clutter.
Keep a list of ongoing projects and what stage they're in.  Update it monthly.  It's nice to keep track of where things are.  Maybe you forgot about that table runner you started in May!  Or maybe you'll realize that you shouldn't start any new projects until you finished a few!  Now that's no fun.
Don't stress about keeping it pretty or keeping it full.  Use it to your advantage and in a way that's doable and comfortable for you.
If you're looking for a new planner for 2019, I hope you'll check out The Quilter's Planner.  Next year's magazine (included) features this beautiful Hexie Snowflake Sampler along with many more fun projects to make.
Thanks for hanging out with me today as I get organized for the Fall and for next year!