February UFO & WIP Challenge link up
Hey everyone!  It's the last Sunday of the month and time to link up your February UFO & WIP Challenge project!  I hope you were able to cross something of your " quilting to do" list this month.  If you're new to my blog, you can find links to all of the details of my 2019 UFO & WIP Challenge here.
Like all good challenges, there is a dangling carrot to motivate you out there.  If you add a photo of your finished project to the link up at the end of this blog post, you'll be automatically entered into the giveaway. Update:  now closed.  This month's prize is sponsored by Jacquelynne Steves, and she is giving away a box of her favorite Aurifil Thread Floss (a $45 value!) to one lucky winner.  Jacquelynne is one of the most generous quilt designers I know.  Her website is FULL of inspiration, free patterns and video tutorials, and her yearly, free block of the month program is always a favorite.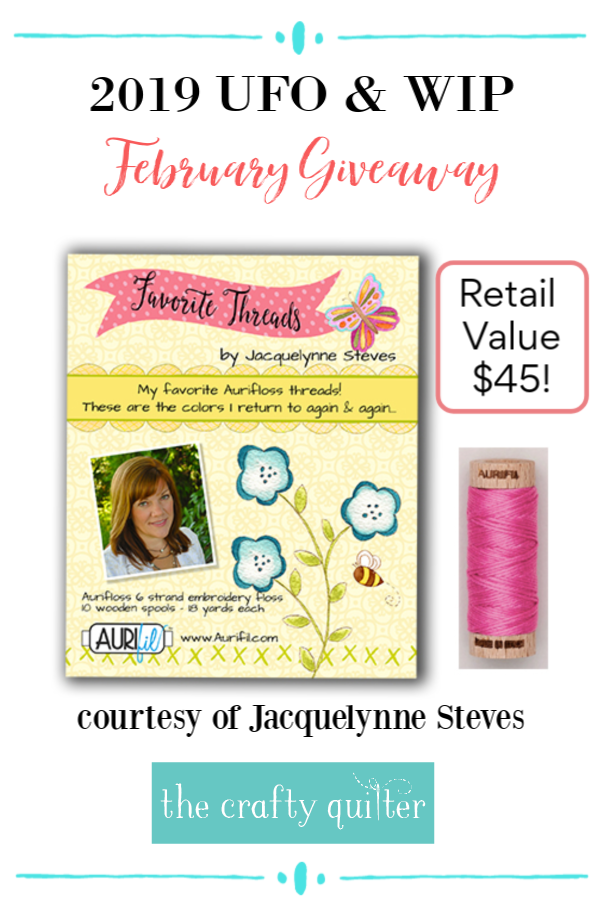 As for me, I finished one Sew Happy Mini Quilt!   And I am sew happy, wouldn't you know?  I've already received requests for more details and a pattern for this mini quilt.  I think I'll work on that very soon!   For now, I'll show you a few pictures, but I'd like to leave the construction details for a future blog post.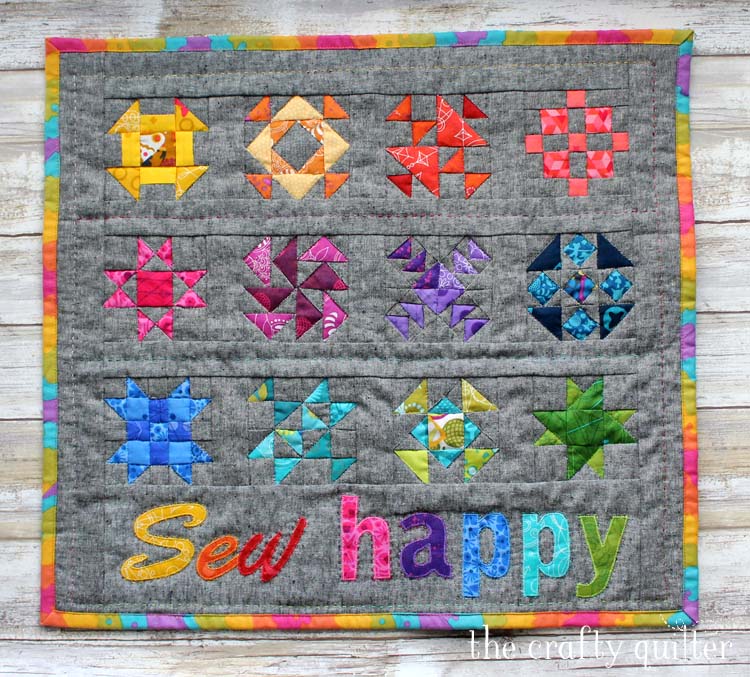 What I love about this quilt is the contrast between the Essex Linen yarn-dyed black fabric and the beautiful, saturated prints I've collected from Alison Glass for Andover Fabrics.   Even the back is fun to look at!  And I love my quilt labels from Dutch Label Shop.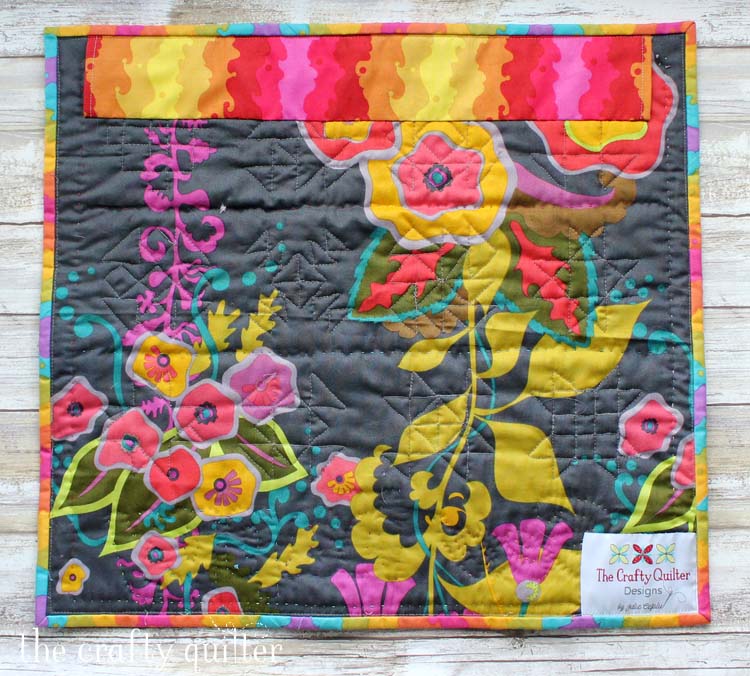 What I don't like about this quilt is the rainbow stripe binding fabric.  It was a mistake because it competes too much with the quilt top.  My eye doesn't know where to look first.  But, it's done and the lesson has been learned.  It's still a keeper!
Some of the details I enjoy are the big stitch quilting using different colors of variegated floss.  The embroidery floss was left over from a kit, so I don't know what brand it is.  I stitched along the horizontal sashing, the border and the applique.  I'm a total novice at this type of quilting, if you couldn't tell already.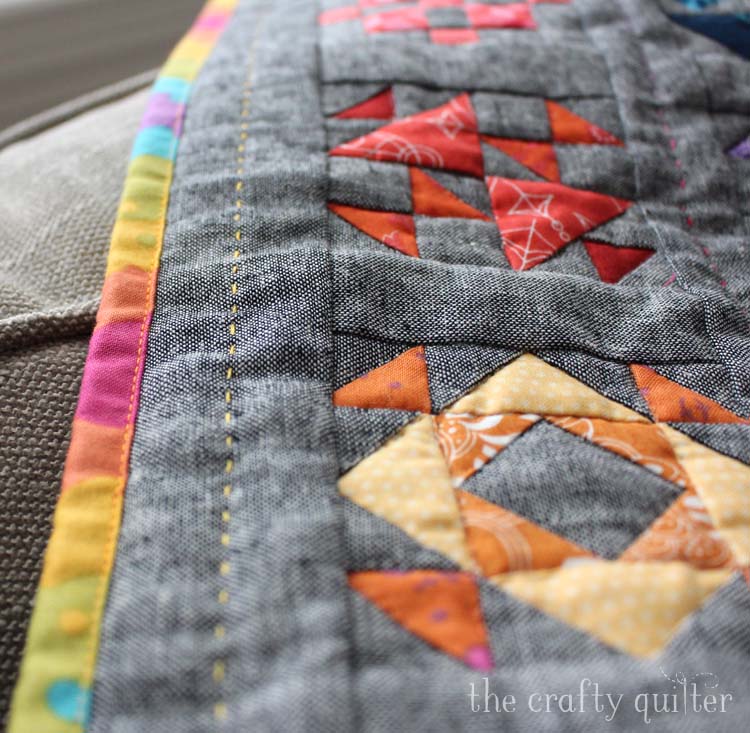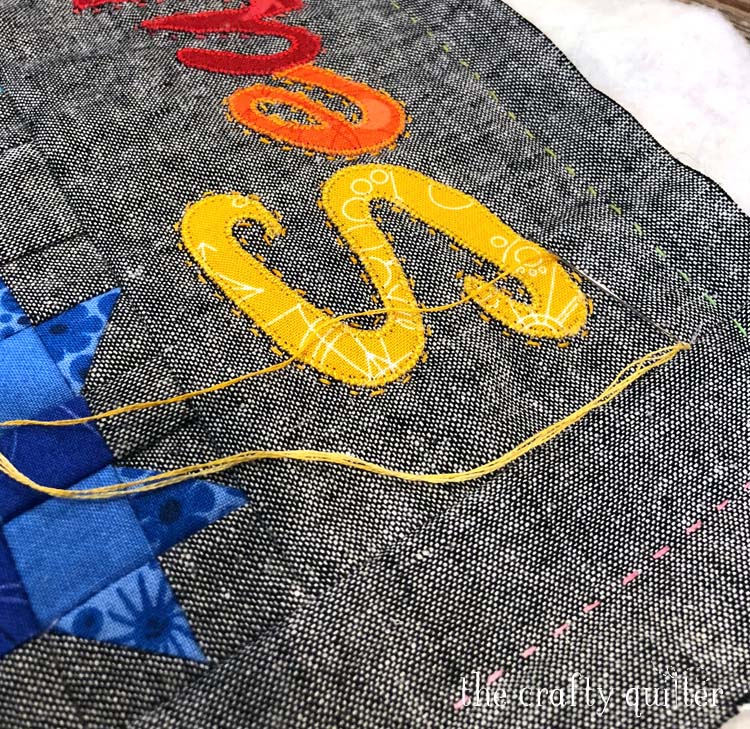 I love how the applique turned out.  I used a small zig zag stitch and matching thread colors (Magnifico from Superior Threads).  To make the letters, I used Microsoft Publisher (Word would also work) and played with different fonts.  I guessed on the size and got really lucky.  The first try was a perfect fit.  The letters need to be reversed if you're using a fusible applique technique.  I just traced the letters on the back side of the paper as I held it up to the window.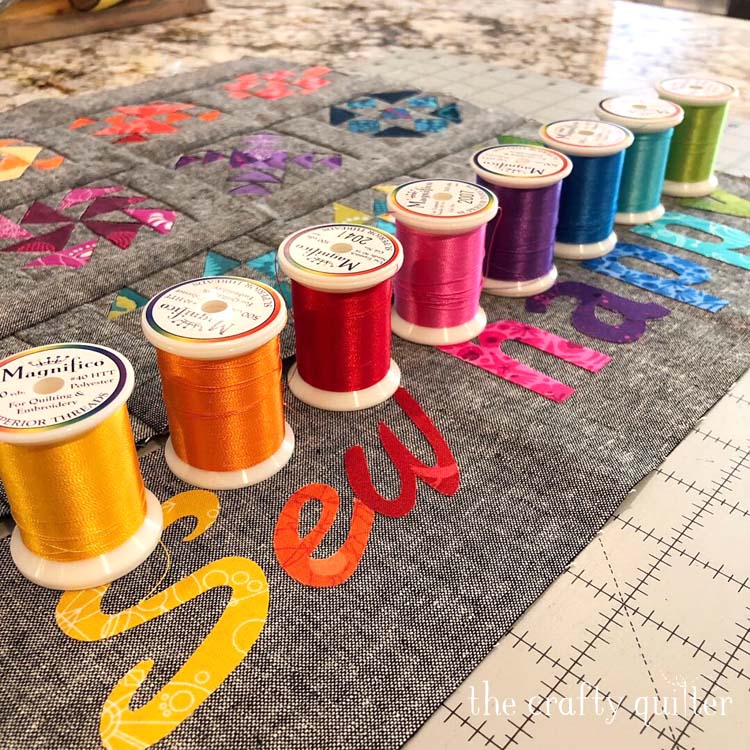 I also enjoyed working in a small scale.  Each block finishes at 3″.  Some of those squares are just 1/2″!  To get a visual, I placed my Olfa rotary cutter next to the quilt blocks.  Now you can really see the size proportions.
The finished size of my Sew Happy Mini Quilt is 18 1/2″ x 17″.  It already looks great in my sewing room – if I could just figure out where to put that ladder.
February UFO & WIP Challenge Link Up
Update:  This giveaway is now closed.
Now it's your turn to show off your finished project.  Remember, you don't need to have a blog to participate.  (Note:  7 am PST –  I just updated the link-up tool so it will work without needing a URL.)  After clicking on the blue "Add your link" button, you can upload a photo using the "upload" tab.  If you have any trouble, just leave a comment or send me an email with your photo attached.  I can add it for you.
Link-up Rules:
You may add up to 2 finished projects.
One image per finished project.
Project must be quilting, sewing or needlework related.
The link-up will be open until March 2, 2019, at midnight, PST.  CLOSED
This month's giveaway is open to USA or Canada, however, anyone can join the link-up. If a winner is chosen that is international, then another number will be picked until it meets the criteria.
Winner will be drawn at random on March 3, 2019
Loading InLinkz ...