Maple Pecan Granola recipe
One thing you can count on in my kitchen pantry is granola and today, I'm sharing my Maple Pecan Granola recipe with you. I've been eating store-bought granola for the past ten years, but a few months ago that all changed. My daughter brought home some granola she purchased at the farmer's market and it was so good! I thought, how hard can it be to make my own? It turns out not hard at all!
This granola is not too sweet and it has a tiny bit of salty to it. It's also got just the right amount of crunch when you bite into it. My sister-in-law says it tastes great on ice cream. My favorite breakfast, seriously every day, is my Maple Pecan Granola on top of plain, nonfat Greek yogurt. And not just any old Greek yogurt.
I love Straus Organic Nonfat Greek Yogurt because it's creamier and not as thick as most Greek yogurt. And because I can't tolerate the sour taste of plain yogurt, I sweeten mine with Born Sweet Zing Baking Blend. It only takes one teaspoon to sweeten my yogurt and it adds just ten calories. And don't forget to add fresh fruit in season. It's all in the details!
The wonderful thing about this recipe is that you can substitute ingredients and customize it to your heart's content. Also, it makes a lot of granola – over seven cups. I always end up giving some away, and it makes a great gift once you add a cute little label.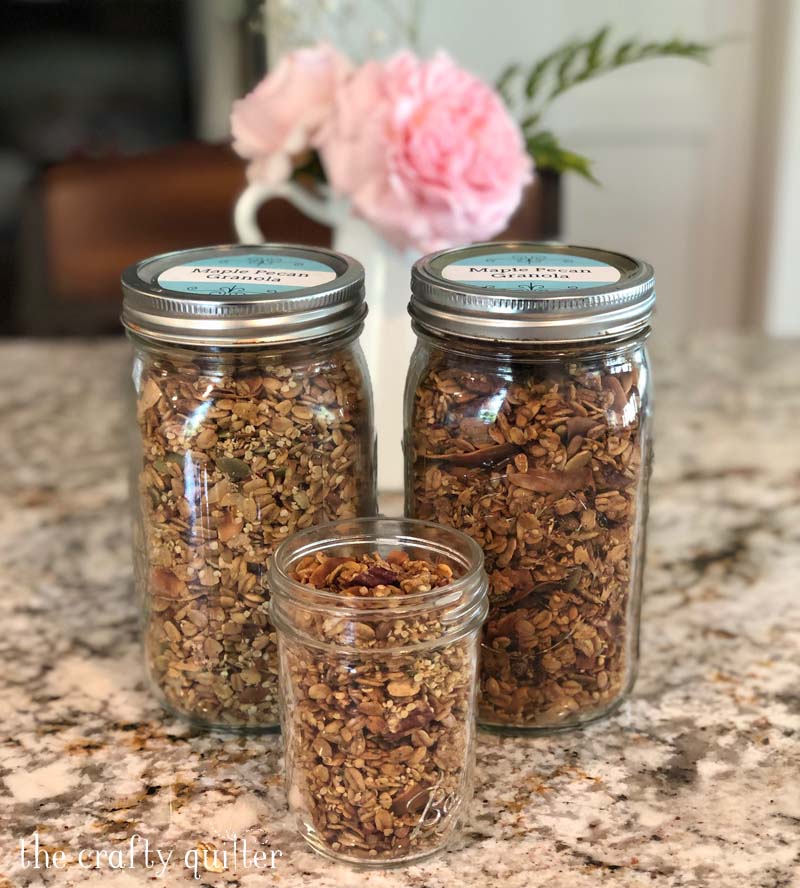 Ingredients
Let's talk about the ingredients. I use old fashioned oats or rolled oats (not quick), raw pecans, raw or un-toasted coconut chips, raw sunflower seeds, raw pumpkin seeds, hemp seeds (optional), cinnamon, salt, avocado oil and maple syrup. I try to use organic ingredients when possible. Costco is a great place to buy in bulk, and I found the perfect (read inexpensive) coconut chips at Trader Joe's (not pictured).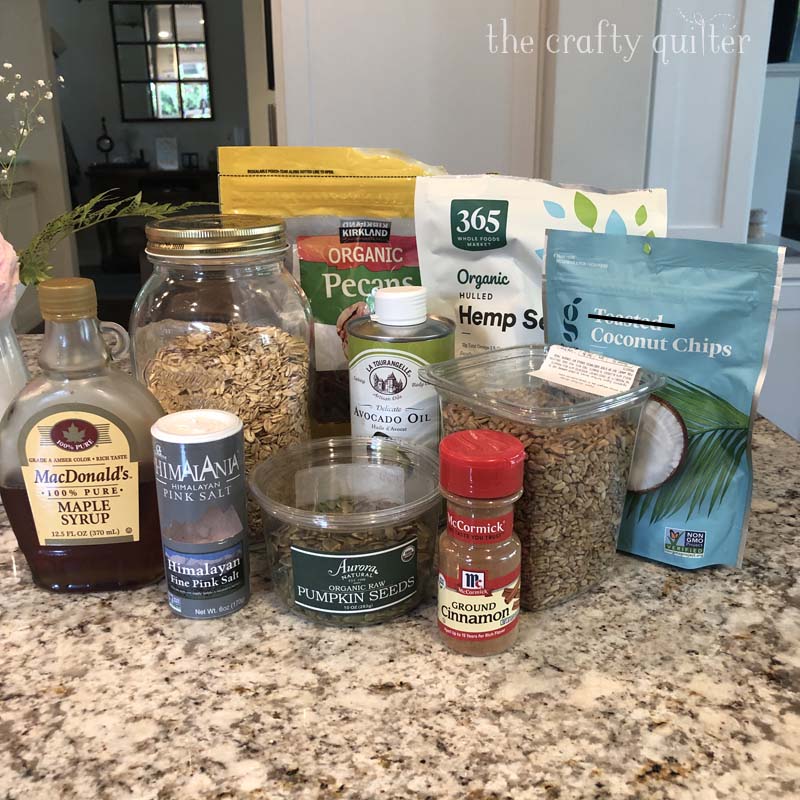 Raw or un-toasted ingredients are recommended simply because they will toast during cooking and they may brown too much if they're already toasted. I found that out when I used toasted coconut chips. I had to discard as many as I could after baking because they were close to burnt.
The beauty about this recipe and probably any granola recipe is that you can use what you have, omit something such as one of the seeds and substitute ingredients such as olive oil for the avocado oil. If you don't like coconut, leave it out. If you have walnuts and not pecans, switch to those. If you want to add dried fruit, go for it (after baking)!
Instructions
Once you have all of your ingredients on hand, you just measure them out and add the dry ingredients into a large bowl and mix with a spoon. Then you whisk together the wet ingredients and toss it all together.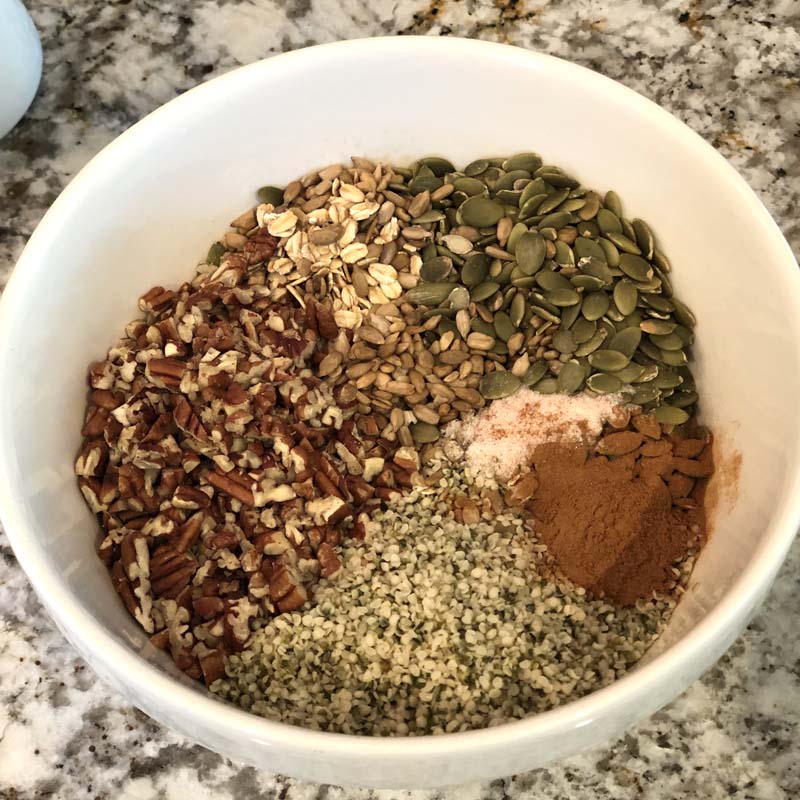 Spread the mixture onto two rimmed baking sheets that have been lined with parchment paper (if you have it). I only have one such baking sheet, so I cook the granola in two separate batches. Bake in a 325 degree oven for 10 minutes, remove from the oven and give everything a good stir. Bake for an additional 10 minutes or until everything is nicely browned.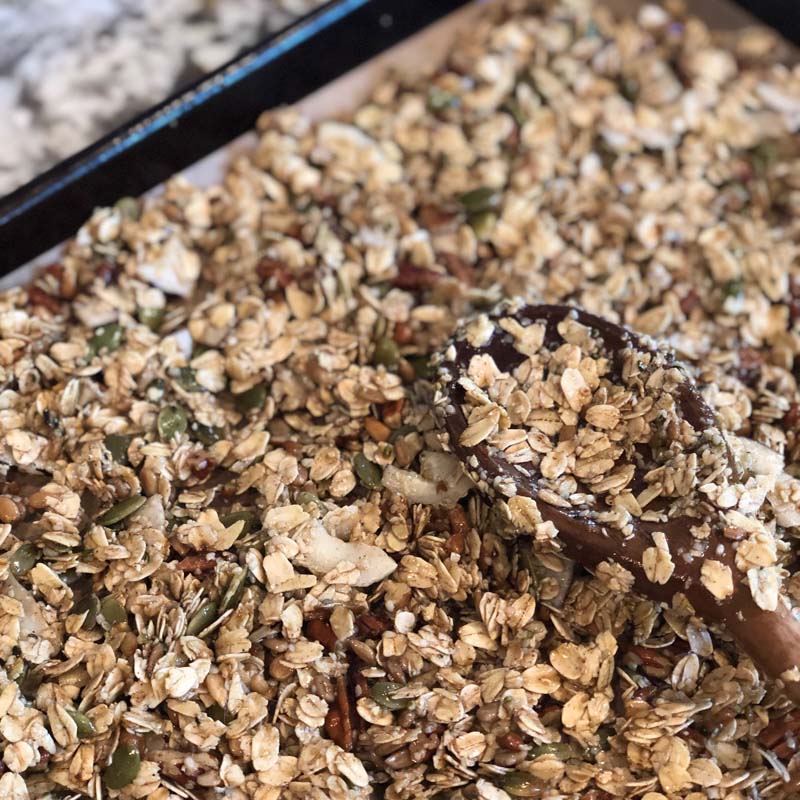 I like to store my granola in quart size glass jars. You could also divide it into smaller mason jars if you want to gift them to others. I ordered 2 1/2″ round labels from Avery and used their online template to design my own labels. It's really easy to use and adds a nice finishing touch to the jars.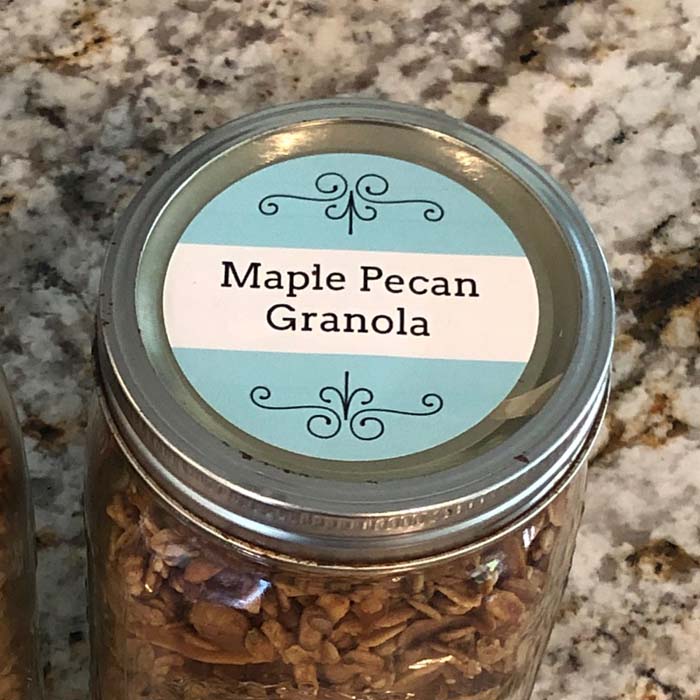 ---
Are you ready to make your own Maple Pecan Granola? I'm sure you're going to love it!
Maple Pecan Granola
This Maple Pecan Granola is so delicious and easy to make! It has just the right amount of natural sweetness, balanced with a little salt and the perfect crunch.
Ingredients
4

cups

old fashioned oats

1

cup

raw pecans

chopped

3/4

cup

coconut chips

un-toasted

1/2

cup

sunflower seeds

1/2

cup

pumpkin seeds

1/2

cup

hemp seeds

(optional)

2

tsp

cinnamon

1

tsp

salt

1/2

cup

maple syrup

1/2

cup

avocado oil
Instructions
Preheat oven to 325° F. Line two rimmed baking sheets with parchment paper.

In a large mixing bowl, stir together the dry ingredients: oats, pecans, coconut chips, sunflower seeds, pumpkin seeds, hemp seeds, cinnamon and salt.

In a small bowl, whisk together the maple syrup and avocado oil. Add to the dry ingredients and stir until evenly combined.

Divide the granola between the two baking sheets and spread evenly.

Bake for 10 minutes, remove from the oven and stir the granola. Return to the oven and bake for an additional 10 minutes or until nicely browned.

Allow to cool before transferring to an airtight container.
Notes
You can customize this recipe by substituting ingredients (such as different types of oils or nuts) and by adding dried fruit to the mix (after baking).
Thanks for stopping by and have a wonderful day!