Sometimes it's the little things that count.  I have to keep repeating that mantra, since I don't have anything BIG to show you, but I have been busy!
I participated in my second ever online swap, with Schnitzel & Boo's mini quilt swap.  I think I had the best swap partner ever, because I got the greatest mini quilt in the mail!  This quilt was made by Sarah Oviatt and I love it.  I gave her lots of clues as to my favorite colors and style.
Those mini churn dashes are so sweet and I love the paper pieced center star.  Not bad on the quilting part either!
And here's the back with the very important quilt label:
Plus, she included lots of extras, too!  Fingernail polish, note cards, a Hawaiian quilt book and a card.  There is one thing missing from the picture, and that would be the chocolate!  The quilt mouse must have eaten it.
For my partner, I made a paper-pieced, rainbow-inspired sun with her initial appliqued in the center:
I had so much fun making this, that I would like to make another one to keep for myself!  The quilting was done with straight lines echoed around the center triangles and pebble quilting around the applique.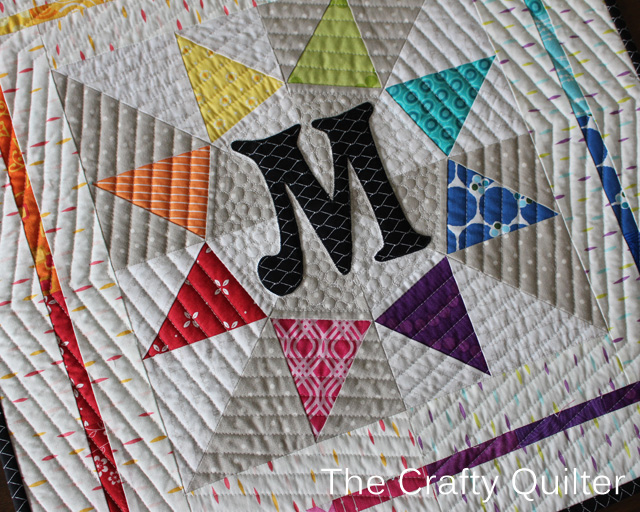 Here are the extras that I added to the package:  dark chocolate (of course), a charm pack of Joel Dewberry fabric, a zipper pouch (love this pattern, Bridget's Bagettes by Atkinson Designs), a Frixion pen and a small ruler (both perfect for marking diagonal lines).
And let's not forget the cute card:
It was just as much fun (if not more) putting this package together as it was receiving mine.  I'm sure I'll be participating in more swaps in the future, and I'll try to let you know ahead of time so you can join in too.
I got caught up on my BOM's for July and (June).  Here are two from the Classic Meets Modern Quilt Along at Sew at Home Mummy:
Here's all seven of them on my design wall:
And my TQS blocks for A-Z for Ewe and Me are finished for this month:
Here's what I have so far:
That's it for now.  I'm preparing for the next set of videos that I'll be doing in August for The Quilt Show.  That usually keeps me out of trouble for a while!  I hope you're enjoying your day!  Happy Quilting!