It's official – I'm a grandma!
I have exciting news to share with you!  I have finally entered into the next stage of life, and I've become a grandma!  My oldest daughter, Kelly, gave birth to a beautiful baby girl on Friday morning. She weighed 8 lb. 15 oz.!  I don't know how she fit inside my daughter's small frame.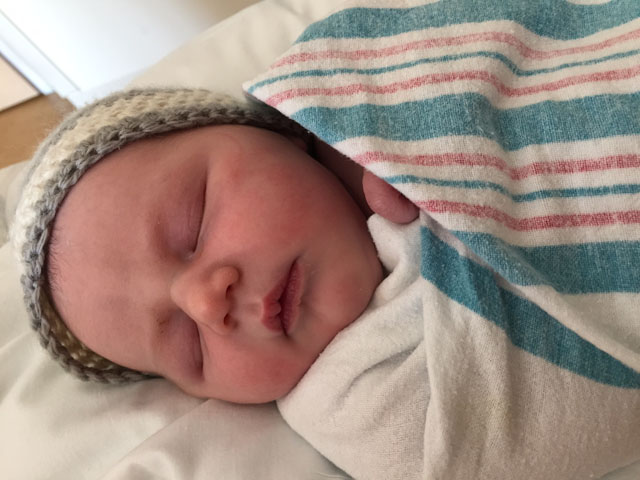 The delivery went smooth, and mom and baby are healthy and happy.
Kelly and her husband, Steven, live in Austin, Texas, so that will be a frequent destination for me and Mr. Crafty Quilter.  We're flying there in one week, and I can't wait to hold this baby!
Of course there's a baby quilt.  It just needs two more sides of binding stitched down, plus a quilt label and then it will be ready to go.  Since we didn't know whether to expect a girl or a boy (I love surprises!), this quilt is gender neutral.  You may remember this pattern from the Star Crossed Quilt Along that I participated in a few months ago.
I love the backing fabric which is Woodland Animals from Timeless Treasures.  The little touch of orange polka dot binding that I added gives it a nice pop.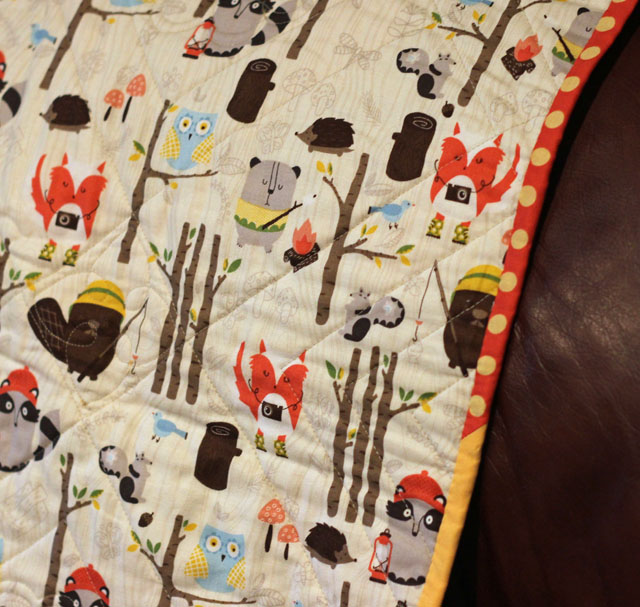 I think I should make another quilt specifically for Amelia (but not too pink and purple or my daughter might disown me).  And I'm always looking for an excuse to make another quilt. Girls are so much fun to sew for!
Currently, I'm working on a big project for Blank Quilting.  I have this week to finish a quilt top, quilt and bind it, photograph and edit it, then send it off!  I may not come out of my sewing room at all this week.  Oh, the life of a quilter/blogger/grandma!