I've been busy behind the scenes working on a new project that I can finally share: The Possibilities Quilt. The name says a lot for this project. It's a quilt with possibilities and options!
I've wanted to teach a skill-building class that doesn't last too long, but it's long enough to give you a lap-size quilt in the end. I designed this quilt with four different quilt blocks (10″ finished) that range in complexity and skill level. But that wasn't enough. I wanted you to have options as to how to set the blocks into a quilt. There are three options that also range in complexity and skill level. This gives you the ability to customize the quilt size and the time commitment involved.
Option one is the smallest and easiest. It has sashing and cornerstones and measures 45″ x 58″. Option two is a little more complex with the blocks set on point and requires one extra block. This quilt measures 59″ square. Option three is the most difficult with the blocks set inside another unit which makes a very cool secondary design. This is the largest option and measures 60″ x 76″.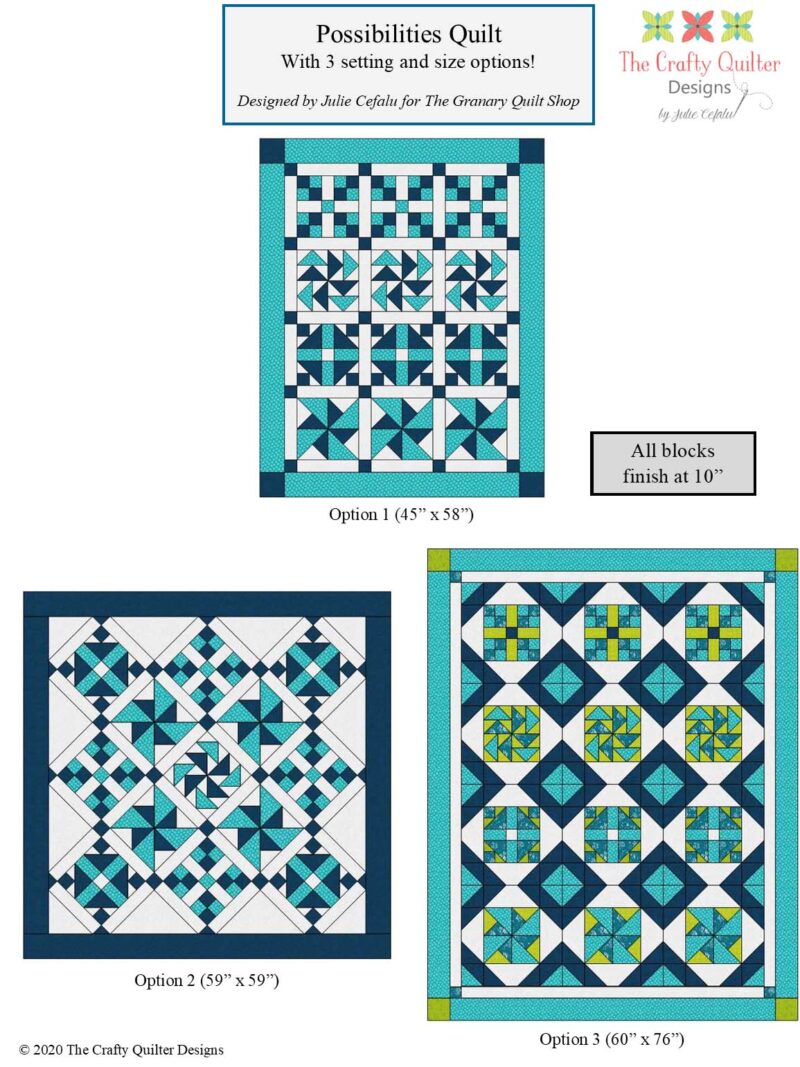 The pattern for this quilt is not finished yet. (That's my current project.) Once it is, I'll have it available in my Etsy shop for purchase.
I'll be teaching the Possibilities Quilt Along at The Granary Quilt Shop via Zoom classes. There are a total of five weekly classes, starting Tuesday, January 26, at 7:00 pm (pacific time). Each class will last approximately 45 minutes and will be recorded. If you're interested, you can sign up online here. The cost is $30 for the class plus $10 for the pattern. Fabric kits are also available.
I try to pack as much information into my classes as possible. I share my favorite techniques for fast and efficient piecing along with the mechanics of each block. If there's a way to make something easier, I'll find it and pass it along!
---
I made the quilt sample for this class out of batiks. I think this quilt will eventually go to Mr. Crafty Quilter. He was complaining that he didn't have his own quilt yet. I know, how is that possible? I share all of my quilts with him!
Below is a close up of the fabrics I used. The tan with circles did not make it into the quilt but it's representative of the tan I used. I started with the border fabric which is Desertscapes by Lunn Studios for Robert Kaufman Fabrics. I often choose a focus fabric to build my color palette around. It works every time!
The kits for this colorway have sold out, but I've come up with an alternative that is similar. It's the same focus fabric, but in a slightly different color. This grouping has purple and green to complement the border fabric, and it will have the same or similar brown and tan fabric. It's a beautiful, jewel tone collection!
---
Today, I played with another fabric collection that is not batik and very different in color range. Golden Aster from Riley Blake is a beautiful collection of navy, pink and gold that I love. With the magic of EQ, I was able to audition a few possibilities. The Granary will most likely offer this as a Possibilities Kit as well.
---
I'm excited to be teaching again, even though it's virtually. How about you guys? Have you tried any Zoom classes yet? There are so many things I enjoy about this new platform. The best part is the fact that I don't have to drive anywhere and I can keep my slippers on!
I hope you're having a great week. Thanks for reading!