Progress on hand stitching projects
I don't know about you guys, but I like to have a few hand stitching projects going at all times. It seems that during this pandemic, there's been more time and opportunities to work on those kinds of projects. I think that means I've been watching too much television, but that's what happens when you're faced with staying at home.
Hand stitching projects
I just finished hand appliqueing my last hexagon flower block to a pieced background. These blocks will become a quilt soon, and I'm very excited about it! Aren't they bright and happy!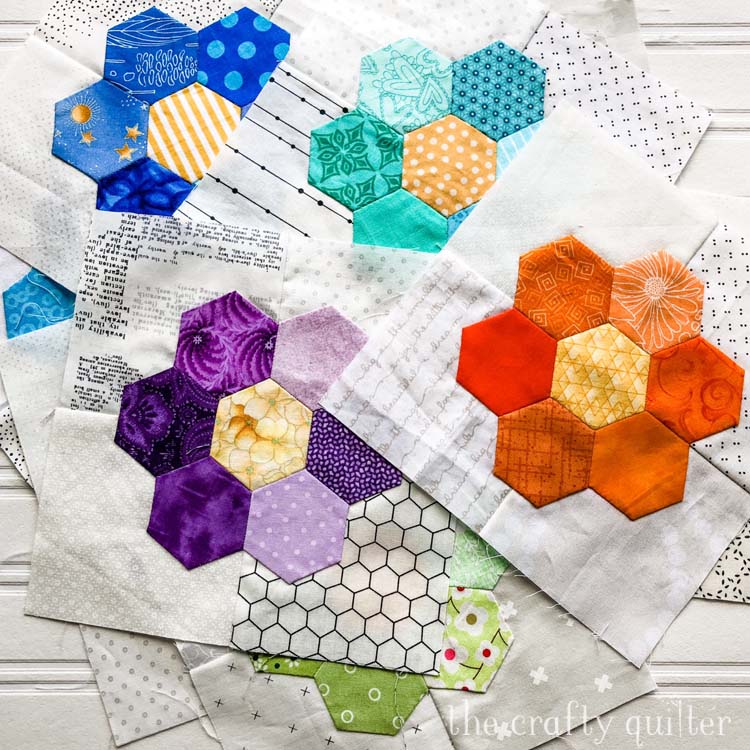 The pattern I'm using is Flowers for Emma by Sherri McConnell of A Quilting Life. I first saw this quilt in the June 2018 edition of American Patchwork & Quilting Magazine and I knew I had to make it. Sherri's pattern is a modern take of a Grandmother's Flower Garden quilt, but it came together the old-fashioned way – English Paper Piecing.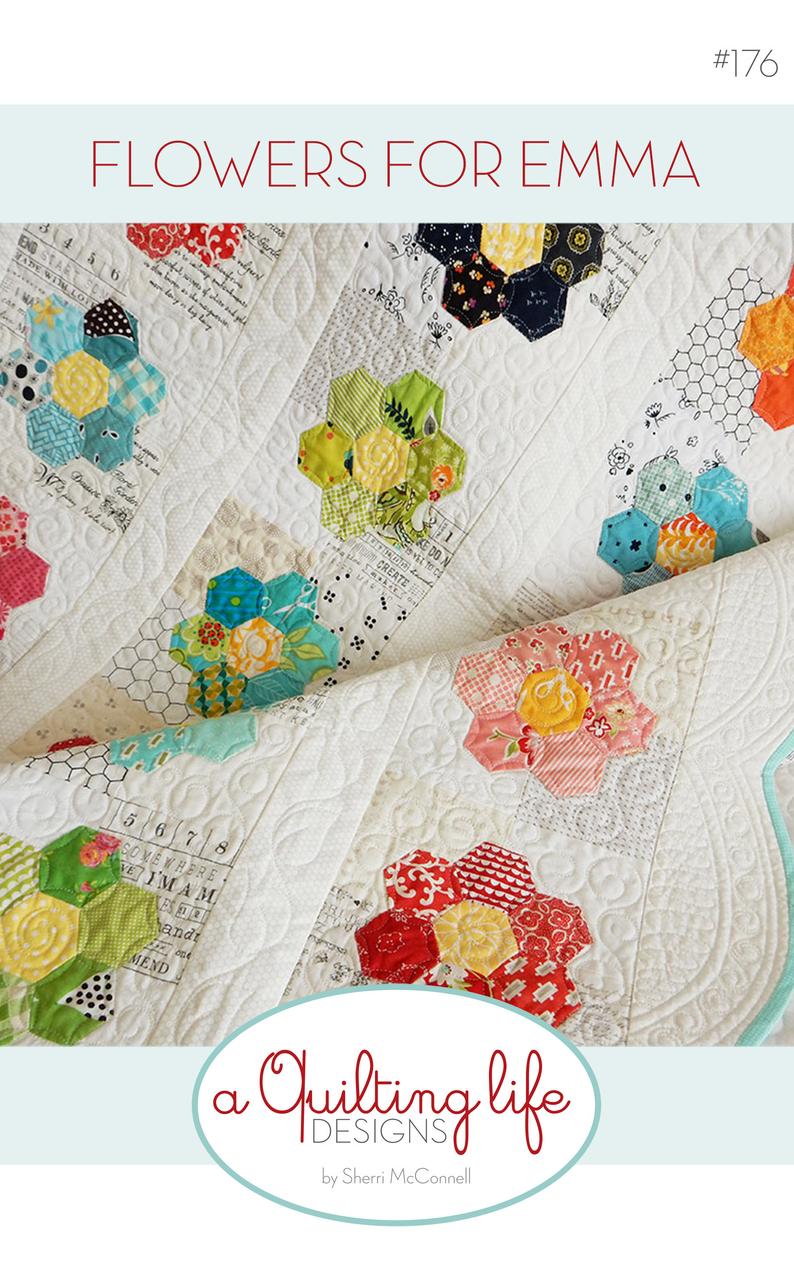 I really enjoy the process of English Paper Piecing. It's very portable so I can take it with me on trips (this one has been to Austin a few times). Most often I work on it in the evening while watching TV; well, listening to TV really. For this quilt, I needed 35 hexagon flowers. That only took me over one year to make! 😉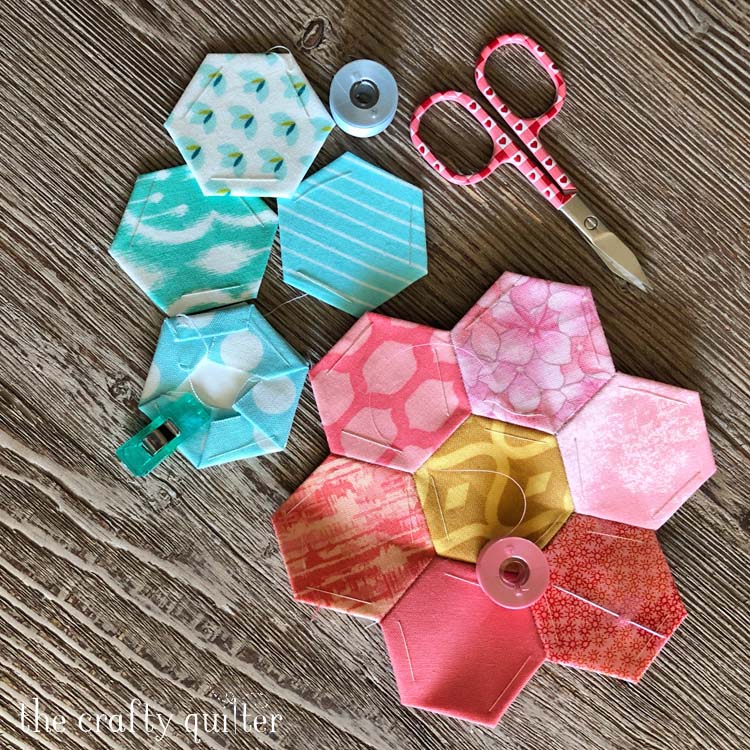 The next step was to hand-applique each hexagon flower to a 4-patch background. This was a quicker process for me – which probably took me ten months. I achieve an invisible stitch by using 80 wt. Quilter's Select Para Cotton thread. It just disappears into the fabric!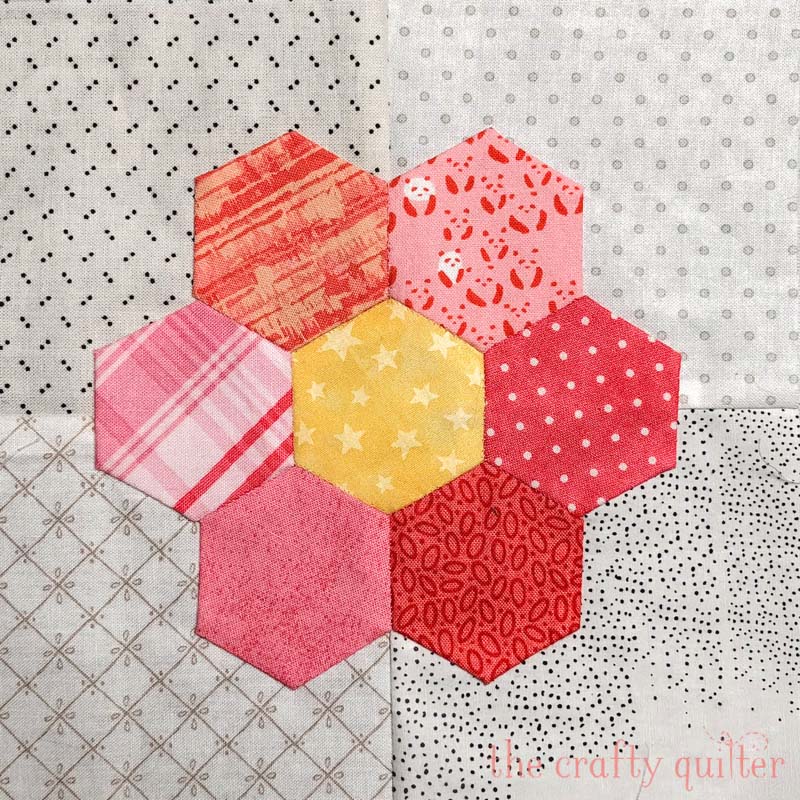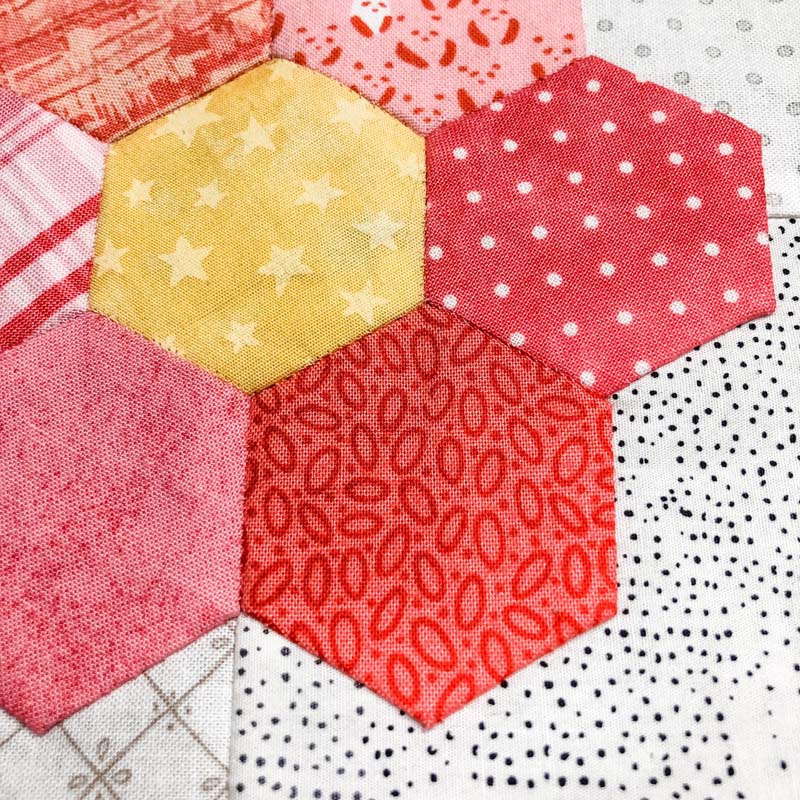 Now it's time to sew my blocks together to make the quilt top. This may take me just as long to accomplish by machine as the rest of it did by hand. There's a line forming of projects needing the attention of my sewing machine!
---
I recently finished a hand embroidery project. This one was slated to be a Christmas gift, but you know. It's early for next year. I purchased this Snowflake Stitch Sampler Embroidery Kit by Beth Colletti and it introduced me to some new stitches. Beth has some beautiful embroidery designs and great video tutorials for different embroidery stitches on her blog.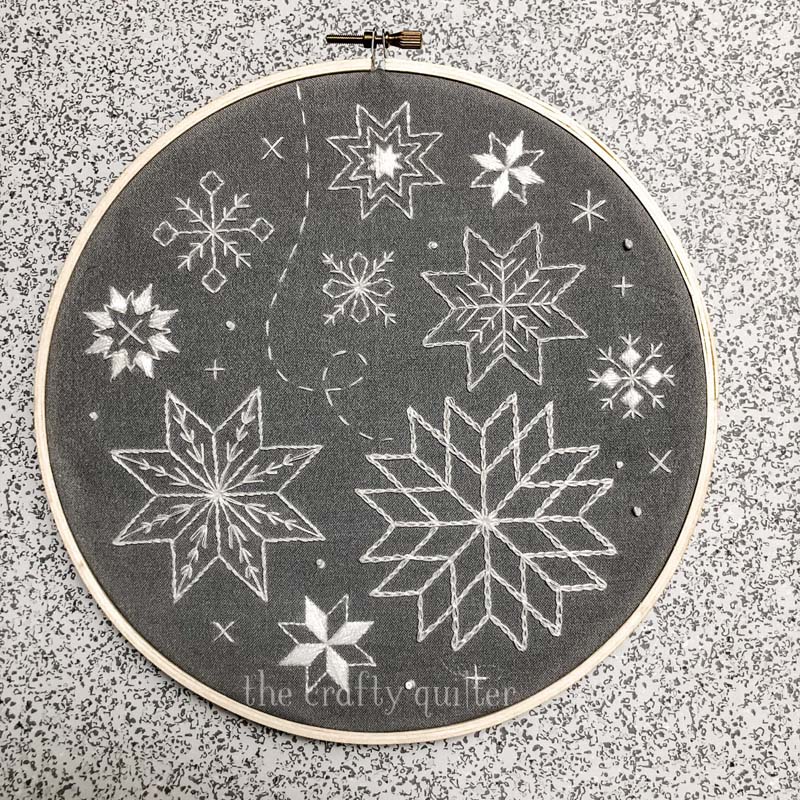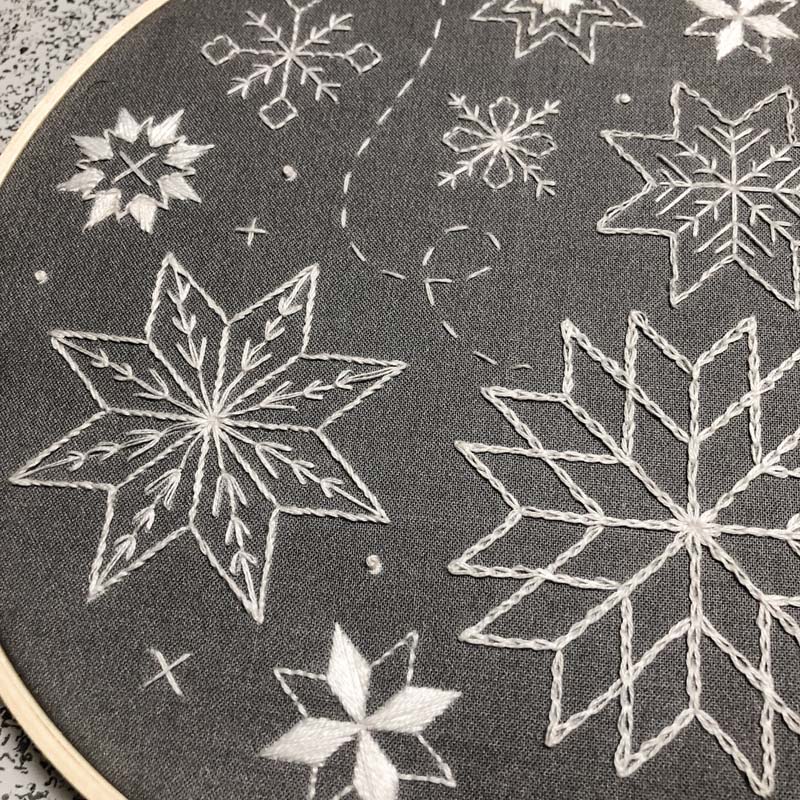 ---
Currently, I have a quilt from 2010 (I think) that I'm hand-quilting. I hand-appliqued all of it, so I thought it should be hand-quilted. And after ten years, you can see how that's been working out for me. The pattern is Rabbits Prefer Chocolate by Anne Sutton of Bunny Hill Designs. Fortunately, I haven't grown tired of this quilt! It has that classic look and feel of a vintage quilt.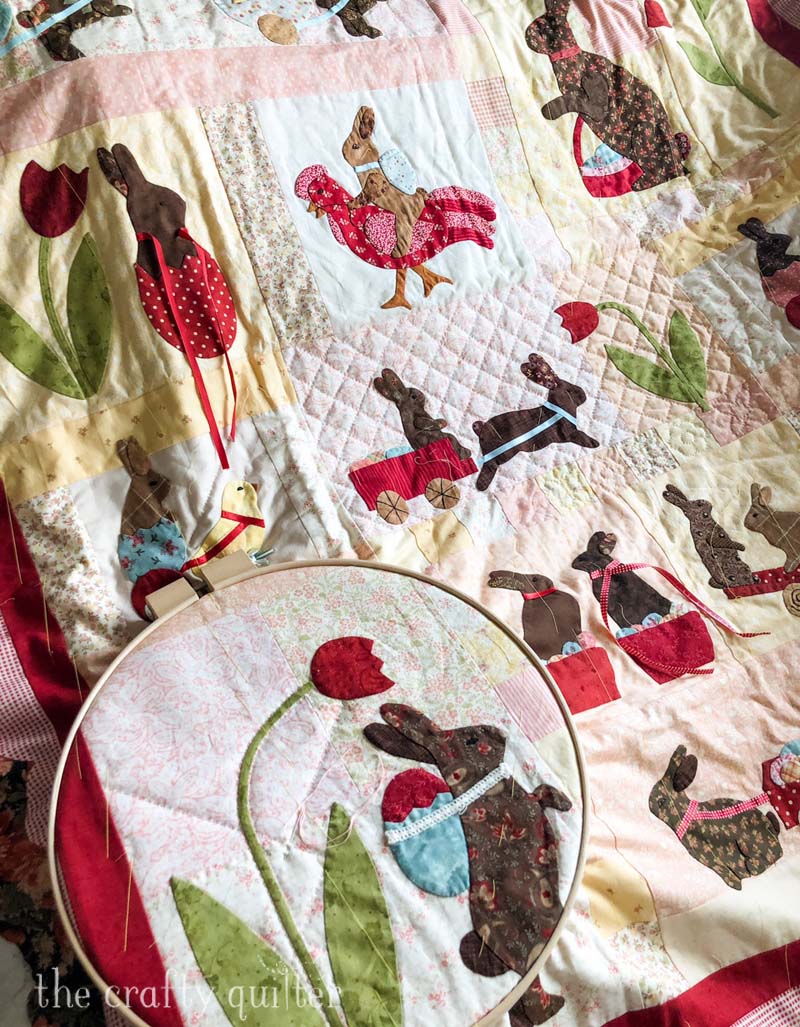 The nudge that I needed to get back to this quilt came from a recent online class I took from Sarah Fielke at Quilt Con Together. She said one thing about her technique that clicked in my brain and I've finally figured out how to get some decent stitches. You can watch the video below and get a quick glimpse of Sarah's method of hand quilting – it includes that thing that clicked for me (about the 7:00 minute mark). If you ever get a chance, I highly recommend taking a class from her!
I've switched the style and thread of my hand quilting (thanks to Sarah). I think of this as a hybrid of big stitch quilting. I'm using Aurifil 12 wt. thread and a Tulip sz. 9 embroidery needle along with my thimble from long ago. I also like to use a rubber finger from the office supply store to help grip the thread when I pull it through.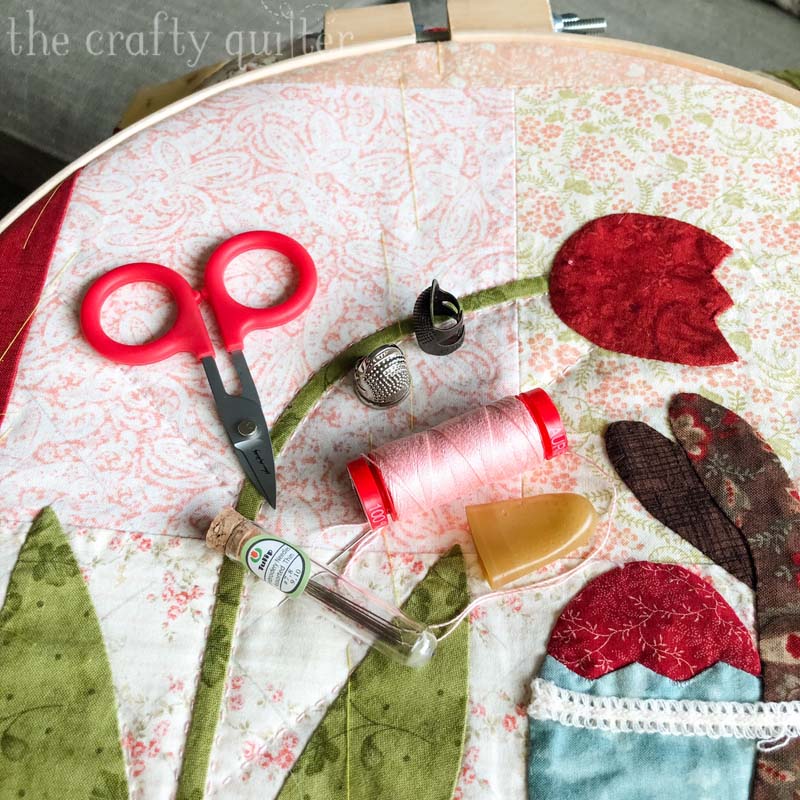 My stitches are not perfect, but I'm finally enjoying the process. I'm not worried (anymore) about what my stitches look like from the back. I already have a section from 5 years ago that is quilted in a more traditional way and is going to look very different from the rest of the quilt. And I always say, "finished is better than perfect".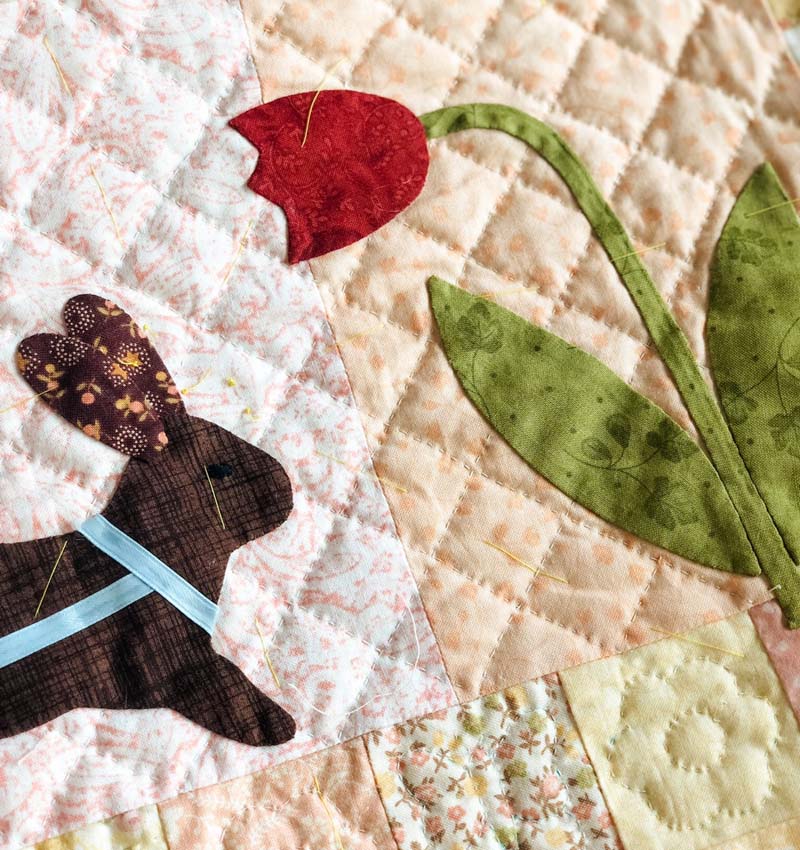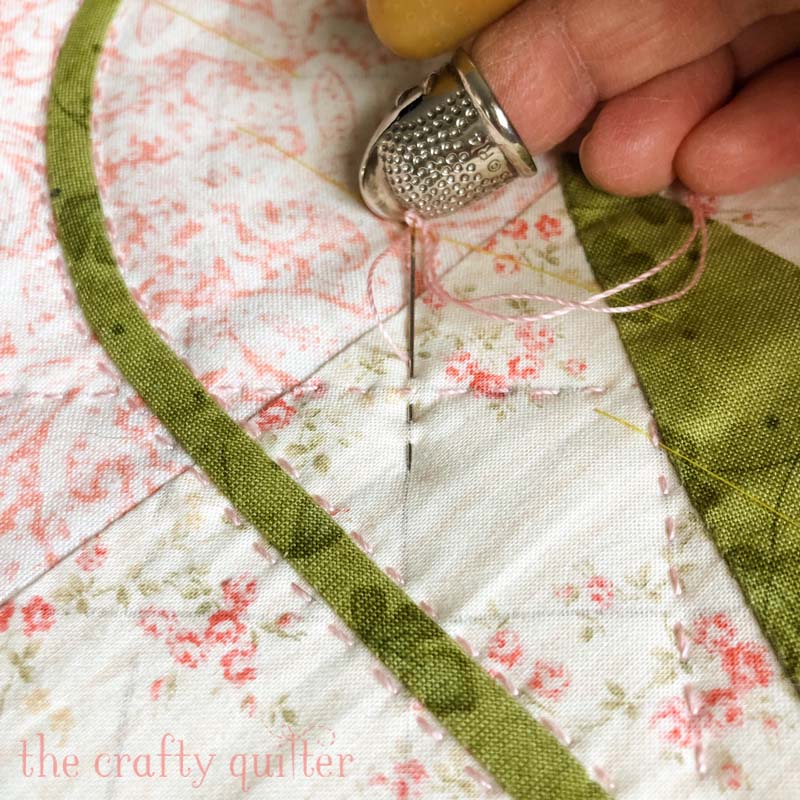 ---
That is all of my progress on hand stitching projects for now! There are so many ways to enjoy working with fabric and thread. I enjoy them all – which seems to be a "situation not a problem" as Mr. Crafty Quilter says. Ha ha! Do you have a favorite hand sewing project?