3 more mug rugs and a pattern correction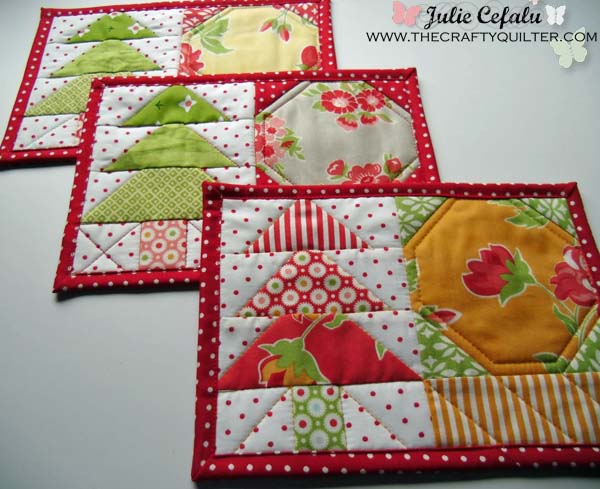 I just finished three more mug rugs – one for my daughter and each of her roommates at college.  You can find the original tutorial here at Holiday Mug Rugs.  I used pieces from a Marmalade (Moda) charm pack and a bit of my stash, though I didn't make much of a dent in either!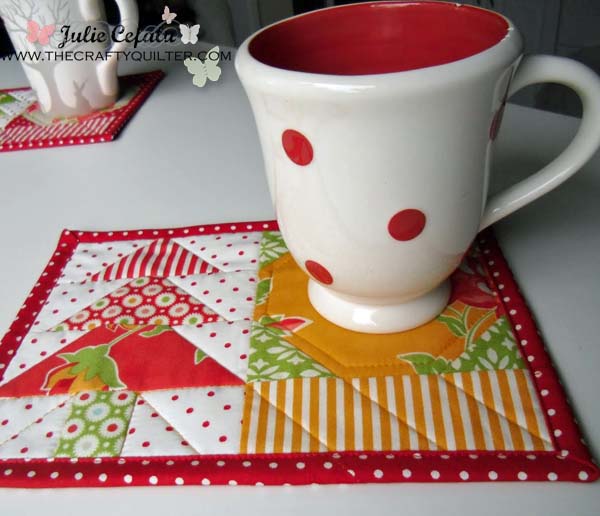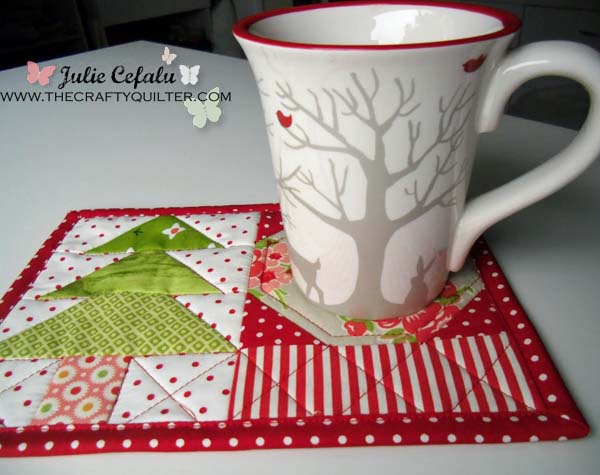 I'm finding that it's more difficult to find cute mugs than it is to make the mug rugs!
Thanks to Nettie, one of my blog readers, I did find an error in the cutting instructions.  The first two tree pieces did not include the seam allowance and the picture had two of the background pieces matched up with the wrong tree pieces.  The original post has been corrected, and here is the revised version for you:
Corrected Cutting Instructions:
(1) 5 " square (snowball center)
(4) 2″ squares (snowball corners)
(1) 2″ x 5″ rectangle (bottom of snowball unit)
Tree pieces:  (1) 2″ x 3 1/2″ rectangle, (1) 2″ x 4″ rectangle and (1) 2″ x 5″ rectangle
(1) 1 1/2″ x 2″ rectangle (tree trunk)
Tree background pieces: (2) 2″ squares, (2) 2″ x 2 1/4″ rectangles, (2) 2″ x 2 3/4″ rectangles (2) 2″ x 2 1/2″ rectangles
Sorry, for the confusion!  I guess you all are my pattern testers and I appreciate the feedback!
Have a lovely week!
~Julie