Free Season Reflections Quilt Pattern
You guys may have heard that I'm starting a newsletter that will highlight topics from the quilting world and provide a way to share new patterns and content with you. I've created this FREE Season Reflections Quilt Pattern as a thank you for signing up! This quilt has been a favorite of mine for a long time. Pick your favorite season, and start collecting fabric to coordinate with it!
Season Reflections Quilt
Season Reflections is a perfect project for a confident beginner. It comes in two sizes: a wall hanging (38″ x 38″) and a mini (15″ x 15″). The instructions are very detailed and contain step-by-step diagrams in full color. I've also included alternate layout options so you can play with the design of your quilt and make it your own.
Get your FREE Season Reflections Quilt Pattern Here!
If you like scrappy quilts, then you'll love Season Reflections. The more fabrics you include, the more sparkle your quilt will have. And it's fat quarter friendly! I made mine with a mix of Kaffe Fassett prints, oakshott cotton and other fabric from my stash. I used a Fall color palette for this version, and I can't wait to make one for each of the other seasons, too.
I quilted this myself on my Babylock Crescendo sewing machine. I had a stencil with a vine design which fit perfectly in the dark frames. I stitched parallel lines with a walking foot in the other spaces.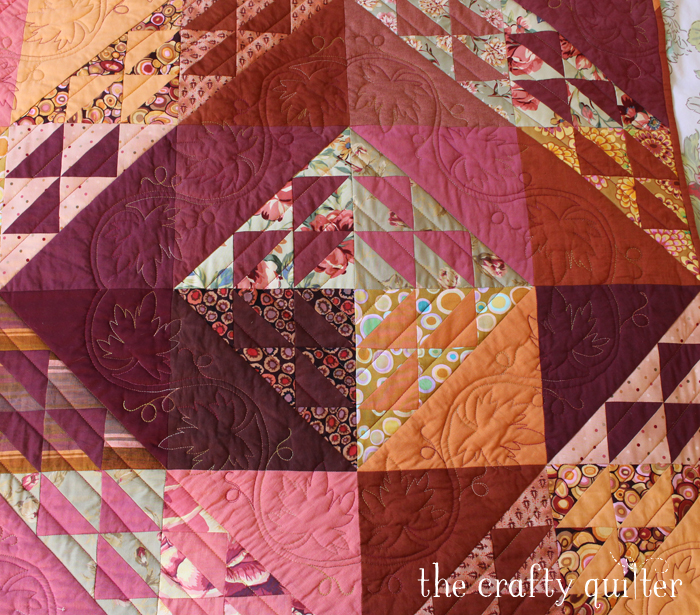 Pattern Tester Parade
I am lucky to have had some great pattern testers for this quilt. I love seeing the variety and style in each one! Enjoy the parade of Season Reflections Quilts!
---
As you can see, there is so much you can do with this pattern. You can play with color and block rotation to create an endless variety of designs. I hope you enjoy Season Reflections, and if you make it please share. Use the hashtag #seasonreflectionsquilt or #autumnreflectionsquilt to share on Instagram.
About my newsletter… This is something new and exciting for me. It will have different content than my blog, so if you already subscribe to my blog via email, you'll want to also subscribe to my newsletter, too. It will come to your inbox about twice a month. I'll include content designed specifically for my email list and also news of the quilting world (similar to Sew Thankful Sundays). I look forward to sharing more creativity with you soon!
SUBSCRIBE TO MY NEWSLETTER AND GET YOUR FREE PATTERN HERE.