Free Motion Quilting Challenge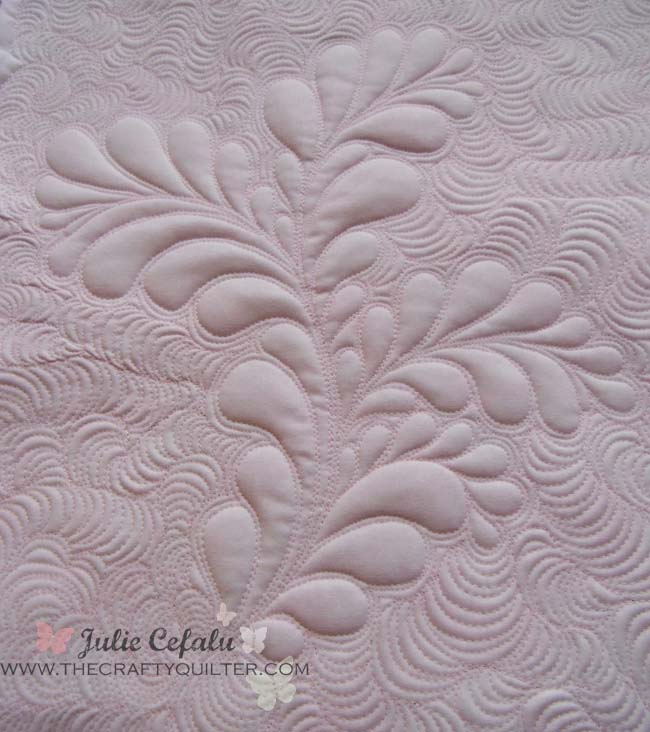 I have just completed February's Free Motion Quilting Challenge at Sew Cal Gal and it was a blast! I just discovered this challenge earlier this month and it's been on my "to do" list for weeks.  I love how it turned out!
This month's guest teacher is Diane Gaudynski and she has been my idol for years. Diane does the most amazing free motion quilting and her feathers make me want to cry, they are so beautiful! Her tutorial is just like taking a class from her (I can only imagine since I haven't had the opportunity).
She has you start with the feather's spine. I decided to try a branching spine. I used my trusty blue water soluble pen to mark it with.
Once you feather to the top of the spine, you echo back down around the outside.
Now I have my feather completed. Whew! That took me about 30 minutes to complete.
I decided it needed some background stitching to make the feather really stand out. I thought I would try a design called Bouncing Bananas that Diane shows in her book, "Quilt Savvy, Gaudynski's Machine Quilting Guidebook".
It really does look like bouncing bananas, but I think my bananas are a little skinny.
It's a nice change from the same old stippling and it adds great texture and interest too.
I have to admit that this technique takes a lot of practice to get right. I keep trying and it's getting much better. The key is to practice, practice and relax while you're doing it. A glass of wine or cup of tea can't hurt either!
I can't wait to see who next month's teacher is going to be! To be part of the challenge go to Sew Cal Gal's FMQ page and join today!