Gift projects and updates
Hey friends! I have a quick update on some gift projects I've made (and I'm making) along with other sewing projects in the works. We're heading to Texas on Wednesday to visit the grandkids and I'm trying to get everything done before we leave. So, this will be a quick update!
A good friend turned 60 last weekend and I made her a mug rug using all purple fabric (that being her favorite color). I literally made this the morning of her party and it took me just over an hour. It was quick because I'd made it many times before, I didn't have to decide on colors since I knew purple was THE color, and I simplified the piecing to make it easier and faster.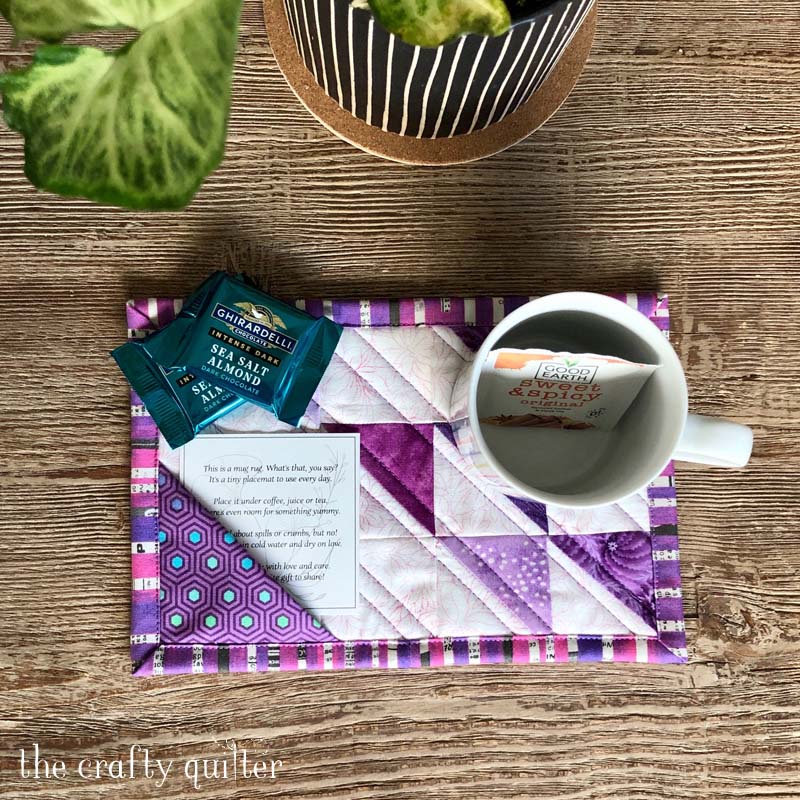 I think mug rugs make the best gifts! I added a tea bag, chocolate and a mug rug poem that explains what a mug rug is. You can find my free tutorial for this scrappy mug rug here (make sure you scroll down to get to the tutorial). The mug rug poem can be found here.
I've been keeping up with Moda Blockheads 5 so far. This is a free quilt along hosted by Moda and their amazing fabric designers. I have the first five blocks completed and there are four more to go. I'm using a fat quarter bundle of Kona solids in a Fall colorway with a dark background (I think it's Pepper). Below are the first four followed by the most recent block.
It doesn't take much to get me going down a rabbit hole, and this time it started with a post I saw on Instagram of a patchwork ghost stuffie. It was based on the book, The Little Ghost who was a Quilt, by Riel Nason. This story is about a ghost who is made from a quilt rather than a white sheet of fabric. The ghost wonders why he is different and why he gets so warm when he flies, etc. I haven't read it yet, but I'm told it has a sweet ending (of course).
I ordered the book right away and now I've decided that I need to make all four of my grandkids a little patchwork ghost hand puppet. Before Wednesday morning! I have one finished and the other three are in various stages. I'm taking pictures along the way so I can make a little photo tutorial in case anyone else wants to make one too.
Last weekend I attended the Pacific International Quilt Festival in Santa Clara, CA. It was a small event this year with fewer vendors and fewer crowds (sometimes), but still worth going to. I took pictures of some quilts that caught my eye and some of the winners. I'll do a separate blog post with all of my photos when I get back from Texas. For now, here's a little teaser.
That's all for now! I need to get back to my little patchwork ghosts and then start packing. I hope you all have a wonderful week and thanks for reading.