Giveaway winner of the Slit 'n Sew CutRite template
Hey everyone!  The winner of the giveaway sponsored by Quilter's Paradise for a CutRite Slit 'N Sew Template is comment #32, Paula H.  Congratulations!  In response to my question of what your most or least favorite quilt block is, Paula said "Love making half square triangles! This ruler looks awesome. Great tutorial."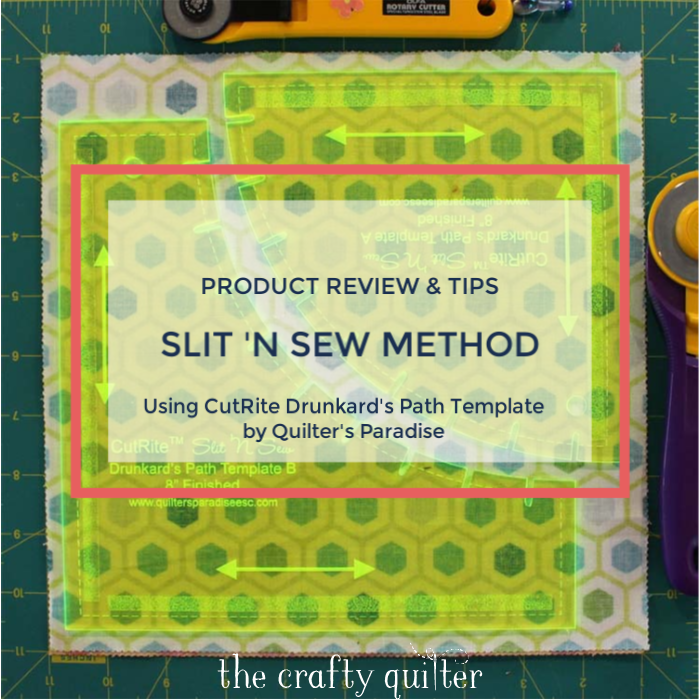 In case you missed it, you can read about my review of the Slit 'N Sew method using the CutRite Drunkard's Path Template here.
Thanks to everyone who participated in the giveaway.  I loved reading your comments about your favorite quilt block or least favorite quilt block.  Here's a quick rundown of your thoughts on that topic.
Favorite quilt blocks
Log Cabin
Star blocks (any kind)
Nine Patch
Churn Dash
Pinwheels
Drunkard's Path
Least favorite quilt blocks
Anything with "Y" seams
Curved blocks
Double wedding ring
Lone star
Drunkard's path
You seem to have a love/hate relationship with the Drunkard's Path block!  I get it.  I started off in the hate department, but fell in love once I used the Drunkard's Path template, and when I saw all of the design options with this block!
I have a few tutorials for some of my favorite quilt blocks:  Ohio Star, Pinwheel Star, Woven Heart Block, Ombre Heart, and Chunky Dresden plate.  Sometimes these tutorials get buried in other content.  They're a great reference tool if you need them.
I'll be back in the next few days to show you progress on my February UFO project.  This  month is flying by!