Placemat Tutorial using Quick Easy Mitered-Binding Tool
I made these placemats for my daughter and they were so easy to make.  I love that they are fat quarter friendly. I recently bought a set of six fat quarters and I actually used them all before they got lost in the stash!
If you have a stash of fat quarters, now is your chance to pull them out and get sewing!
Let me share the "how to" with you.
For six placemats, you will need:
6  coordinating fat quarters
1 1/2 yards fabric for back and binding (or 6 fat quarters)
1 1/2 yards Pellon Thermolam fleece or batting scraps.  I used batting scraps for this set of placemats, but I like the Thermolam better.  It adds more stability.
Quick Easy Mitered-Binding Tool for binding (optional) See this post for more information.
You can also add binding the traditional way.  Add 5/8 yard fabric for separate binding.
Step 1:  Trim all of the fat quarters to 15″ x 18″.  (Make sure to save your scraps – you should be able to have enough left over for a table runner!) Divide these (6) fabrics into three sets of 2 each.  These sets should look good together because they will become a pair of placemats.
Note:  I forgot to take pictures of each step using the same fabric set, so you will see a variety of fabric pairs along the way.
Step 2:  Stack (2) 15″ x 18″ rectangles (one set) on top of each other right sides up.  Cut 2 3/4″ on each side of rectangles as shown in this Placemat diagram.  It's easiest to rotate the cutting mat rather than the fabric when cutting each side.
Step 3:  Peel back the layers and arrange the cut layers so that you have two placemats with opposite colors in the center and outside corners: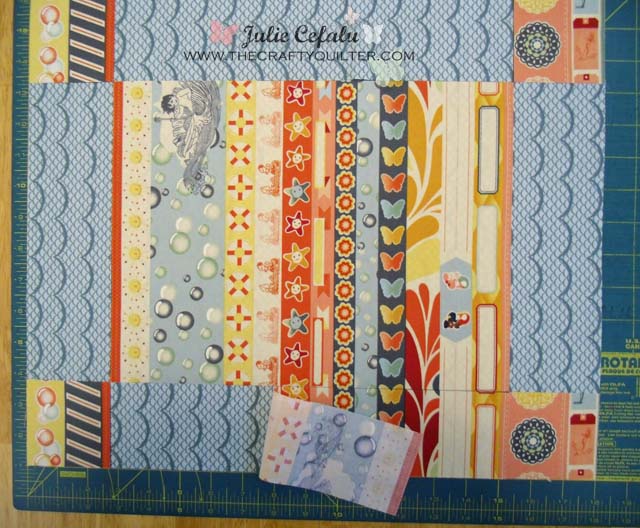 Step 4:  I forgot to take a picture of this step, but you'll be sewing together the pieces in 3 sections: top row, center and bottom row.  Then sew the three sections together.  You will have a placemat that looks like this: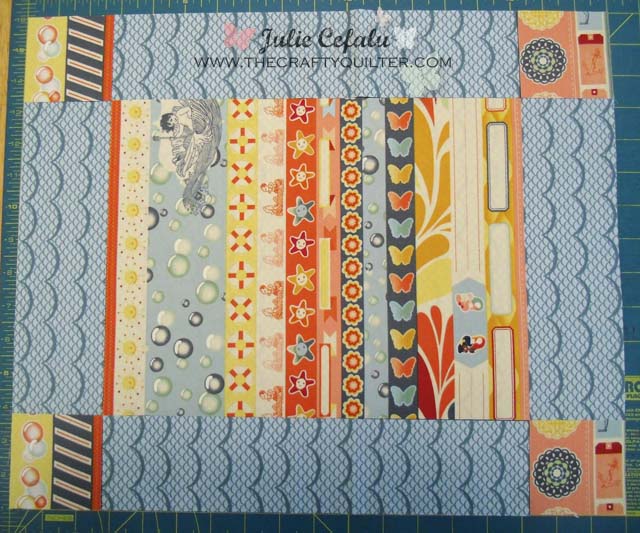 Repeat steps 1 – 4 for remaining sets of placemats.
Step 5.  Cut the backing fabric into 6 rectangles, 18″ x 21″ or if using fat quarters, leave as is.  Layer the backing, batting (or Thermolam) and placemat top and baste.
Step 6:  Quilt by stitching in the ditch along the seam lines.  I also stitched vertical rows in the center about 2″ apart.
Step 7:  Starting with this step, I will be assuming that you are using the Quick Easy Mitered-Binding Tool to wrap the backing fabric to the front to form the binding.  If not, you can finish your placemats with traditional binding methods.
Trim batting even with placemat top.  You can use scissors or a rotary cutter.  If you use a rotary cutter, make sure that you place a small cutting mat between the backing and batting and be careful not to cut through to the backing fabric.  (Trust me I know).  The picture below shows the rotary cutter method.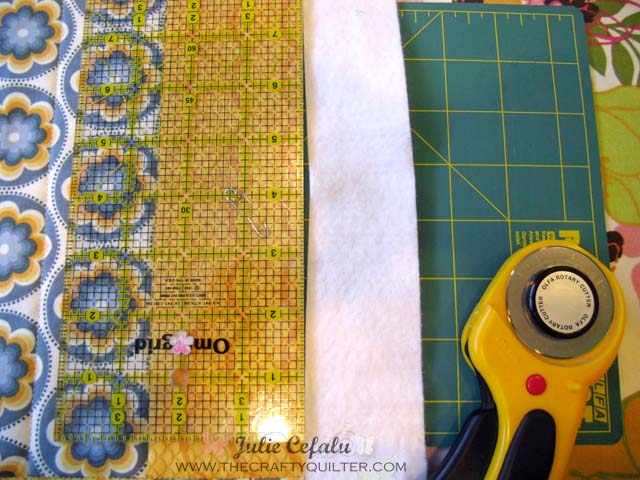 Step 8:  Trim the backing fabric 1″ away from the placemat on all four sides for a 1/2″ wide finished binding.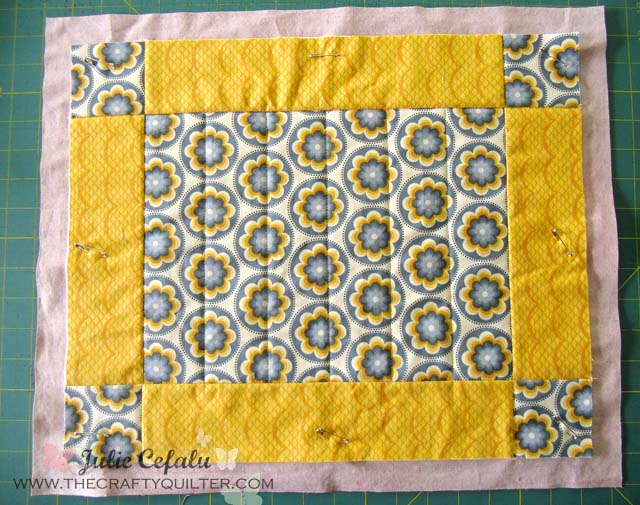 Step 9:  Press the edge of the backing 1/2″ over so that the raw edge of the backing fabric meets the quilted top edge.
Step 10:  You can use the instructions for the Quick Easy Mitered Binding Tool found in my previous post.  Here is a step-by-step picture of the mitering process:
Here is what the back looks like:
I had enough fabric scraps left over that I made a matching table runner too! The finished size is 15″ X 38″.
Here are my scraps and how I put them together:
These make great housewarming gifts, wedding/shower gifts, Christmas gifts or maybe you can keep them for yourself!