Product Review – Quick Easy Mitered-Binding Tool
I have recently discovered a great tool for making mitered binding. It's called the Quick and Easy Mitered Binding Tool
by Sew Biz. Ask for it at your local quilt shop or shop online.
It's designed to use the backing fabric to wrap around to the front of your project and form a binding; rather than a separate piece of binding that is added the more traditional way.
Here's how it works:
1. Once you have basted and quilted a quilt or other project (a placemat in my example), you will trim the batting even with the quilt top as shown: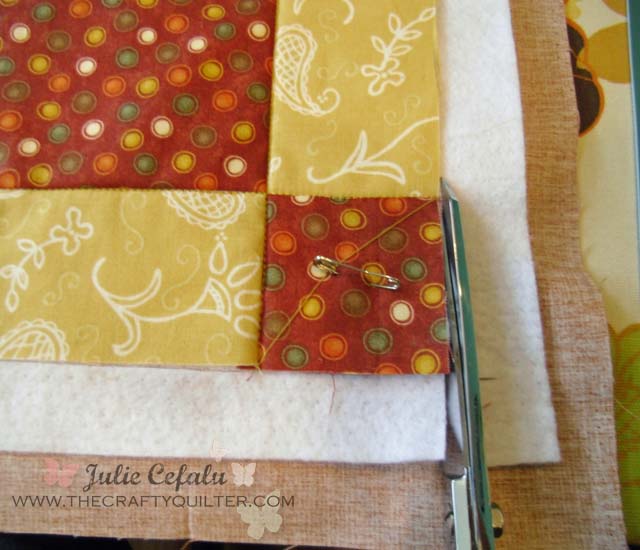 2. Determine how wide your finished binding will be. Trim the backing twice the width of that. In my example, I wanted my binding to be 3/4″ wide, so I trimmed the backing to 1 1/2 inches.
3. Press the backing so that it meets the edge of the quilt top/batting. Repeat on all four sides.
4. Place the mitered binding tool in the corner, matching up the lines on the ruler with the quilt top corner and draw a line along the top edge as shown:
5. Draw a line where the previous line intersects with the crease that was formed during pressing. This will form a slanted "X" at the intersection.
6. Fold the corner back on itself with right sides together and pin. Make sure the pin goes through both "X's" that were formed previously to ensure that the lines match up.
7. Stitch on the drawn line from fold to the crease, backstitching at beginning and end.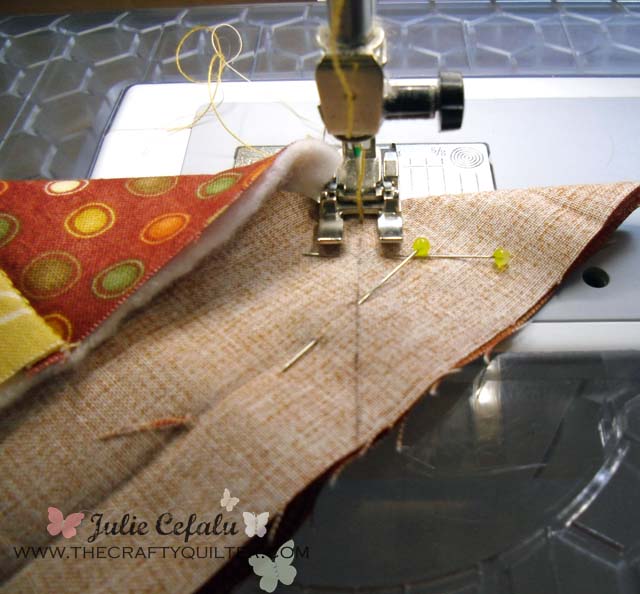 8. Trim seam allowance 1/4″ from stitching.
9. Turn the stitched corner to the inside so that a miter is formed. Use a long tool such as a point turner to push the corner out to a sharp point. Repeat steps 4 – 9 on all four corners.
10. Press the binding over the quilt top and stitch along folded edge. Make sure to stitch as close to edge as possible, otherwise a flap will form and it won't lay flat.
The mitered corners are beautiful and they have perfect points!
I'll be sharing a tutorial on my placemats soon. Update: The Easy Fat Quarter Placemat tutorial is available here. Here's a peek of the corners: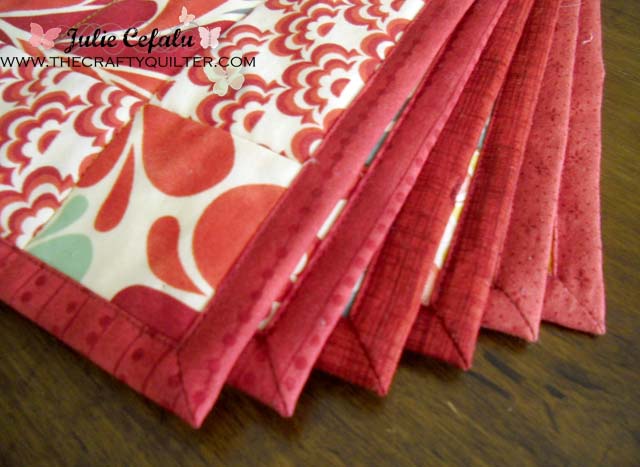 I highly recommend this tool and I think it would work great on so many things like baby blankets, placemats, and quilts. Give it try!
Happy Quilting!
Julie