Free Scrappy Leaves Table Runner pattern
It's time for some Autumn sewing, my friends, with this free Scrappy Leaves Table Runner pattern! Following up on last year's Scrappy Leaf Quilt Block tutorial, I've added instructions to make this beautiful table runner. It's a great scrap buster to use with your favorite Fall colors.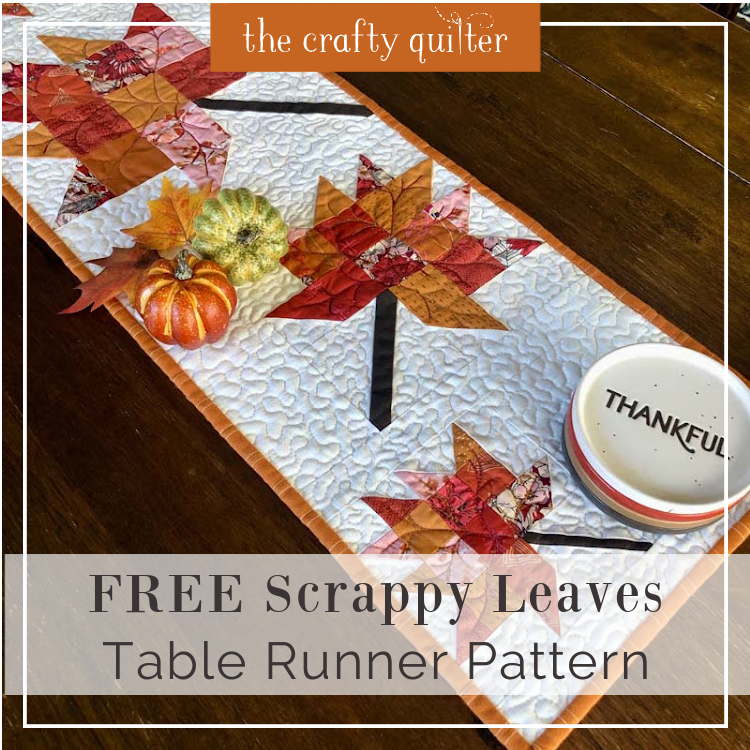 The size of this table runner is 10.5″ x 40.5″ and it's easily adaptable to make it larger by adding borders and/or wider sashing. You'll need to make a total of five scrappy leaf blocks in the following finished sizes: (2) 5″, (2) 7.5″ and (1) 10″. The variation in sizes gives the illusion of leaves floating in the wind.
Free Scrappy Leaves Table Runner pattern
You can download the Scrappy Leaves Table Runner pattern below. This is a free pattern and I've tried my best to make sure it is accurate. Feel free to contact me if you find any inaccuracies. I've also included the Scrappy Leaf Quilt Block instructions, so you'll find the pattern for the table runner on page 3.
Note: If you are reading this in an email, you may need to click over to my blog in order to see the download button. If you have any trouble downloading the file, please leave a comment or send me an email.
Table runner details
I love to decorate with table runners! I have several for every season and I vary the sizes of them. At 10.5″ wide, this one is skinnier than most table runners I've made. But as I said, you can make it bigger by adding borders and increasing the width of the sashing.
The batting I like to use for all of my table runners is Pellon® TP970 Thermolam® Plus Sew-In. This is a needle-punched fleece which is really stable and it doesn't shrink at all. It also comes in a fusible version (TP971F). It gives some added protection to my tables when placing hot dishes on top. I also like the way my quilting shows ups on it. It really accentuates the stitches!
I did some dense stipple quilting in the background which makes the leaves pop a bit. For the leaves, I added leaf veins that give it a little more character. I used a variegated thread for the leaves and it had every color of the leaf block in it.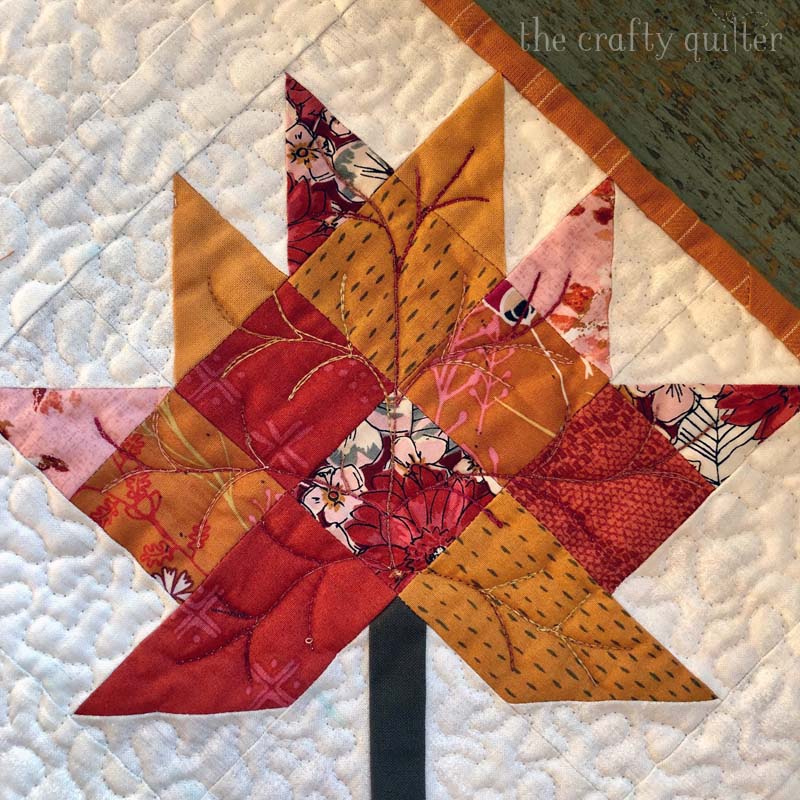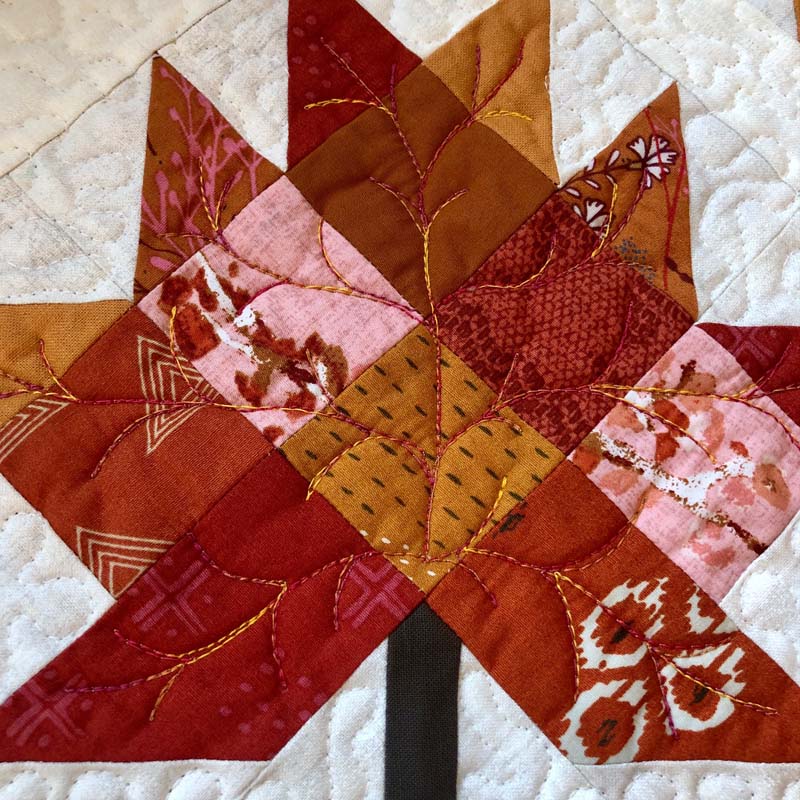 The backing fabric was a perfect color and fit for the theme of this table runner: Season & Spice by AGF Studio. I added a custom label (I can't remember the vendor) to the back along the binding. I think it adds such a nice touch, especially if giving it as a gift.
Happy Fall!
I hope you get a chance to make your own Scrappy Leaves Table Runner. I think it adds the perfect touch of Fall to your home décor!
Make sure to Pin the image below, so you can find it easily! Enjoy and happy Fall!