Sew Thankful Sunday 04.14.2013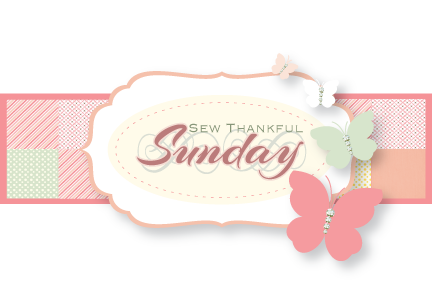 I am so glad you're joining me today! I have sew much to be thankful for and I have to start out with the fact that I have reached over 500 followers! Yippee! I am sew thankful to all of you for giving me some space in your computer time. I know how valuable it is!
Last week, one of the students in my Advanced Beginning Class, Shane, told me about this awesome quilt along taking place at Knit 'n Lit. The Modern Half Square Triangle Quilt Along has a great story behind it so keep reading (please).
A gentleman had a girlfriend who was a quilter. He was intrigued by the process and design of quilting, and he wanted to impress his girlfriend so he created a Perl program to see how many unique blocks you could create using half-square triangle units. The answer is 72! And his girlfriend was indeed impressed. So when they got married, she made him the quilt using all 72 blocks. How sweet is that? You can read Mark's whole story here.
So Jenn of Knit 'n Lit decided to use his project as the basis for a quilt along. Each week (we're now at week 31) she posts a tutorial using one of those blocks. The blocks measure 8 1/2″ unfinished and by January of 2014 she will have them all finished! Here's the most recent block:
I am impressed with both the originator of the design, Mark and the blogger, Jenn who took it on as a quilt-a-long. Sew thanks to both of you!
I have recently discovered a website called issuu. It delivers and creates publications of all kinds. I don't remember how I got there, but I think it started with this issue of Smart Blonde & Crafty. Yep, the title had me at Smart and Blonde and I was sold by the time I got to Crafty!
You can browse all types of publications through issuu. Here is a screen shot from one of the pages of Smart Blonde & Crafty:
Many of the publications offered are free and you can set up a free account that will allow you to mark certain publications as favorites and subscribe to authors that you like. Here's another magazine that caught my eye, Sweet Living.
You can also find catalogs, marketing brochures for quilt shows, and more. Be careful, though. You might find that hours have slipped through your fingers because of all the treasures you have found!
If you are a Pinterest "aholic" like me, I have to share an easy way to find entire boards (and not just pins) of quilting stuff. You all might have known this already, but I just discovered it by accident!
When you have one of your boards up on the screen, there is a red "find pins" button next to "Edit Board" button. You can see the red arrow pointing to it below on my screen:
And here is the result of clicking on that button:
Look at all of those quilt inspiration boards! There goes another hour of computer time! Yesterday I was looking for baby shower cards to make and discovered so many boards specifically for that. I was like a kid in a candy store!
Here is something I recently pinned from Red Pepper Quilts:
Isn't that a real beauty! Thank you Rita of Red Pepper Quilts for the inspiration!
If you want to find out more about Pinterest, you can check out a previous post I wrote here. And if you want to follow me on Pinterest, click the button below:
I will be back tomorrow with the April edition of Christmas Once a Month. Enjoy the rest of your Sunday!