Christmas Once A Month, April – Mason Jar Candle Holders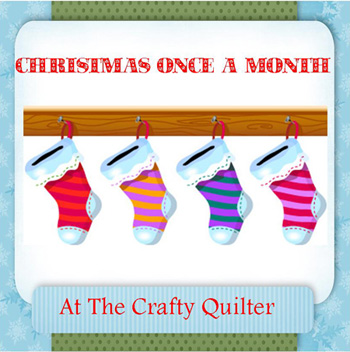 The Christmas Once A Month project for April is a set of mason jar candle holders, beautifully decorated for the holidays!
Last summer we attended the wedding of a good friend's daughter and they gave everyone beautiful candle holders as their wedding favors.
I love the lids that they found and the burlap and lace gave it a beautiful, vintage look.  I didn't use these until Christmas time and when the candle was finally lit, it really shined!
These are really simple to make and I made another version using vellum and a snowflake punch.  You can see it above on the left.
So, let's get started.  You will need some mason jars – almost any size works for this project.  I had some burlap left over from my daughter's wedding, but I just saw some on a roll at Michaels on sale.  You will also need Mod Podge, a foam brush, twine or ribbon and some "bling" for the center decoration.  A glue gun is helpful too.
The daisy cut out mason jar lids aren't necessary, but they are so cute that you might want to order some anyways!  I found an online source at Candle Soylutions.
First you need to cut the burlap just wide enough to fit around your mason jar.  Use old scissors and don't worry about being perfectly straight.  It adds to the rustic charm!
Apply Mod Podge to the outside of the mason jar with a foam brush.  (I used parchment paper on top of my work surface to keep things from getting too sticky.)
Place the jar on top of the burlap strip and wrap the burlap around the jar until it's smooth and tight.  You can also fray the edges of the burlap easily by pulling on a crosswise strand until it releases.  Make it as frayed as you like.
Now you can tie some ribbon or lace around the center of the jar and top it off with some embellishments.  A snowflake would look good if you have it.  There's not a lot of that wintery stuff around in April, so I found some flower embellishments in the scrapbook section of Michaels.
The next jar I decorated was much smaller, so I applied a strip of ruffled lace just below the neck and added a ribbon bow and some bling.  The glue gun came in handy for that.
For the next candle, I was going for an even more rustic look.  I added a circle snowflake sticker (with Mod Podge) and a bow made of red twine.
The next jar uses vellum to create a pretty snowflake silhouette on the surface.  Vellum is an opaque paper that has a frosty look to it and you can find it at most craft stores. You will also need a craft punch – mine is a Martha Stewart-brand snowflake and some spray adhesive.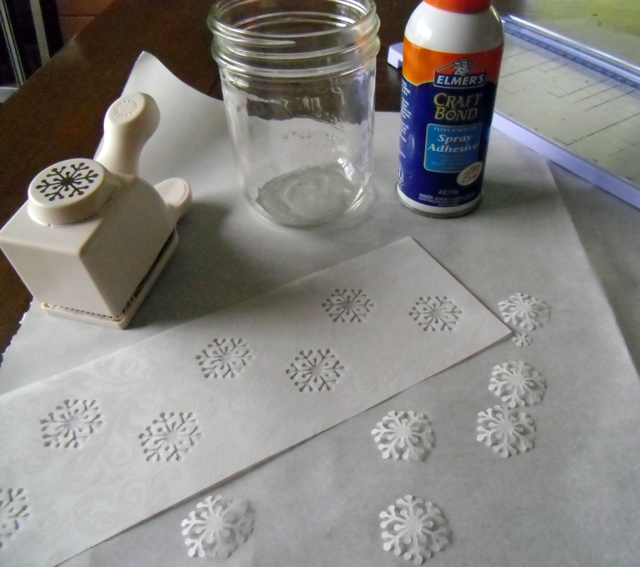 Cut the vellum wide and long enough to fit around your jar.  Punch out snowflakes along the strip.  I alternated punching from one side and then the other to create a "zig zag" of snowflakes across the strip.  Save the snow flake cut outs for the next project.
Spray the jar with the spray adhesive – it doesn't take much.  Apply the vellum on top and smooth out.  This jar is a wide-mouth mason jar, so I didn't have a pretty lid to fit. So I added some ribbon to the ring portion of the mason jar lid and tied it off with a bow.  I added a snowflake too, because I had happened to have one.
I thought Mod Podge would be a perfect way to apply the vellum to a glass surface, but no.  It doesn't like Mod Podge.  Wrinkles are not pretty.  You can see the difference below.
For the next candle, I used a small votive that I had and the leftover snowflakes from the previous jar.  Spray the votive with adhesive and attach snowflakes randomly.
That's it – easy peasy.  You can add a ribbon if you want.
You can really use whatever you have around the house to make these candle holders.  They would make great gifts and will add some charm to your Christmas decorations.
And you don't have to wait until Christmas to make them or use them!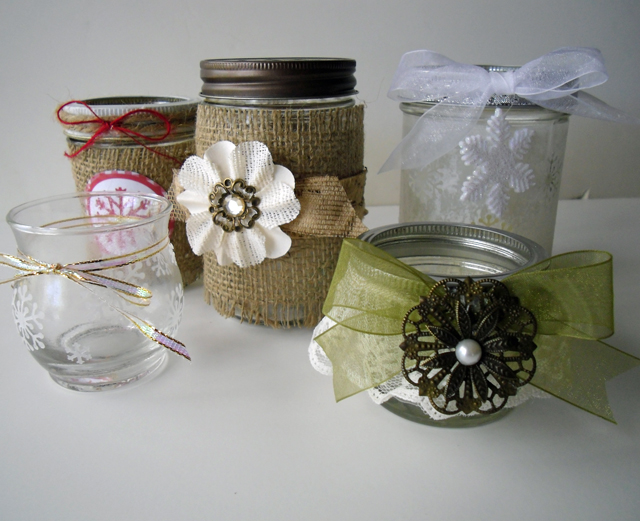 I have seen so many other projects using mason jars that would be perfect for Christmas gifts.  I'd like to give you a round up of some other ideas that you can think about.  Clink on any of the photos below and it will take you to its source.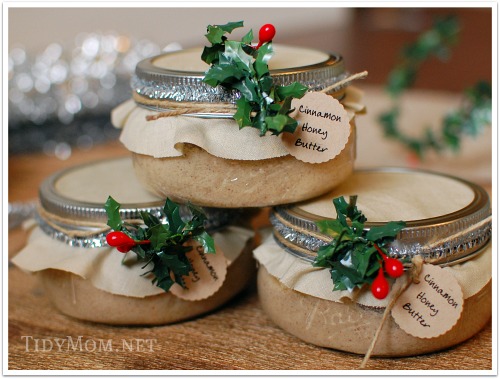 There are many more great ideas using mason jars that I think I'll do a Mason Jar Round Up 2 in the near future.  Plus I have some blog friends joining me in my Christmas Once A Month craftiness that I want to introduce you to.  You can also find more holiday inspiration at Lily Patch Quilts:  Christmas Through The Year.