My list of projects to finish and/or get started in May is longer than usual, so I have whittled it down to three four.
First, I want to finish the "Jelly Roll Race" quilt that I made several months ago in a class that I took from Angela at The Granary.  It was so much fun!  If you haven't heard of the Jelly Roll Race Quilt, you can learn about it from The Missouri Star Quilt Company's YouTube video.  Another place to look is the Heirloom Creations Blog.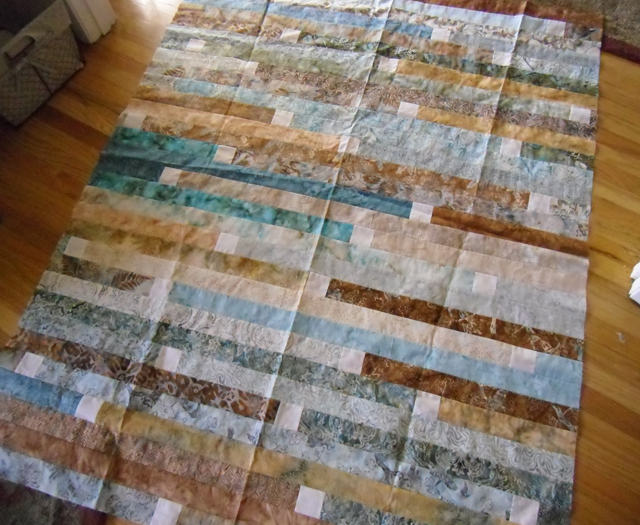 My version uses 2 1/2″ squares to link the strips together.  I really like the modern look of this one.  I used a Bali Pop (2 1/2″ precut strips) from Hoffman Batiks, and the plan is to make it a little longer and quilt it.
I would also like to catch up with the Blogger Girls BOM from Open Gate Quilts.  I switched my fabric palette and had to re-do one block.  Here is what I have so far:
Next up is to make a messenger bag for my youngest daughter, Sara.  Even though school is almost over for the year, I can at least have it ready for the Fall (how scarey is that?).  I've made this messenger bag for my two older daughters and they love theirs.
Lastly, a small something for me.  I have had this linen fabric for months now and I can't wait to make something with it!  I found some companion fabrics to go with it, and I'm going to make a bag or a notebook cover out of it.  Decisions, decisions.
I love the month of May!  The weather is nice, the flowers are blooming, the vegetable garden is growing and I have lots of projects to finish (or start).
What are you working on this month?