Sew Thankful Sunday – 05.05.2013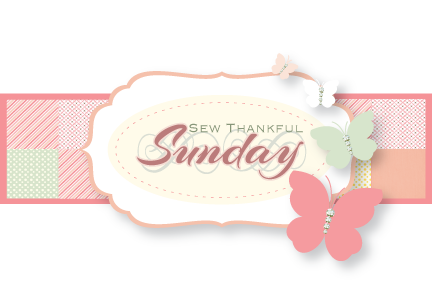 Thanks for joining me for Sew Thankful Sunday.  This is my day to highlight some of the lovely blog goodies that I have seen recently and that I am sew thankful for!
Geta's Quilting Studio is hosting a "Quilter's Favorites" linky party on May 10th.  Geta has suggested a list of questions for quilters to answer and share.  This is something I am totally looking forward to participating in, so stay tuned for my post on Friday and then check out the linky party to see what others are sharing.
Next, check out Lily's Quilts to see the new iPad app called Quiltography and leave a comment for a chance to win a copy of your own.  It looks great on the screen, and Lily says it's easy to use.  Another new toy for quilters!
Then, you might want to head over to Clover & Violet's blog for Sewing 101.  They just posted a new addition to their series which is all about stay stitching for facings and patchwork.  I learned a new trick myself, but you'll have to find out for yourself what it is!
You may be familiar with Craftsy, an online resource for classes designed specifically for crafters.  But did you know that they have a Craftsy Cares program?
The goal of Craftsy Cares is to partner with organizations that provide craft projects with purpose and make an impact for those in need.
They have recently partnered with St. Jude Children's Research Hospital and they invite you to join them in creating a new stuffed animal, blanket or toy to donate.  You can find out more information at Craftsy Cares.
McCall's is hosting a quilt along called Accent on Amish and the first video lesson is available at their website here.  It's perfect for beginners and the more experienced quilters will love it too.  I have the perfect fabrics for this, but I just need to "borrow" some free time.  There should be a bank for that!
I love a good Dresden Plate, and Red Pepper Quilts has an awesome tutorial for a giant scrappy version!  This circle measures 36″ and it's bright and fun.  I think it would make a great table topper or a floor mat.
I am sew thankful for all of these featured resources!  Enjoy the rest of your Sunday!