Sew Thankful Sunday: 06.02.2013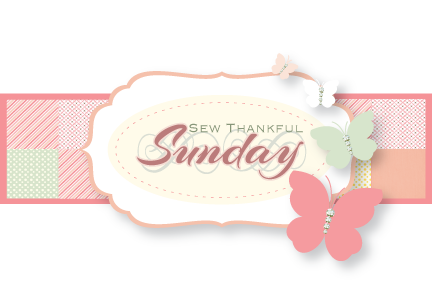 Welcome to Sew Thankful Sunday and the first weekend in June!  I have six things that I want to share with you from this beautiful blogging community and that I am sew thankful for!
1.  The Aiming for Accuracy Quilt Along is just starting at The Quilting Gallery.  This would be a great project for anyone wanting to improve their piecing skills.  Here is what Michele says:
This is a complex design, in terms of planning, but not in the actual sewing and putting together. I consider this to be an advanced beginner's quilt. However, no need to be overwhelmed, as the most complicated unit is quarter square triangles. The entire quilt is pieced, no paper piecing, no y-seams and no partial seams.
You can find the fabric requirements to get started here and the official lessons start on June 20th.
2.  Bethany from Sweet Bee Buzzings shows you how to make a great zippered pouch in any size you need.  Her step by step instructions are clear and simple – I think even I could make a few!
3.  Do you need a summer beach bag?  Look no further!  The latest edition of Henry Glass Fabric's PDQ Club by Jill Finley has Instructions for a perfect tote for the summer.
4.  The Patchwork Posse is hosting a Round Robin Winter Wonderland and row 9 includes these adorable presents made by Clover & Violet.
5.  The Design Team from The Quilted Fish have some mini quilt tutorials to share with you that highlight their latest fabric line, Madhuri, for Riley Blake Designs.  I love this fabric line! You can start the "tour" by visiting Silly Mama Quilts and get a peek at the other mini's too.
6.  Get ready for the Modern Mini Quilt Challenge at Ellison Lane Quilts.  This is a challenge to you to try a new technique, pattern, or idea but keep it small and do-able.  Size requirements are anything between 6″ square and 24″ square".
Enjoy the rest of your Sunday and I hope you get lots of quilting and crafting done this week!