Sew Thankful Sunday, 09.29.2013
Hello, and welcome to Sew Thankful Sunday!  I have lots of inspiration to share that I am sew thankful for!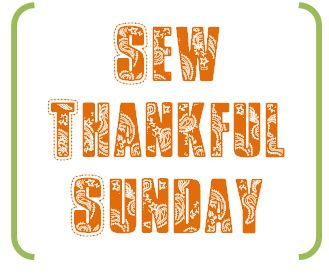 (Remember, you can click on any of the images and it will take you to the associated link).
1.  Kelly at My Quilt Infatuation has an easy Chevron Quilt tutorial that I think you'll love!  I really need to get on that band wagon, because I love the look!
2.  Are you confused about what kind of thread to use when quilting?  The Craftsy blog has a nice post explaining the differences and what type of thread to use in each stage (piecing, quilting, binding, etc.) of quilting.
3.  If you need advice for handling those thread tails when quilting, Wendy from Ivory Spring has done a great post on her method.  Plus you should see her quilting!
4.  Do you feel like making a few log cabin blocks for a good cause?  Amanda Jean from Crazy Mom Quilts sure did!  She recently posted about a program called "A Mother's Hope" which is sponsored by Margaret's Hope Chest.  They're collecting log cabin blocks to make into quilts for women who are suffering from postpartum depression.  Amanda Jean has a tutorial for making the blocks here and you can find out more about the program here.
5.  The month of September was full of tips and information for quilters at Moda's The Cutting Table.  Some of my favorites are: Two Tricks for Perfect Log Cabin Blocks, Precise Measuring & Cutting, The Binding Tool & Mini, ThermoWeb Ruler Tape, and Back to BasiX.
6.  Jodi from Pleasant Home recently shared 15 Tips for Using Batting Leftovers.  She has some clever ideas, and I won't be throwing away my batting scraps any more!
7.  The Back To School Sewing Series has just finished up at Ellison Lane.  Jennifer and friends shared tutorials on pencil pouches, lunch bags, tablet cases, lanyards, luggage tags, tote bags and more!  It almost makes me wish my kids were still "school age"!
8.  Kim at My Go Go Life just shared a beautiful paper pieced compass star on her blog and I was just smitten!  She found the (free) pattern at Quilting on the Square, and they have 11 more available for a limited time.  I've already downloaded mine!
A special thanks to all of the blogs featured today and their beautiful work.  Enjoy the rest of your Sunday and thanks for stopping by!