Sew Thankful Sunday, February 2015
{I am frequently visiting other blogs and I'm always amazed at the talent and passion that I see along the way.  Since I love sharing these new "finds" with you, I created Sew Thankful Sunday.  My way of giving back to the quilting community and sharing great content with you at the same time!}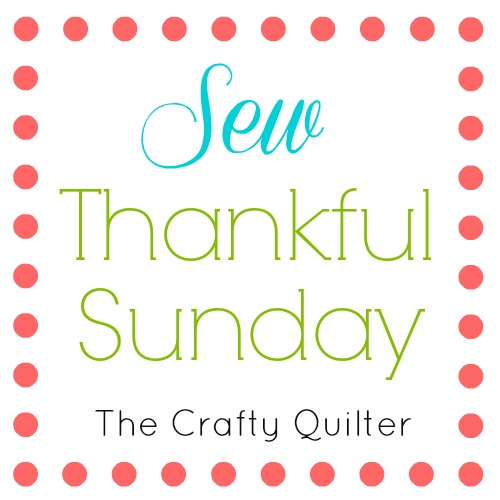 I love hearts and that makes February one of my favorite months of the year.  There are so many beautiful things you can do with a heart, and today I get to share what other bloggers have done and other happenings, too!
(Remember, you can click on any of the images in this post and it will open up a new tab to the associated link).
1.  Lindsey at Fort Worth Fabric Studio is always keeping up with the latest holiday and she's done a great job with February.  Love Notes is a table runner that you'll LOVE to make!
2.  I love this Sweethearts Mini Quilt by Jera at Quilting in the Rain!  These are the sweetest little hearts ever!
3.  And for something extra special, check out this Sweet Heart Zip Pouch from Melissa at the Polka Dot Chair.  You could fill this with your favorite candy or maybe some nail polish!
4.  It's my weakness:  a good block of the month and a scrappy one, too.  That's what you'll get with Nancy Zieman's Adventure Quilt BOM, plus she gives you lots of tips for making each block.  I love where this one is going!
5.  I'm drooling over some of these craft room ideas at the Top 10 tips to Transform Your Sewing Room from the Fat Quarter Shop's Jolly Jabber Blog!  There are some great ideas and tons of inspiration here!
6.  This pillow is a work of art and a beautiful way to say "I Love You".  You can find the free pattern from Geta at Geta's Quilting Studio, plus you'll find a lesson on trapunto there, too!
7.  If you think the way to a man's (or woman's) heart is through their tummy, then you must try this Red Velvet Swirl Brownie recipe from Amy at Positively Splendid.  I'll tell you right now, a bite of this would definitely win my heart!
8.  How about a Quick Heart Quilt Block Tutorial from the Diane at the Craftsy Blog?  Sometimes cute and easy does the trick!
9.  This year Aurifil and Pat Sloan are hosting a designer of the month series which will feature one designer and a free mini quilt pattern by each of them.  January's designer is Gudrun Erla with a beautiful mini called Flurry.  How can you resist a mini?
10.  Here is a full size quilt that is full of February goodness:  Love in Chains is a free pattern designed by Shelly Pagliai for Dear Stella.
11.  I have been watching Natalia at Piece N Quilt for the past few weeks as she rolls outs 30 days of Sewing Quilt Blocks.  I'm amazed at the variety and detail that she has put into each post.  She has even created a sampler from the first 9 blocks that is adorable!
12. I love Irish chain quilts and Melissa at Happy Quilting does too!  She is celebrating the release of her upcoming book, "Irish Chain Quilts" by having an Irish Chain Twist Quilt Along!  The orange peels really sealed the deal for me!
There you have it!  Some beautiful inspiration for the month of February!  Thank you to all of the artists featured today and their wonderful projects.  It's so nice to be able to celebrate this month of hearts with our blogging community!