Hey everyone!  I have been a busy bee and just wanted to give you an update on what's been going on.
This is definitely the season of giving, but yesterday I got to be on the receiving end!  A wonderful customer and student of mine made a beautiful pillow in one of my applique classes and then she gave it to me when it was completed!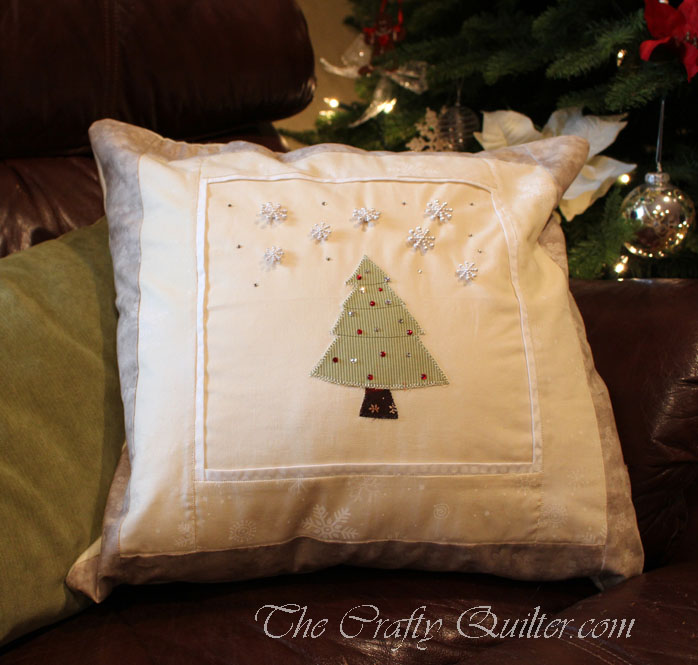 Thank you so much, Annie!  I love the little details in this pillow.  The sparkle from the rhinestones and the pearl snowflakes make it dance.  I will treasure it!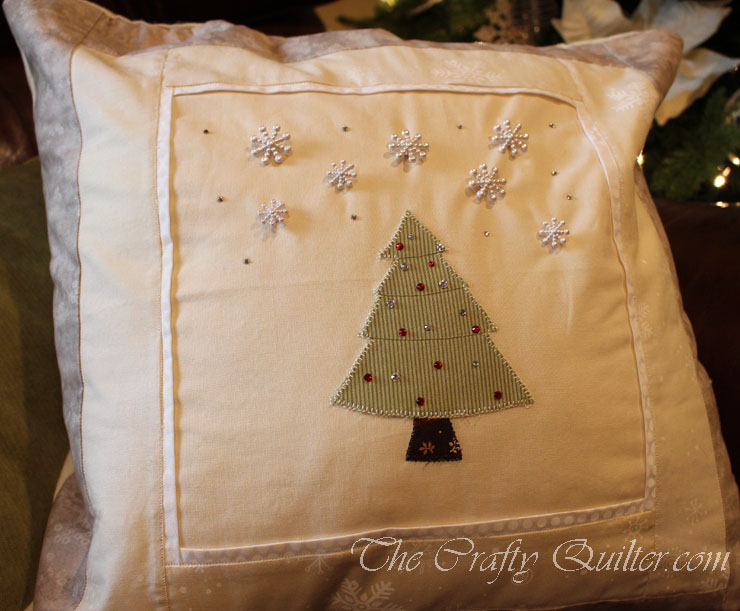 Later that day, I got a visit from one of my blog followers who lives all the way in Norway, and she was visiting her daughter who lives in my hometown of Sunnyvale.  It was lovely visiting with her and she brought me a handmade Norwegian Christmas ornament!
She knew that I am half Norwegian, so that makes it even more special.  Thank you, Edith!  I absolutely love it!
Here are a few WIP's that I've been working on…
Sew Lux Fabric & Gifts had an anniversary-mystery BOW (block of the week) that I took advantage of.  I love how it's turning out – I just need to add borders.
I made a mug rug from one of my favorite pattern designers, The Patchsmith.  Amanda has the cutest mug rug patterns and they're quite reasonable!
Speaking of mug rugs, I've been working on a tutorial to share with you for a quick mug rug that you make in time for Christmas.  Here's a sneak peak:
I'm hoping to have it ready by Friday!  This will be my last Christmas Once a Month installment.  I've been asked if I will continue this next year, and the answer is "no".  BUT, I will be doing some kind of Christmas Quilt Along next year.  I'm not sure what the time frame will be, but I'll give you plenty of advance notice (September 2014, maybe?).
Last, but certainly not least, I have been quietly working on a project that I have been honored to participate in:  The Quilt Show's 2014 Block of the Month!
This gorgeous alphabet sampler was designed by award-winning quilter, Janet Stone.  You should see it in person!  The details on this quilt are absolutely stunning.
My part in this? I have been making video tutorials for each month of the BOM that will be aired on The Quilt Show's website!  AND guess who video taped me?  None other than Alex Anderson, herself!  She is a huge icon in the quilting industry and a very kind and generous lady.  Not to mention a good director!
And guess where we filmed all of this?  At Alex's house in her sewing studio!  She has a beautiful home and, OMG, a fabulous studio.  Like, in my wildest dreams kind of studio.  Fortunately, she lives about 45 minutes from me, so my friend and I drove to her home on Monday and spent five hours working with her and her husband.
Just so you know, I was SO nervous!  I'm definitely not a natural-born actress, but I can teach just about anything.  I was really prepared with my lessons, just not about the video taping process.  I think my nervousness will show on the camera, and of course I look twice as big and twice as old as I think I do!  Where did that double chin come from?  LOL!
I have to thank Mary Kay Davis who recommended me for this job.  She works for The Quilt Show and for The Granary Quilt Shop (with me).  She's also a pattern designer (Threads on the Floor) and an excellent quilter.  Plus a wonderful person all around!  Thanks, MK!
I'm making my own version of the TQS BOM, and I have two blocks done. The letter "A":
and "F":
They're a little bit more modern than the original version:
The instructions for the blocks have been wonderful.  I love the way Janet over-sizes many of the units and then trims them down later.  That's my favorite way to make quilt blocks.
If you're a member of The Quilt Show.com you get free access to the current BOM and so many other classrooms, lessons and quilt shows.  If you're not a member, you can still see lots of great quilts and take advantage of some of their other resources.
That's the latest from my world.  I'll be back in a few days with a little mug rug for you!