Are Frixion pens safe to use on quilts?
Frixion Pens are heat erasable pens that have become a popular marking tool for fabric, but are they safe to use on quilts? There has been much debate and discussion about this, so I did some research and experimentation of my own. I don't have a "yes or no" answer for you, but I do have some great information to share so you can make a mindful decision for yourself.
What is a Frixion pen?
First, let's talk about Frixion Pens in general. These pens are made by Pilot and were designed to be used on paper and erased with an eraser. The friction formed from the eraser and the paper creates heat which causes the ink to disappear. The ink is comprised of two parts: gel ink and thermo ink. The thermo ink makes the gel ink disappear, but the ink remains although it's invisible. I found an excellent, in-depth article about Frixion Pens by Jenny at The Quilt Skipper. Jenny spoke with a representative from Pilot and shares some great information; the comments are worth reading, too.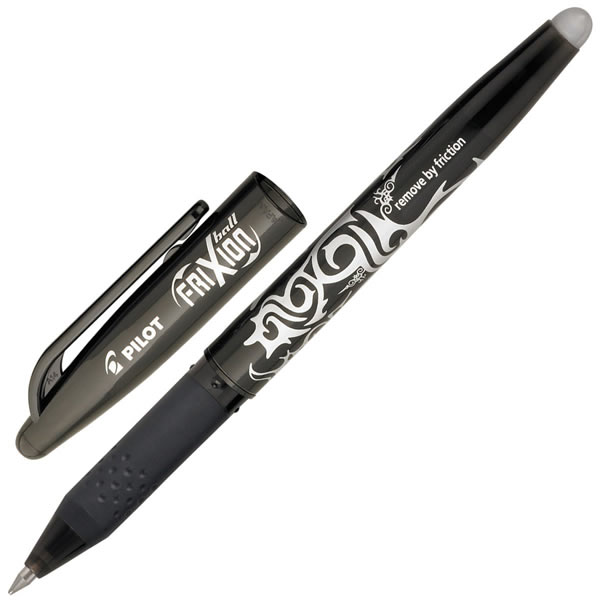 Quilters have latched onto the Frixion Pen as a great way to mark quilts because they disappear with heat. All you need to do is iron your fabric and the marks disappear! Something that easy is too good to be true. Yes indeed, the marks disappear, but several other things can happen.
The marks will come back when exposed to extreme cold. I've heard a few horror stories where competition quilts were shipped on a plane and when they arrived at their destination, the marks had all come back. The cargo compartment of planes can get very cold!
The marks leave a "ghost" behind which looks like a vert faint white line. Several factors that can affect this ghost are the type of fabric used, whether you prewashed the fabric and whether you used starch or not. I'll elaborate on this in a little bit.
In order to remove the marks completely, you need to use a spot remover. Two products have been proven effective by Pilot: Amodex Ink & Stain Remover and Mötsenböcker's Lift-Off 3. Regular laundering will probably not be strong enough.
My own Frixion pen experiments
I decided to test a black Frixion Pen on a solid piece of quilting cotton from RJR Fabrics. I made four different samples from my fabric: unwashed & unstarched, unwashed & starched, washed & unstarched, washed & starched.
I used a stencil and drew a design onto each fabric square using the Frixion Pen. The lines are darker on my first sample. I think my pen wasn't very fresh, because I had to go back and forth over the same line to get it to show well. This seems to be a common problem with these pens – they can dry out quickly (in my experience).
Next, I took each sample to my wool pressing mat and ironed the marked fabric using a cotton setting, no steam. I found that each sample left a ghost (faint white line), but the ghosting was most noticeable on the unwashed and unstarched sample.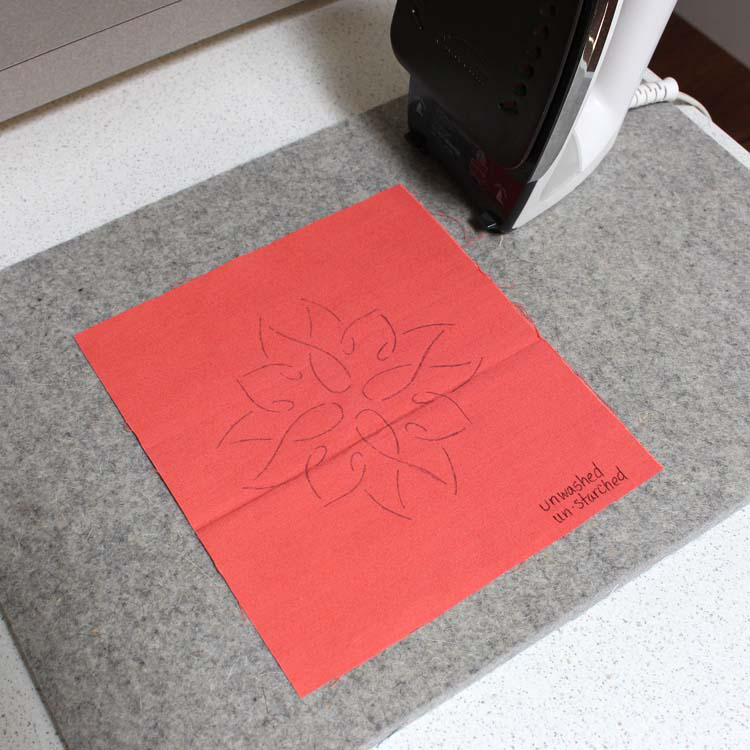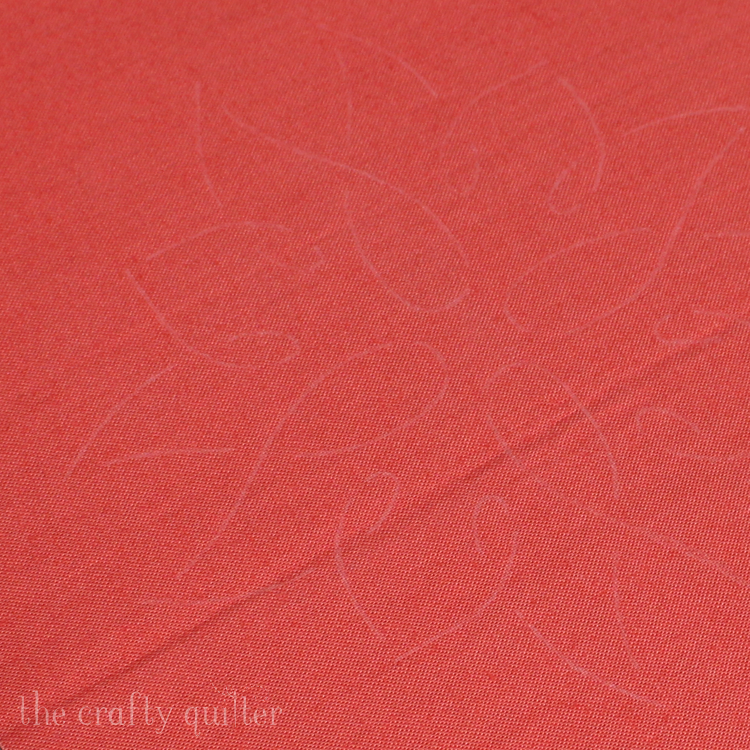 Below is the unwashed and starched sample after ironing. You can still see some ghosting but it's not quite as noticeable as the unwashed and unstarched sample.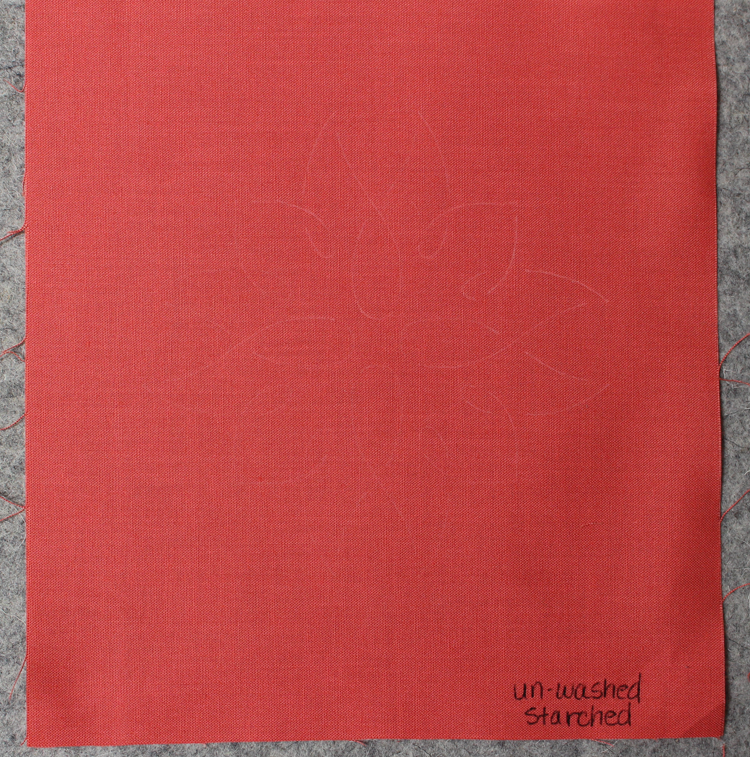 Next we have the washed and unstarched sample. The ghosting is minimal and hard to see.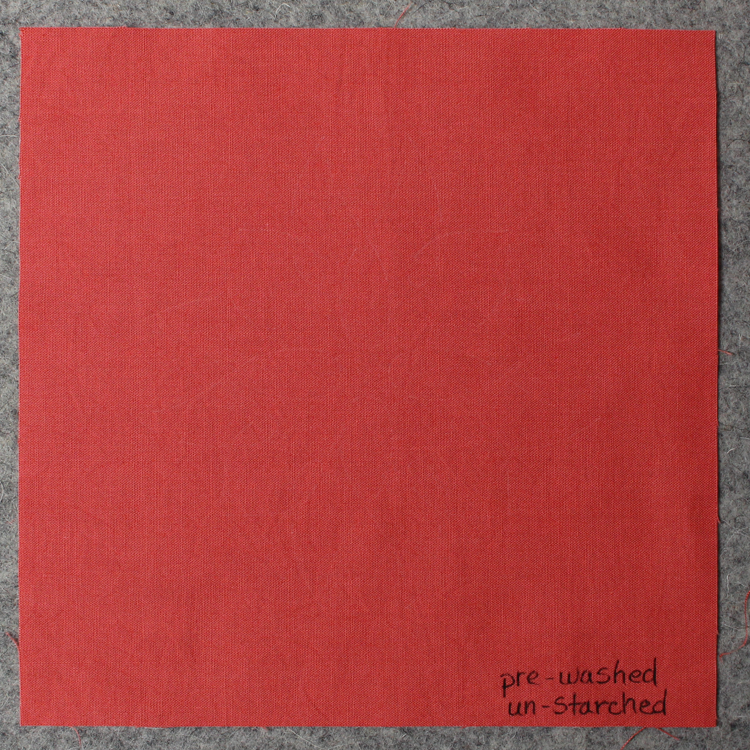 Finally, the washed and starched sample has the least amount of ghosting. The photos don't show the results as well as the naked eye. You'll have to trust me on this one.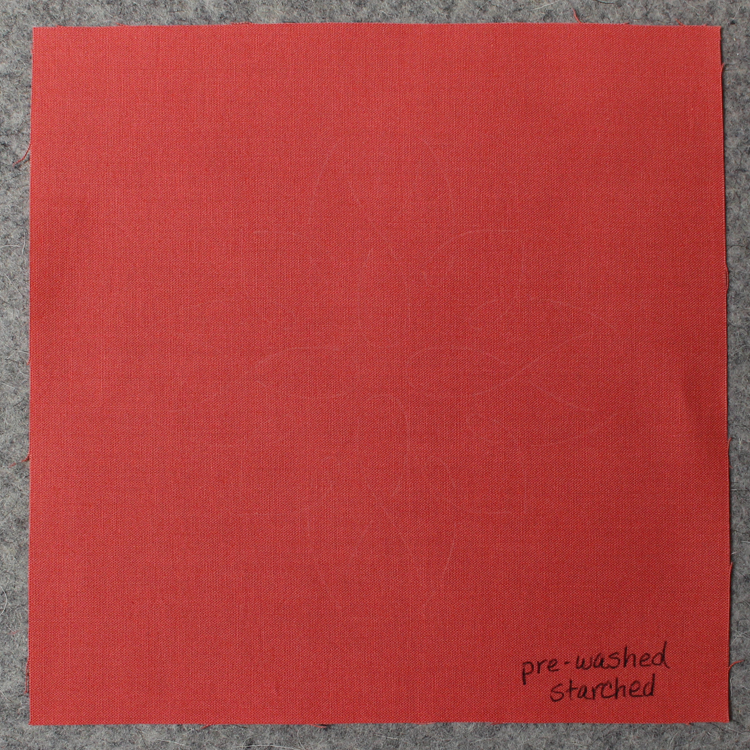 Next, I put each sample in my freezer for 30 minutes to see if the marks would come back. The marks on the unwashed and unstarched sample came back the most, followed by the unwashed and starched sample. The pre-washed samples barely showed after freezing.
In terms of fabric preparation, it seems that the pre-washed and starched fabric has the most resistance to ghosting from the Frixion Pen. Perhaps the starch creates a barrier? This does not mean that the ink has been completely removed, but it's definitely the least noticeable. Other factors that may affect the outcome is the fabric manufacturer and type of material used.
My own thoughts on Frixion pens
After all is said and done, I still have a Frixion Pen (or two) in my tool box. I like using them to mark diagonal lines for half-square triangles and stitch and flip techniques. They go on easily, you can see the line well and they disappear after pressing. Since I'm marking on the wrong side of the fabric and the mark is in the seam, I'm not too worried about it showing up later.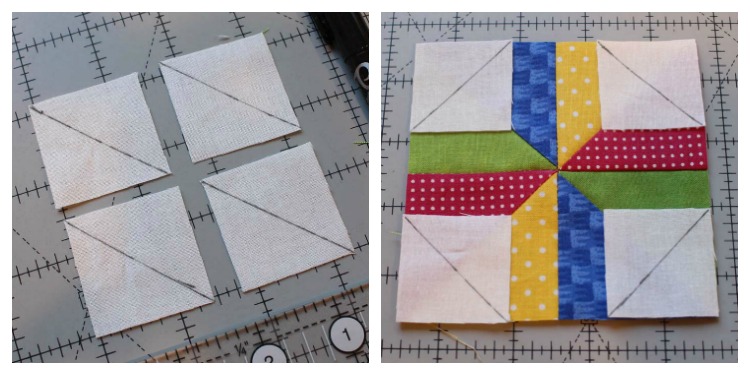 Another good use for Frixion pens is to draw embroidery lines that will eventually be covered with floss or thread. I sometimes use a gel ink pen when I'm in a hurry (instead of embroidery), and I like drawing the stitching line with a Frixion pen first, just in case I mess up. Once I'm happy with the line, I'll trace over it with a Pentel Gel pen for fabric, as you can see in my quilt block for Save The Bees.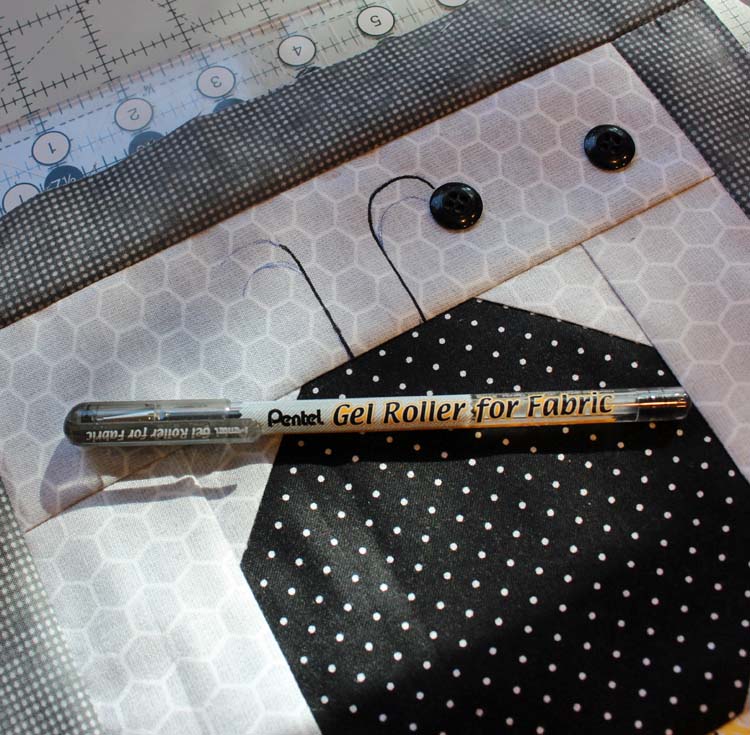 If you want to use a Frixion Pen to mark quilting lines for free motion quilting, the ghost marks are hard to see underneath the stitching. I tested this out, too. I quilted a sample that was unwashed and unstarched, so there was definitely a ghost there, but it's very hard to see it.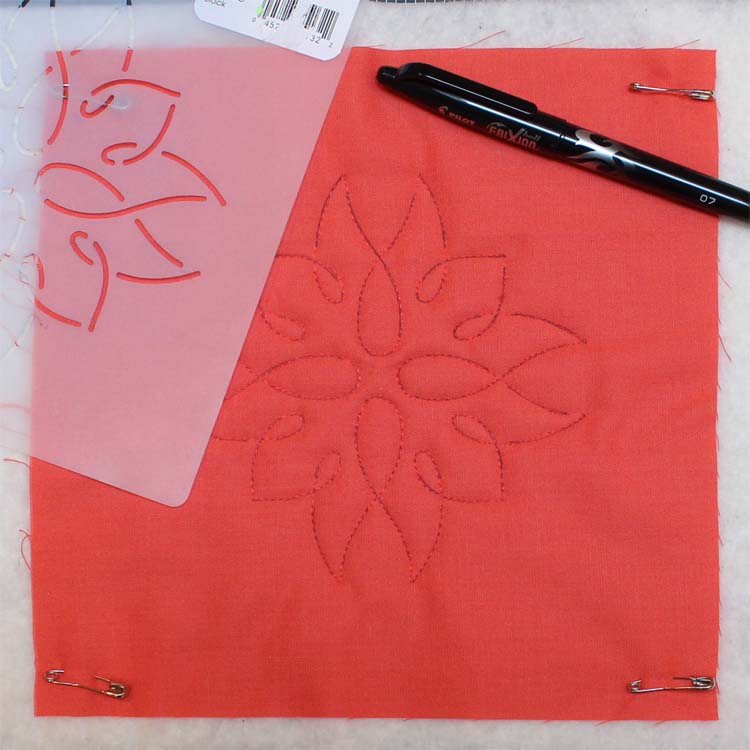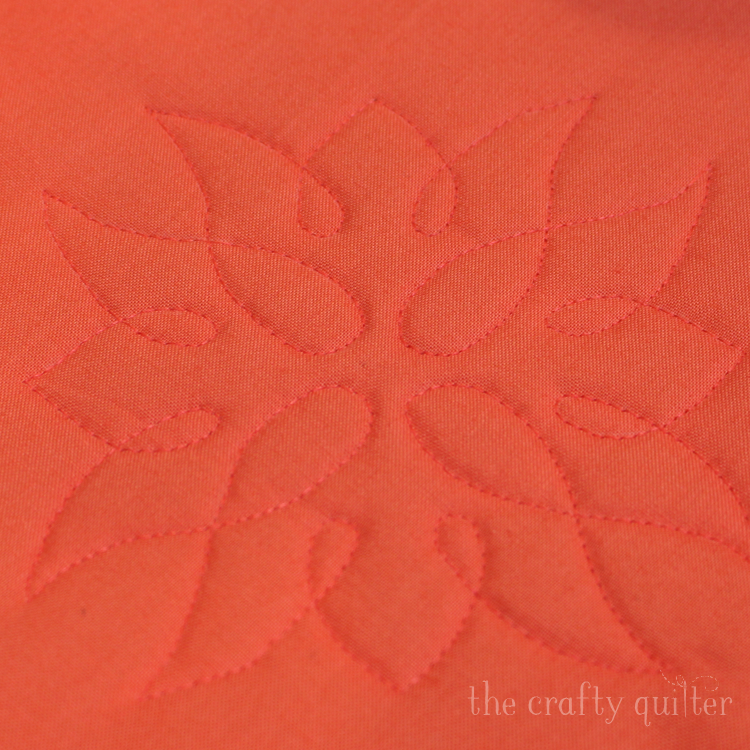 I would be wary if you were creating a competition quilt or an heirloom quilt and using Frixion Pens for marking any stitching lines. It's not worth the risk. Also, these pens have not been around long enough to know how they will affect the fabric over time. Will they cause deterioration after 50 years? Who knows, but time will definitely tell a story of its own.
Other marking tool options
I know there are many marking tools available that are great options for quilters. Here are some that I've used:
Hera marker
Water-soluble pen (one of my favorites)
Air-soluble pen
Chalk pencil
Crayola Ultra-clean Washable Markers
Soapstone marker
White marking pen (soluble)
Mechanical pencil
Fabric pencil
Water-soluble pencil
Masking tape
I've been hearing a lot of good things about the Crayola Ultra-Clean Washable Markers. Quilters have been using them with great success. They come in a rainbow of colors, go on easily and wash out completely. I just bought a package and will be trying them out soon.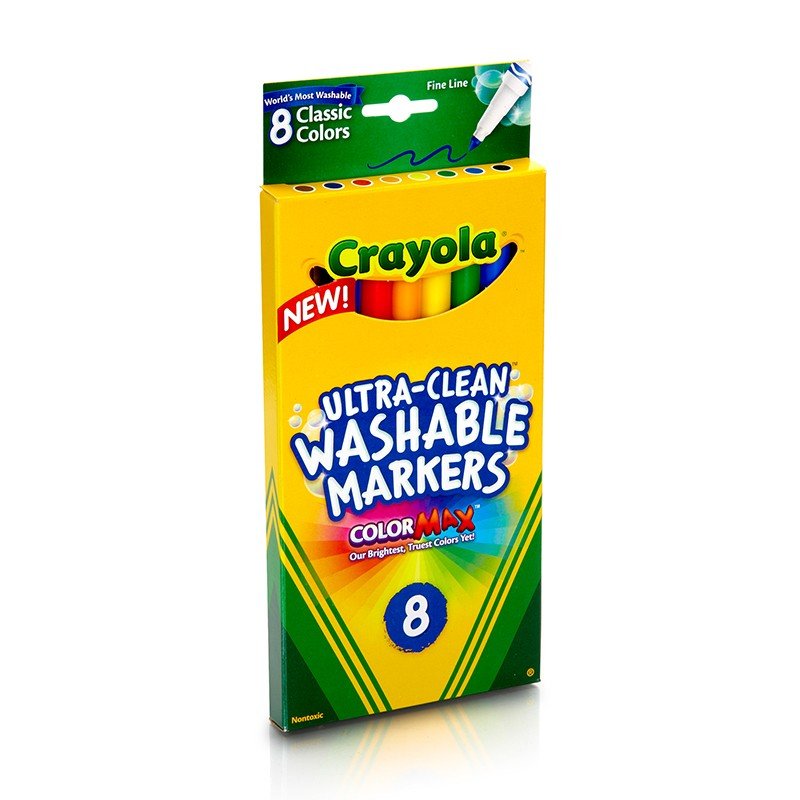 I hope this information has given you a little more clarity on using Frixion Pens (or not) when quilting. I will continue to use them for certain techniques such as drawing stitching lines for HST's, etc. I prefer using blue water-soluble pens for marking quilting lines (but always test first on your project). How about you? Do you have a favorite marking tool?