Sew Thankful Sunday, 02.09.2014
{I am frequently visiting other blogs and I'm always amazed at the talent and passion that I see along the way.  Since I love sharing these new "finds" with you, I created Sew Thankful Sunday.  My way of giving back to the quilting community and sharing great content with you at the same time!}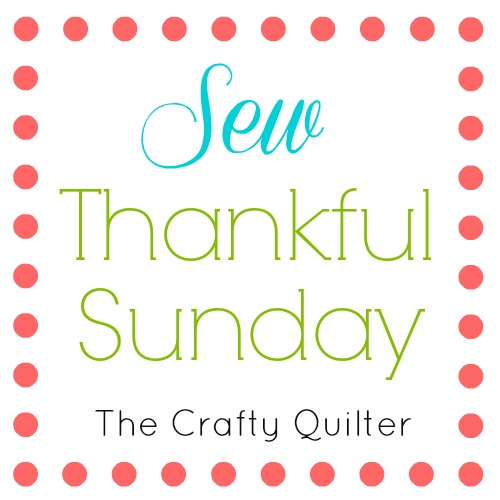 Hey everybody!  I'm seeing so many heart projects out there that I'm sew thankful for!  Plus, there's lots of quilty goodness, so let me share with you what I've found:
(Remember, you can click on any of the images in this post and it will open up a new tab to the associated link).
1.  I love these burlap hearts made by Amanda at Jedi Craft Girl.  This is perfect for small bits of fabric scraps in any color!
2.  Here's a sweet Ombre Heart Pocket Pillow by Christen at Love By Hand.  You had me at Ombre!
3.  If you're looking for a small, scrappy heart project, check out Paula's Feel The Love Valentine tutorial at The Sassy Quilter.  I'm feelin' it!
4.  Sometimes, you just want to print out your own Valentines and you'll find all kinds of free printables at Positively Splendid.  Amy has rounded up 25 of them for you!
5.  How many of you have a "layer cake" (or two) sitting on your shelf that you don't know what to do with?  Look no further; there is a Layer Cake Sampler Quilt Along starting at Material Girl Quilts and Amanda just posted the details!  It starts February 21st so you have plenty of time to gather your supplies.
6.  Amanda Jean at Crazy Mom Quilts has a Contact Print Pillow Tutorial that is scrappy, easy and quick!  I love those three words!
7.  I love bags and this Patchwork Drawstring Bag by Jeni at In Color Order would make a perfect gift.  Of course, you should make one for yourself, too!
8.  If you're looking for motivation to improve your machine quilting, then you should follow along with Quiltmaker's Year of Machine Quilting, 2014.  They have a quick start guide and bonus quilting patterns, too!
9.  For more machine quilting inspiration, check out How to Machine Quilt a Modern Triangle Border by Natalia at Piece N Quilt.  I love her work and her book, Beginner's Guide to Free-Motion Quilting is one of my favorites!
10.  Pam at Threading My Way just published a list of February events that are happening in the sewing and quilting blog world.  It's worth checking out, along with all of the other links she has gathered!
11.  There's still time left to decorate your house for Valentine's Day with the help of Riley Blake Designs Blog.   Melissa at Sew Like My Mom is guest-sharing the cutest Valentine Bunting and Table Runner with you!
12.  If you've struggled with color when putting together a quilt, you should visit Rachel at Stitched In Color.  She has a Color Intensive Workshop going on and there's still time to register for this 5-week online course.
Thanks for visiting today, and I hope you have a week filled with hearts and quilts!  Thanks to all of the blogs featured today for spreading the love!