Sew Thankful Sunday (Part 1), 03.02.2014
{I am frequently visiting other blogs and I'm always amazed at the talent and passion that I see along the way.  Since I love sharing these new "finds" with you, I created Sew Thankful Sunday.  My way of giving back to the quilting community and sharing great content with you at the same time!}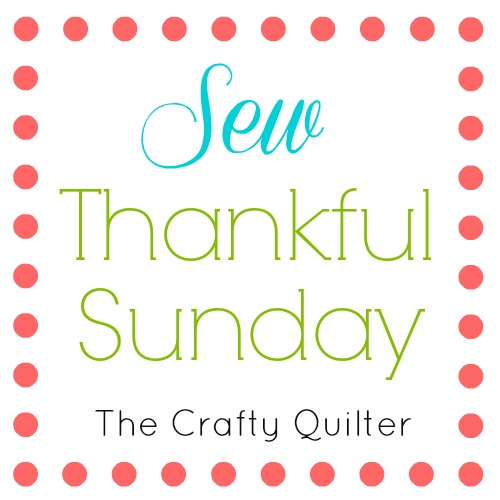 *Part 1:  Here we are in March already!  I always think of the color green when it's March (I wonder why?) and it happens to be one of my favorite colors.  Of course, I have lots to share today that I am sew thankful for and it starts off with green!
*This week's Sew Thankful Post will be coming in two parts due to lack of time (or lack of organizational skills).  Part 2 will be here tomorrow (Monday).
(Remember, you can click on any of the images in this post and it will open up a new tab to the associated link).
1.  If you're looking for something green and some shamrocks, check out Susie's Sunroom for a roundup of free shamrock tutorials.  It's this month's theme for their Across the Pond Sew Along.  She made this beautiful Luck of the Irish table topper using a tutorial by Ribbon Candy Quilts for the Moda Bakeshop.
You can also find this adorable Shamrock Coaster pattern by Amanda of The Patchsmith who is also participating in the Across the Pond Sew Along:
2.  Sew Mama Sew is always a great resource for free patterns and you'll love the two pillows they recently shared.  The first one is the All Seasons Pillow Project from the book, The Quilter's Applique Workshop, by Kevin Kosbab.  I love this one!
And this Spring Kaleidoscope Pillow Pattern by Charise of Charise Creates
3. Stacy from Freshly Handmade has a beautiful tutorial to make a Wee Wander Pinwheel Baby Quilt and matching pillow that would be so sweet for a little girl!
4.  Easter will be here before you know it, and you can get a head start with this Easter Egg Pouch with Key Holder from Marti at Sewlicious Home Decor.
Thanks for visiting today and to all of the blogs featured!  Check back tomorrow for more Sew Thankful Goodness!