Sew Thankful Sunday, Part 2, 03.02.2014
{I am frequently visiting other blogs and I'm always amazed at the talent and passion that I see along the way.  Since I love sharing these new "finds" with you, I created Sew Thankful Sunday.  My way of giving back to the quilting community and sharing great content with you at the same time!}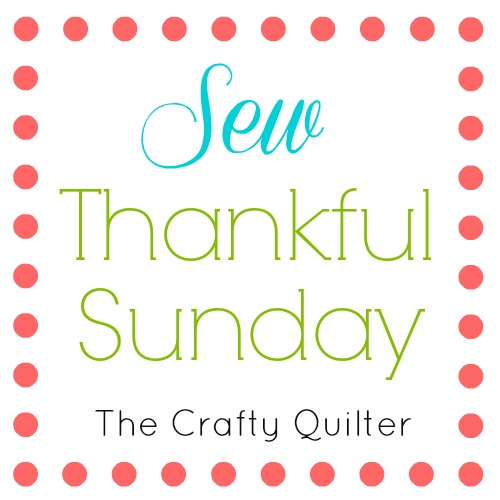 Part 2 is here!  If you missed Part 1, you can find it here.  Like I was saying, I ran out of time to complete my list of things I'm sew thankful for!  So let's continue….
(Remember, you can click on any of the images in this post and it will open up a new tab to the associated link).
5.  Leave it to Pat Sloan to come up with a Scrapbusting Sew Along!
My goal is to sew up scraps over the year into quilts to give.  These will become lap size or larger quilts. Each month I'll have a new block and I'll share a few layouts we can use!
This month she's sharing a pattern for the ShooFly block with cutting instructions for 20 blocks!
6.  You know that I love making cards, and Amanda Jean at Crazy Mom Quilts has combined fabric and cards to make these Ticker Tape Cards!  What a great combination and another way to use up those scraps!
7.  Are you curious about Online Sewing Bees?  Jennifer at Ellison Lane takes the mystery out of it and will get your bee buzzing in no time!
8.  I am always being asked about which sewing machine to buy.  Camille at Simplify shares her thoughts on a new Bernina 710 that she has been test driving and it's great fuel for thought.  Read the comments, too, to hear what others think.  Personally, I love my Bernina 440!
9.  I know that many of you are ready for spring to arrive, and you can hurry it along with this Butterfly Canvas Art tutorial by Andy at A Bright Corner.  I just love this one (and there goes more scraps)!
10.  Little projects are becoming popular and this Teacup Block tutorial by Tessa Marie at The Sewing Chick is definitely going to be a favorite.  Isn't it sweet?
11.  If you like polka dots (I do!) you'll want to follow along with Melissa at The Polka Dot Chair for Project Polka Dot 2014.  All month long, she will feature projects with polka dots!
12.  Wouldn't it be nice to sew for yourself everyday?  I'm not talking projects for a workshop or gifts for a friend, but something just for you!  Join Sarah at Berry Barn Designs for her 30/30 Sewing Challenge for the month of March.  For 30 days, you get to sew for 30 minutes just FOR YOU!  Sweet!
13.  Making napkins with mitered corners is something I would like to try.  With the help of Lisa at Celebrate Creativity, you can make mitered corners perfectly on your own.  She shows you how with beautiful step by step pictures.  It's worth visiting her blog just for the photos, alone!
14.  Are you familiar with the technique of "Quilt as you go"?  Jera at Quilting in the Rain has a great Quilt As You Go Log Cabin Tutorial that makes it looks so easy!  I love the fact that you do the piecing and the quilting at the same time.
15.  Elizabeth at Oh, Fransson! has an awesome tutorial to make this Little Vines Quilt and Block.  I love the bright colors on a neutral background and, of course, the applique really appeals to me!
16.  Here's another project using applique and scraps in this beautiful Flower Garden Cushion from Anorina at Samelia's Mum.  Doesn't it make you happy just looking at it?  I love the hand stitching detail, too!
17.  If you plan on making a Dresden Plate any time soon, you'll want to visit Erin @ One Piece at a Time to see her latest tip for making Dresden Plates.  You'll find lots of other great information and inspiration there!
18.  I love having handmade gifts ready to go and this Face Washer with Crochet Trim is just as sweet as can be and perfect as a gift.  Sarah and Lisa at A Spoonful of Sugar have the tutorial with all of the details so you can make one, too!  If you're not a crocheter, they give you other options as well.
There you go!  Lots of inspiration to start your week off!  Thank you so much to everyone that was featured today!
I will be taking next Sunday off from blogging.  I am teaching three classes next weekend, and a girl's gotta get her beauty sleep!  Ha Ha!  I'll check in mid-week, though, to show you what I've been up to in the sewing room.  Have a great day!