Sew Thankful Sunday: August 2014
{I am frequently visiting other blogs and I'm always amazed at the talent and passion that I see along the way.  Since I love sharing these new "finds" with you, I created Sew Thankful Sunday.  My way of giving back to the quilting community and sharing great content with you at the same time!}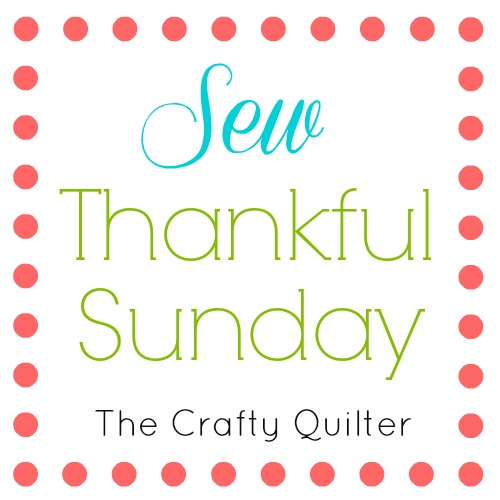 Hey everyone!  I hope you're having a great summer so far.  I can't believe it's August already.  I had so many good intentions for getting some projects finished, but the craziness of life keeps getting in the way.  Fortunately, there are many other bloggers that have been busy with fresh ideas and awesome tutorials to share with you, so let's get started!
(Remember, you can click on any of the images in this post and it will open up a new tab to the associated link).
1.  The girls at Clover & Violet and Sew Lux Fabric have teamed up to bring you The Summer Breeze Mini Medallion Series.  With a leisurely pace and a small project, you can't help but join them in the fun!  It starts off with this center block:
2.  If you're a quilter, you're constantly striving to get that perfect 1/4″ seam allowance.  Anita at Bloomin' Workshop has a few pointers to help you in her Piecing 101 Series.  I appreciated her mention of feed dogs and how they can help or hinder your efforts.
3.  You might not think of Elmer's School Glue when you think of quilting, but Cristy at Sew Much Like Mom will have you thinking again!  She gives you great tips and examples of how using glue instead of pins can help improve your accuracy in quilting.  After reading her post, I'm a believer!
4.  I'm a huge fan of the Superior Threads company and their products.  They are very quilter-friendly, and they have a great website that is designed to educate (among other things).  In their recent newsletter, they shared a great Q&A for quilters that will give you lots of "ah hah" moments.
5.  Whether you've made a few quilts or a hundred, at some point you're going to have to store them.  Check out Red Brolly and her 8 Tips For Storing Your Quilts.  She has lots of great suggestions!
6.  Are you looking for a summer tote bag to make?  Check out the Calypso Tote designed by Bethany at Sweet Bee Buzzings for Inspired by Fabric.
7.  I am seeing quite a few English paper piecing tutorials, and I love how comprehensive this one is by Jessie at Messy Jesse.  This is part of a series that just started in July.
8.  I always appreciate a good tip, and Geta of Geta's Quilting Studio has a good one for all of you bag makers out there.  I love how she makes the interior pockets of her bags and she has great patterns, too!
9.  I love this GenX Aztec Baby Quilt from Lorna at Sew Fresh Quilts.  She gives you the full details on her blog so you can make one too!
10.  Here's a very pretty Laptop Bag Tutorial by Rebecca of Our Busy Little Bunch for Bear Creek Quilting Company.  Functional, practical and cute all in one!
11.  Have you seen projects made with Quilt As You Go fabric panels and wondered, "how did they do that?"  Caroline at Sew Can She has a fabulous tutorial that takes you through every step with great pictures and instructions.  It's on my bucket list!
Last month, there were lots of Christmas in July happenings, and I'd like to give you a recap of what I saw:
12.  These free printable Christmas gift tags from Stitch This, the blog of Martingale Publishers, are perfect for handmade gifts: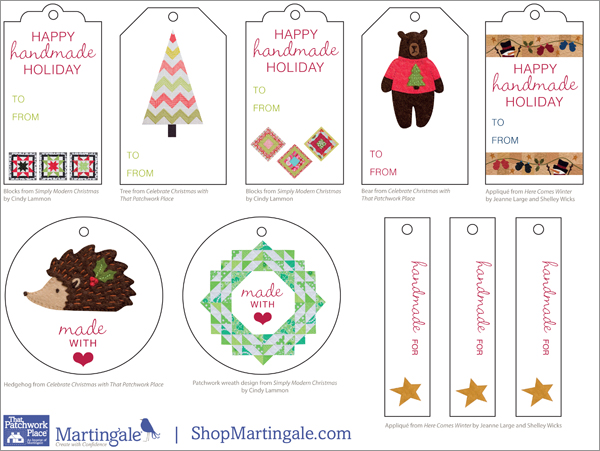 13.  Here's a roundup of Christmas in July projects from the archives at the Moda Bake Shop that are sew cute!
14. The Sweet Scandinavian Sew Along has just started at Little Bits of This & That and will continue until August 28.  This sew along requires Sherri Fall's book, Holly Jolly, which is loaded with adorable Christmas projects.
15.  Christmas in July has just ended at Fort Worth Fabric Studios but you can still be a part of the giveaways and free projects/tutorials if you hurry!
Here are some of the tutorials from guest contributors at Fort Worth Fabric Studio:
Check out these Patchwork Pocket Placemats from Melissa at My Fabric Relish:
And this quick and easy table topper by Paula at The Sassy Quilter:
Also this Boxing Day Block Tutorial by Cristina at Pretty Little Quilts:
16.  Here's another great Christmas in July series from Sew Lux Fabric.
They, along with some guest bloggers, have made up some really beautiful holiday projects.  You must see them all, and most recently, they shared this Snowy Stars Table Runner:
And that's a wrap!  I'm so glad you joined me today and thank you to everyone who was featured.  I hope you are as inspired as I am!