I have had my own sewing space for over a year now.  After spending a day of cleaning and organizing that little space (long overdue!), I'm ready to show some pictures!
This is what you see when you walk in: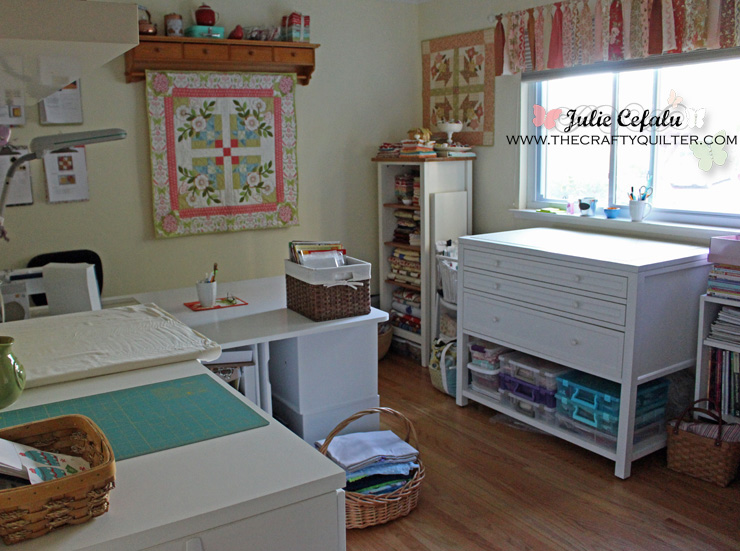 I love my cutting table that sits right under the window.  This was the first thing I bought for this room.  It's from Martha Stewart Living Craft Space and I bought in online at Home Decorator's Collection.  It took my husband and me all day to assemble, but it was worth it!  It's a great height for cutting and fits a large cutting mat perfectly.
The drawers are huge and have built in dividers that you can arrange any way you choose.  I keep all of my specialty rulers in the middle drawer and most of my other tools are located in the top and bottom drawer.  Underneath are my project containers.
The next item that I splurged on was my sewing table that has a built in space for my sewing machine.  This is by Perfexion and it came pre-assembled along with the optional quilting caddy.
I love all of the table space, plus I can extend the surface to my left for additional quilt support for those big ones (that are still waiting to be quilted)!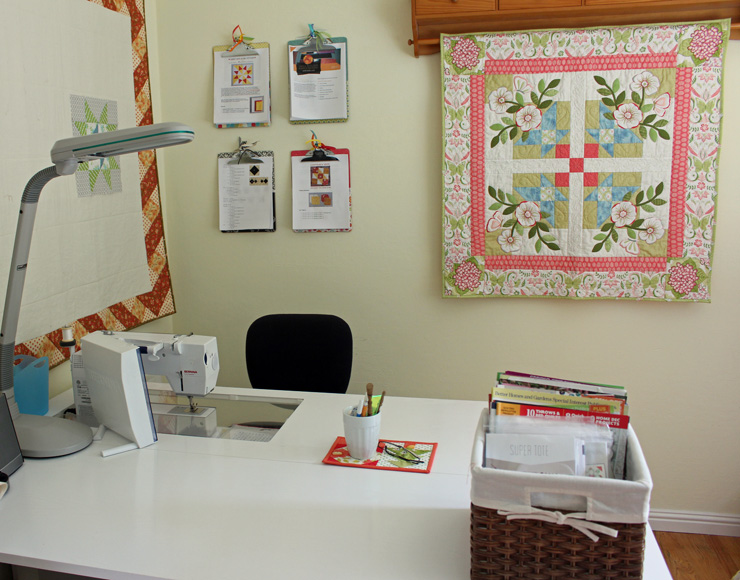 My design wall is a 52″ bordered quilt with a flannel center.  I quilted it with a 3″ grid so that I can lay my blocks out straight.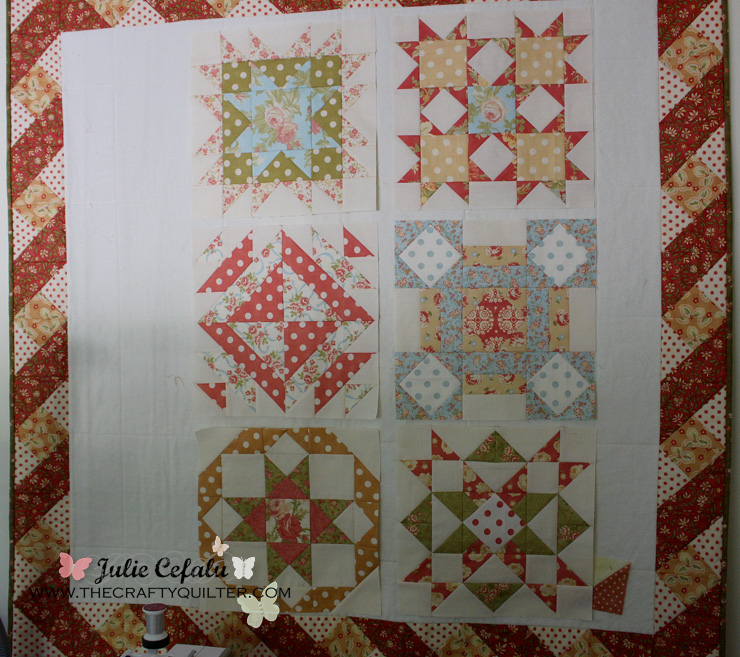 I made my own window valance using 2 1/2″ strips from a Fig Tree jelly roll.  It's really easy and you can find all of the details at my tutorial here.
I found this shelf at a consignment store for $20 and those little drawers are perfect for holding my specialty threads.  Of course a seasonal wall hanging and a few odds and ends make it pretty too.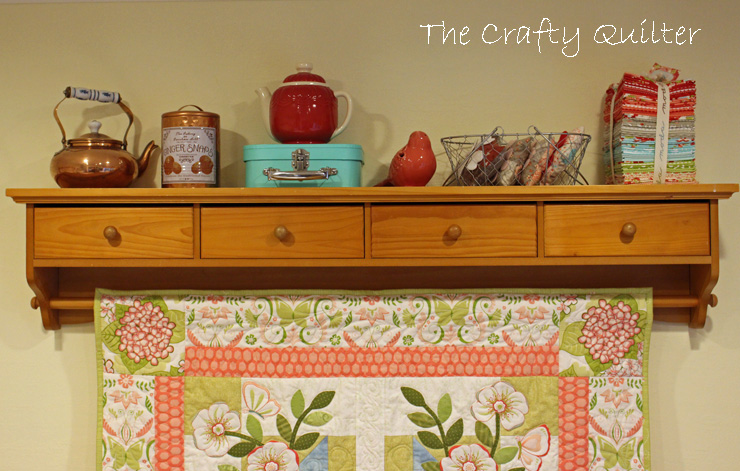 I have an ironing station that sits on top of two cabinets that I built from Orchard Supply Hardware.  My "ironing board" is a piece of plywood that has one layer of batting, some decorator fabric and a piece of muslin.  You can find the instructions to make your own pressing board at Sew Much Like Mom.  I think I need to make a larger version, but this works great for piecing blocks.
I recently added some little touches of sweetness with the small scrap buckets hanging from the "Creating Yourself" sign.  To the left is my Quilter's Motto.  You can find my tutorial to make your own here.
I have lots of fabric hiding spilling everywhere in this room.  Some of it is stacked neatly on top of shelves: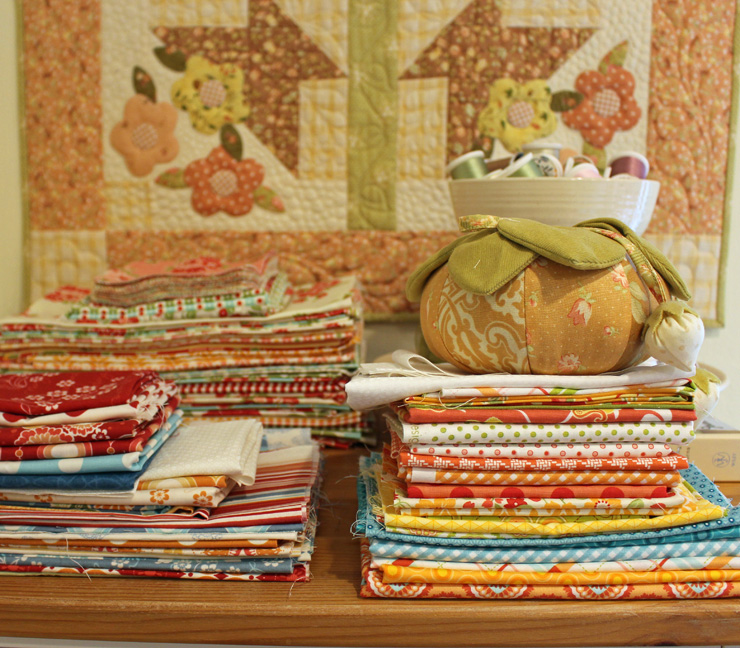 And most of it is organized by color in plastic containers that are in this open closet space along with my other crafting supplies: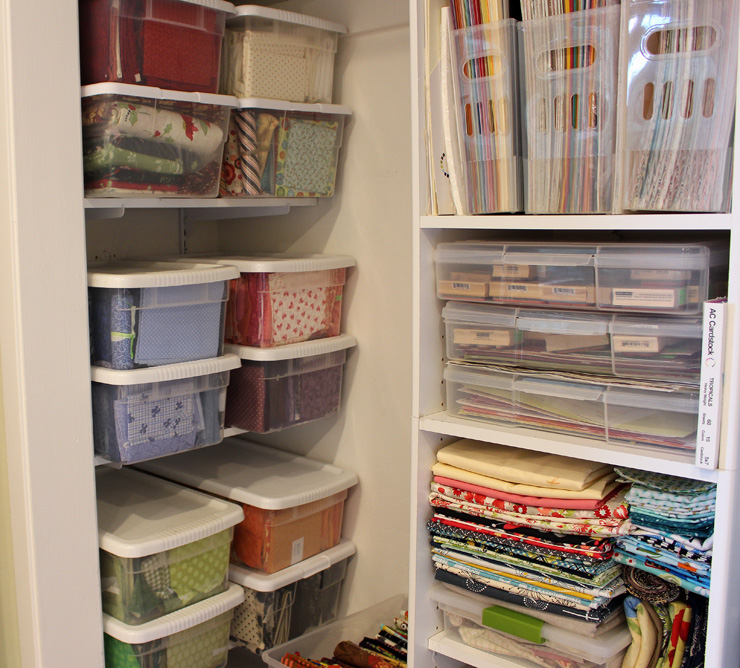 I'm not gonna lie.  I have a fabric collection obsession weakness.  One more thing to work on in my life.  You know how a space can look all neat and pretty, but there's a warning that says, "don't open this closet door".  That's me, but I don't have doors on my closet!  This is the closet's before picture:
And now it looks more manageable, or should I say organized?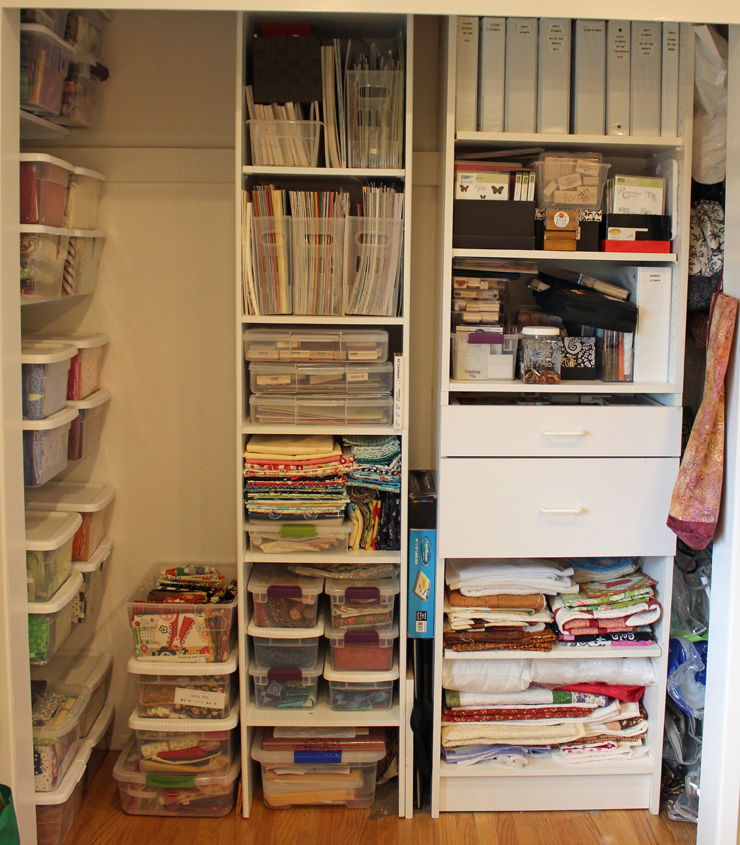 If anyone can maximize space, I can!  I found that the original closet doors made it hard to get to everything, so I'm leaving it open until I come up with a better solution.
My silk threads reside in this tiered plate and bowl that I made.
This is my fabric stash getting organized by color and collection:
And here I am hard at work, (I mean play!):
Thanks for joining me on my sewing room (studio?) tour!  If you want to see more sewing spaces, check out the Studio Party Link Up at Ellison Lane.  I'll be there too!