Pictures to share and destash update
I hope you don't mind if I share a few pictures with you that are not about quilting, but I'll leave with you with a destash update at the end.  Let's start with the pictures.
A few weeks ago, Mr. Crafty Quilter and I celebrated our 30th anniversary – I know, I can't possibly be old enough to say that!  We spent it with our kids and their spouses/fiances in the California Sierra mountains along the Feather River.
We stayed in rustic cabins (no more tents for me) and had a blast!  It was beautiful and awesome to be all together for six days.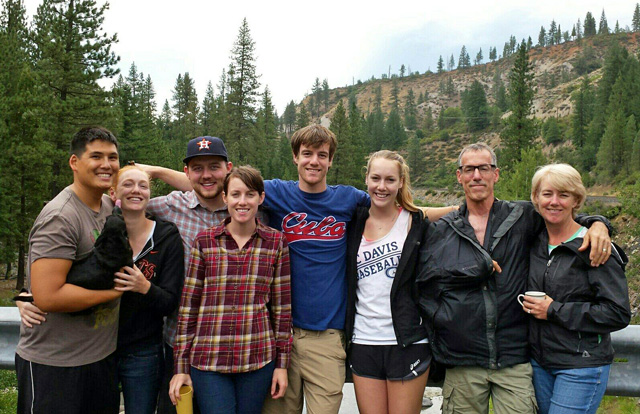 One of the nights, the kids cooked us dinner and made a cake to celebrate our anniversary.  Not bad for cabin cooking!
This next picture is our four kids jumping for joy because they love us so they're so happy to be together in their favorite spot.
I was happy to see this little barn quilt on the side of one of the cabins.  It's becoming trendy up here!
Here's our dog, Cooper, all tired out from a full day of romping:
Anyone recognize that pillowcase he's sleeping on?  Definitely vintage and it brings back memories from my childhood.  It's the reason I own the fat quarter collection of "Dreamin' Vintage" by Jeni Baker for Art Gallery Fabrics.
And that leads me to my DESTASHING PROJECT!  On Monday, September 1st, 7 a.m. (California time) I will post fabric bundles for sale.  I currently have 20 bundles of fabric that I have put together and they each contain about 4 yards of fabric.  I'm also including a pattern with each package.  The cost will be $20 each and that includes priority shipping.  I'm still looking into shipping to Canada – if I do, the price will reflect a higher shipping rate.
I will show a picture of each bundle and it will be labeled as A,B, C, etc.  If you want it, you will need to leave a comment indicating which one and I'll send you a Paypal invoice.  It will be first come, first serve.
Most of these bundles are traditional-style fabrics and all of them are 100% cotton, quality quilting fabric.  I have a lot of fall colors, so the timing is perfect.  There's a very good chance that I will have a destash #2 after this first one is finished.  I'm finding all kinds of goodies in my sewing room that need a new home!
We'll see if I'm brave enough to show a "before" picture of my sewing room.  Thanks for everyone's encouragement and I hope you're having a great week!