Happy October and two winners!
Happy October everyone!  I have been busting out the fall/Halloween decorations and playing with some fabric to match the season.  Plus, I have two giveaway winners to announce!
I enjoyed reading everyone's comments from my challenge to make a quilt and give it to someone in need or someone you care for.  There were some precious stories that you shared and I appreciate all of your thoughts and openness.
This challenge and giveaway was inspired by the Fat Quarter Shop's free pattern, Color My Heart.  I made three of them and I'm giving two of them away.  Several of you came back and left another comment saying that you actually carried through with the challenge, too. That's what I'm talking about!
The first winner of a $25 gift certificate from the Fat Quarter Shop is comment #28, Jessica P.
Jessica wrote that she would make a quilt for her son Isaiah to cherish forever.  I'm sure he will love a quilt from his mom.  Congratulations, Jessica!
The second winner is comment #76, Rachel, who said that she would make a quilt for her grandma's friend who is very kind to her grandmother and helps her out now that she can't drive.
Rachel, you have won Bonnie & Camille's Designer Select Fat Quarter Bundle of Miss Kate from the Fat Quarter Shop.  Contratulations!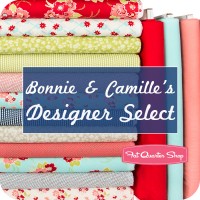 A BIG thank you to the Fat Quarter Shop for sponsoring this giveaway!  They are one of my favorite places to shop online, plus their blog, The Jolly Jabber, offer tons of support and inspiration through their free videos and patterns.
Did you know that they are celebrating Fall with a sale?  Check out Fat Quarter Shop's Fall Sale and get up to 60% OFF on over 1500+ items including fabrics, precuts, kits, patterns, and more.  The sale ends on Sunday, Oct. 5th.
Thanks for stopping by today.  I hope your October is off to a good start!