I love quilting because… and a challenge for you
Hey everyone!  In honor of National Quilting & Sewing Month, Fat Quarter Shop has teamed up with some bloggers to share their quilting or sewing experiences by answering some questions AND to tackle a challenge.  The challenge is to make something that you have never made before.  Now that sounds like fun!  I'll show you what I made in just a moment.  Plus I'm giving YOU a challenge and a GIVEAWAY (update:  this giveaway is now CLOSED).  Make sure you read the end of this post for details.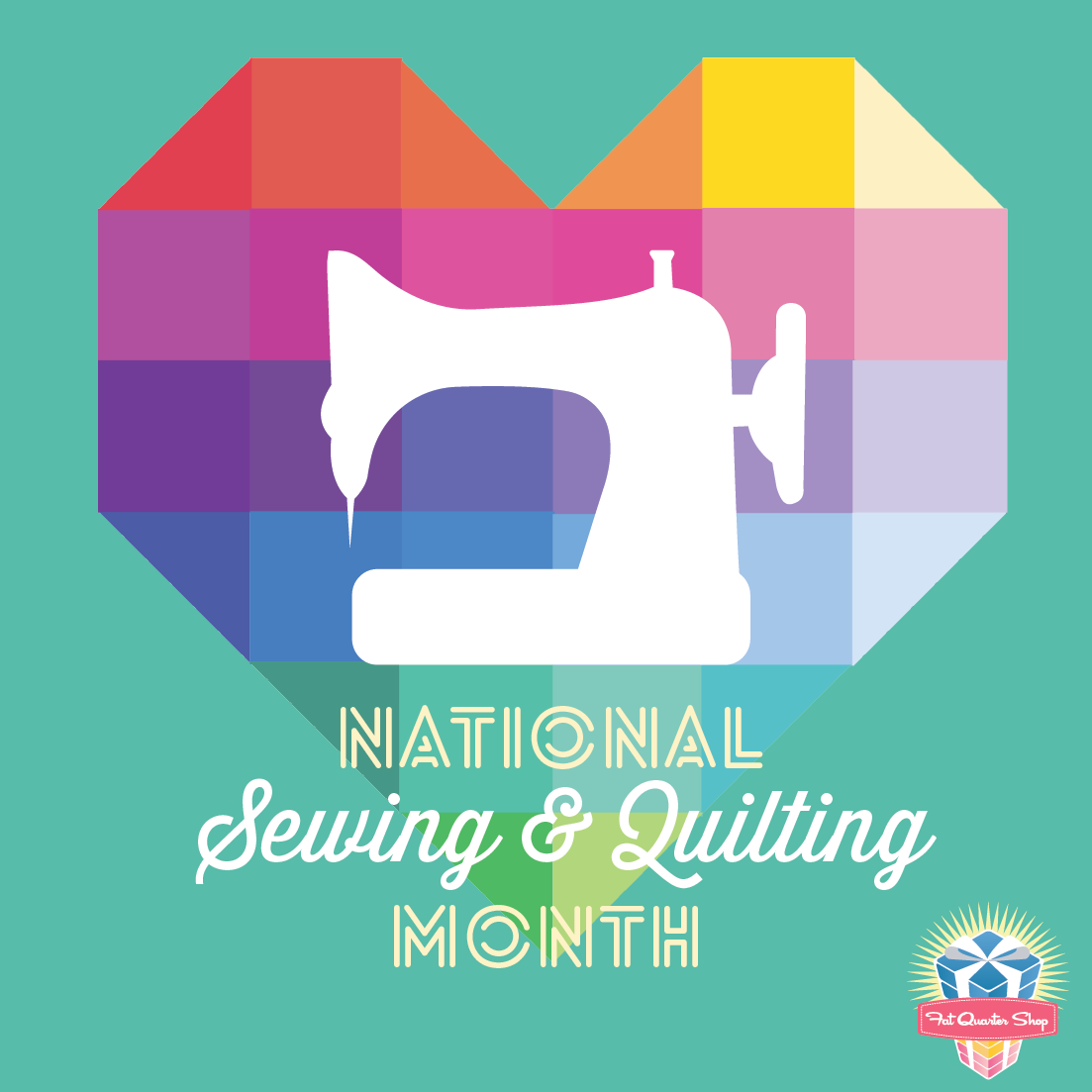 I was asked to finish this sentence:  "I love quilting because…"  I was in a silly mood when I came up with "my stash needs a purpose".  I'm sure many of you can relate!  But on a deeper level, quilting feeds my soul and my desire to create.  Fabric just happens to be my favorite tool in the toolbox!
Being able to share that passion with my students, family and friends (you all) is the icing on the cake.  It fills my cup!  Let me share the questions from Fat Quarter Shop (FQS) and my answers.
FQS:  How did you start quilting?  It started with a pillowcase that I made in a 7th grade sewing class.  Eventually I graduated to garments, home dec, and Halloween costumes.  In 1998 my sister finally talked me into trying to make a quilt.  She had been quilting for 15 years and still does beautiful work. So, when my 4th (and last) child entered kindergarten I decided it was time.  I was hooked after my second quilt.
FQS:  When was the first time you knew you were a quilter?  Probably when I realized that I had a (growing) UFO pile, and that I would never live long enough to use up all of my stash.
FQS:  Do you have any quilting horror stories or faux pas?  Nothing life threatening!  I've been lucky so far; it's just the usual stuff like sewing a few pieces wrong sides together or not reading the instructions before moving ahead.
FQS:  What advice would you give to someone who's just starting out in quilting?  Great question!  Have fun and allow yourself to make mistakes – that's how you learn.  Also, take as many classes from as many different teachers as you can.  You'll find certain teachers and techniques really resonate with you.  We all have different ways of doing things and you may just find a new and better way in a class.
And now for my challenge.  When it comes to sewing and quilting, I've just about done it all.  But, I will say that working with something other than quilting cotton is definitely outside of my comfort zone.  The challenge I gave myself was to make something out of voile.  I've had several one-yard cuts of voile in my closet and I've been afraid to touch them.  Well, I'm so glad I did!  I also have never made a scarf before, so that was also my challenge, to make a scarf out of voile.  Here is my finished product: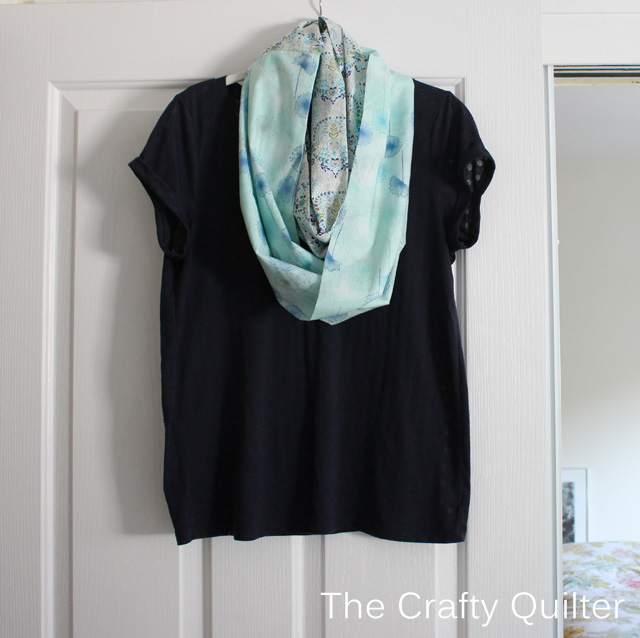 If you're wondering, "What IS voile?", I'll tell you (because I didn't know either).  Voile is a semi-sheer lightweight cotton fabric that has a beautiful drape. Just as denim is a heavyweight type of cotton, voile is on the other end of the spectrum as a lightweight cotton. Voile is perfect for making garments such as dresses, tunics and scarves.
My scarf was very easy to construct and working with voile was easier than I thought it would be.  Since I had one-yard cuts of two different coordinating fabrics, I decided to make my scarf dual toned.  I love how it turned out!  I'll have a tutorial with all of the details for you next week. Let me entice you by saying that you can make three scarves out of two yards of fabric and that's super exciting!
Fat Quarter Shop has added to the excitement of National Quilting & Sewing Month with a free pattern for you:  Color My Heart Quilt.
This project is quick, easy and adorable.  So much so, that I have made two so far!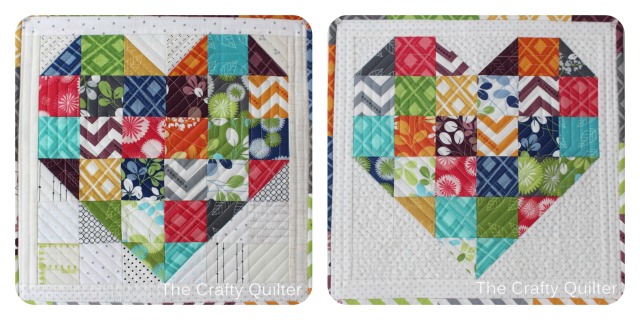 I used one charm pack of Moda's Simply Color by Vanessa Christenson and cut it into fourths, yielding 2 1/2″ squares – enough to make FOUR mini Color My Heart Quilts (plus additional yardage).
The pattern calls for 5″ squares and it makes a 27″ square quilt.  It took me three hours to complete one mini quilt.  That includes quilting and binding by machine.  Each mini quilt measures 14 1/2″ square.  I did mostly straight line quilting, and I used left over charm squares for a scrappy binding.  Love it!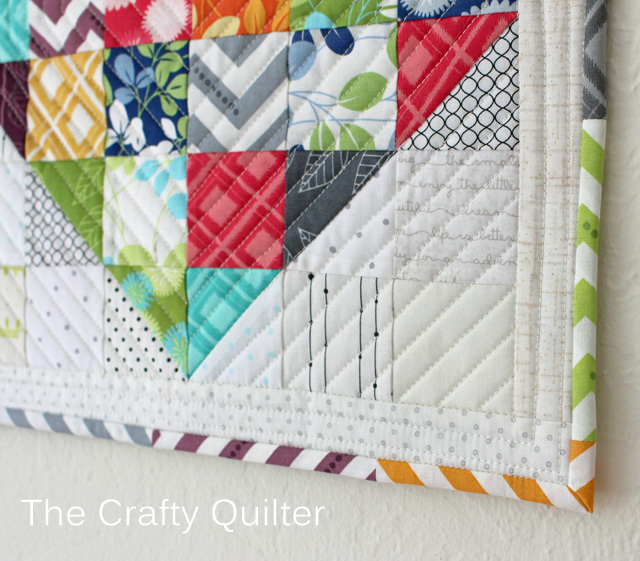 This got me to thinking of some people that could really use their own little heart quilt. So, I'm going to keep one and send the rest to some friends in need.
HERE'S MY CHALLENGE TO YOU:  Make a mini quilt and give it to someone in need.  No swap, no strings attached, just "I'm thinking of you" kind of thing.  It could be a teacher, a friend, or a stranger you just met who lost their job.  You get the idea.  The Color My Heart pattern would be perfect for this project.
I've recently encountered two people who have lost their entire quilting stash, tools and supplies due to fire and flood.  I know someone else who has been through some tough times recently. I'm glad to share a mini-heart quilt full of love and care to these lovely people.
To make this challenge more exciting, we're having a GIVEAWAY compliments of the Fat Quarter Shop!  The first prize will be a $25 gift certificate to the Fat Quarter Shop and the second prize will be a Bonnie & Camille's Designer Select Fat Quarter Bundle of Miss Kate.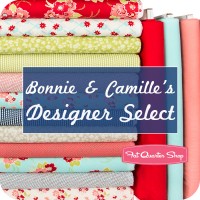 All you need to do is leave a comment telling me who you would give a mini quilt to and why (optional).  You can earn another chance to win if you actually DO send a quilt to a friend and then leave a second comment saying you did so (quilter's honor system). I'll pick TWO WINNERS on October 1, 2014.  (Update:  this giveaway is now CLOSED). That gives you two weeks to make one quilt for you and one for a friend!  I know you can do it!
Thanks for hanging out with me today and have fun spreading the love of quilting!