I've had so much fun making scarves lately, and now I'm happy to share The Dual Scarf Tutorial with you!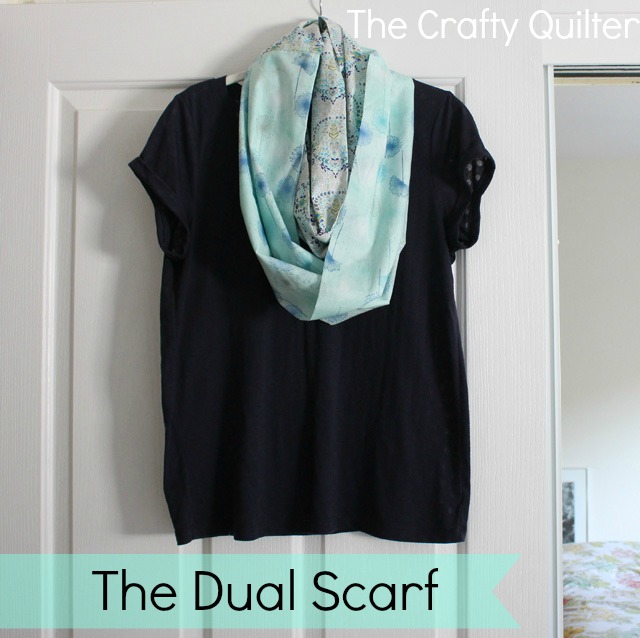 This scarf came about from a challenge issued by the Fat Quarter Shop to make something you have never made before. So, this was my foray into making a scarf and working with voile.  I think I nailed it!
Curious about voile?  It is a lightweight cotton that is more fluid than quilting cotton and has a nice drape to it.  It is perfect for this project!  The voile that I used for the tutorial below was purchased from The Intrepid Thread.  They are an online resource with a nice selection of fabric, and they happen to be located 20 minutes away from me!
So far I've made three scarves.  And I call them "dual scarves" because they are made out of two coordinating fabrics.  I love the extra punch and uniqueness it gives each one (without much effort).
Are you ready to give it a try?  It will take you less than an hour.  Let me show you how it's done.
All seams are 1/2″ wide.
Fabric Requirements (enough to make 2 scarves):
2 yards of coordinating voile fabric (54″ wide)
If you only have 44″ wide fabric, then you can either make 1 scarf or 2 skinny scarves.  The instructions are based on 54″ wide fabric.
1. The first step is to cut your fabric.  From each yard of voile, you will cut it in half, parallel to the selvages.  This will result in two rectangles that measure 27″ x 36″.  You will have a total of 4 rectangles, two from each fabric.  (Remember, you're making 2 scarves.)
2.  Trim the selvages from all pieces so that each rectangle measure 26″ x 36″.  If you need to square up the other edges, that's fine.  Your rectangles can measure between 30″ – 36″ long.  As a matter of fact, I made a scarf at 33″ long and I like it better.
3.  Join two rectangles of coordinating fabrics by stitching along the short ends.
Press seam open.
4. Fold the resulting long rectangle in half (right sides together and matching seams) and pin.
5.  Stitch using a 1/2″ wide seam allowance.
 6.  Press seam open, and then turn right side out and press long edges along seam.
7.  Now you have a long tube.  We want this to form a circle, so we need to sew the short ends together.  Here's how you do it:  We're going to partially turn the tube wrong side out.
Once you've turned it half way out, the two short ends will meet like this:
8.  Pin along this end, right sides together, matching seams.
9.  Stitch along the circle, leaving a 3″-4″ opening.
10.  Turn right side out through opening.
Once it's turned right side out, you'll have a little opening to fix.
11.  You could hand sew the opening shut, but that takes more time than sewing the whole scarf together.  So, I used the sewing machine and stitched VERY close to the folded edges.
First, press the seam allowances inward so that you have a straight edge to work with:
Then pin it together and stitch with matching thread as close to the edge as possible:
It will look like this when you're finished:
It's hardly noticeable and once you have the scarf on, you'll never see it!
And now you have a completed circle/tube!
If you're wondering if this is an infinity scarf, I would say "sure".  I think what defines an infinity scarf, is a figure "8" formation.  That's basically what you get when you wrap it around your neck a few times!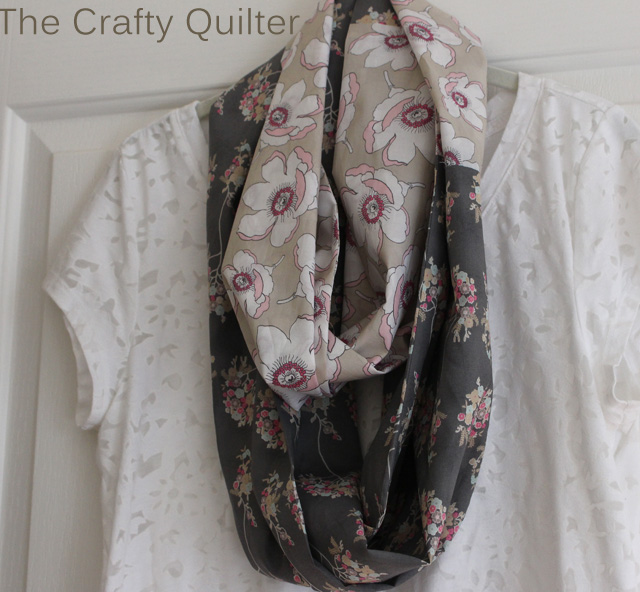 Now you can repeat all of that and make another one.  If you do it right away, it will go twice as fast because it's so fresh in your memory.  Trust me, I waited one week and I couldn't remember a thing about what I did the first time.  Of course, I didn't have this great tutorial to refer to either.  Or perhaps it's just a case of "mental" pause!
Happy scarf making!