Sew Thankful Sunday, November 2014
{I am frequently visiting other blogs and I'm always amazed at the talent and passion that I see along the way.  Since I love sharing these new "finds" with you, I created Sew Thankful Sunday.  My way of giving back to the quilting community and sharing great content with you at the same time!}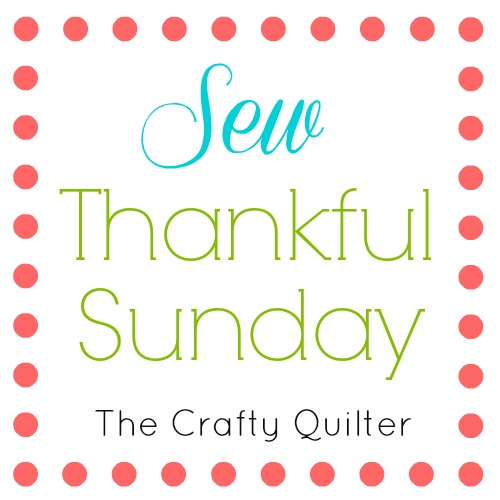 Does is feel like Fall in your neck of the woods?  Are you inspired by all of the Fall color outside?  I LOVE this time of year so much and I am sew thankful to share this roundup of projects with you today to inspire you!
(Remember, you can click on any of the images in this post and it will open up a new tab to the associated link).
1.  Let's start with something good to eat and worth being thankful for.  Erin from Strawberry MommyCakes has a great idea for gift giving that she shares at Capturing Joy:  Thankful Cookies in a Jar.  It comes with a free printable and they both look delicious!
2.  November is the beginning of the 8th Annual Handmade Holidays Series at Sew Mama Sew.  I look forward to this every year for the best tutorials, recipes and printables to make the holidays truly handmade!
3.  I recently discovered the website, SewPin (Adventures in Sewing), and I'm happy to share it with you.  They have a page dedicated to Christmas Quilting Patterns that you have to check out (including a few of mine!).
4. How's your ironing board cover looking?  If it needs a facelift, check out this easy tutorial from Jennifer at Ellison Lane.  In only 30 minutes, you'll have a pretty, new ironing surface!
5.  Pillows are always a quick and easy way to update your home decor.  You'll love this Quilted Garden Pillow by Anorina of Samelia's Mum for Riley Blake Designs.  It starts with a foundation pieced pineapple block – one of my favorites!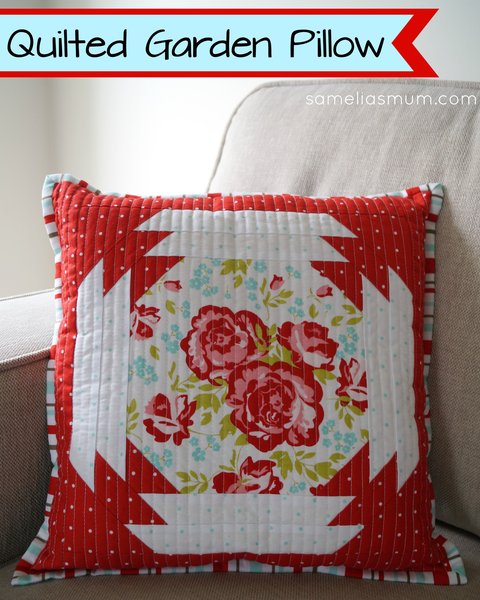 6.  Another great project from Riley Blake Designs is this Cottage Stamp Baby Quilt by Melissa of Happy Quilting.  This looks like a great way to use up 10″ and/or 5″ precut squares.
7.  A great way to wrap a gift is with a reusable bag.  Pam from Threading My Way has a great tutorial for a drawstring gift bag that would be perfect for this.  Now's the time friends!
8.  Thanksgiving is around the corner.  If you're looking for a fun activity for the big day, check out this great Scavenger Hunt Printable from Dawn at Creative Cain Cabin.  This will keep the family busy for a while!
9.  If you're the one cooking a turkey this year, you might want to read this article, How to Cook A Turkey – an easy roast turkey recipe, by Jennifer at Foodess.  Knowledge is power, especially in the kitchen!  Hopefully we'll get it right this year!
10.  I like it when a quilted project works for two holidays such as this Scrappy Pumpkin Table Runner by Andy at A Bright Corner.  She nailed Halloween and Thanksgiving in one punch!  You can find the full tutorial at the Therm O Web Blog.
11.  Melissa of Happy Quilting has been busy with another quilt tutorial, Out For A Stroll.  This twin-sized quilt would be a great way to use up your black and white scraps!
12.  I love anything Scandinavian, and this Fair Isle Quilt by Lee of Freshly Pieced is one of my favorites.  Lee has just launched the Fair Isle Sew Along using this pattern so that we can follow along with her and have it finished by Christmas!
I don't know about you, but I am totally inspired and I can't wait to start some new projects (plus finish up some old ones).  A big thank you to all of the blogs featured today.  I hope you get a chance to stop by a few of them and say "Hi"!
I'll be back in a few days with a new "ish" mug rug to show you.  Enjoy the rest of your day!