Sew Thankful Sunday, April 2015
{I am frequently visiting other blogs and I'm always amazed at the talent and passion that I see along the way.  Since I love sharing these new "finds" with you, I created Sew Thankful Sunday.  My way of giving back to the quilting community and sharing great content with you at the same time!}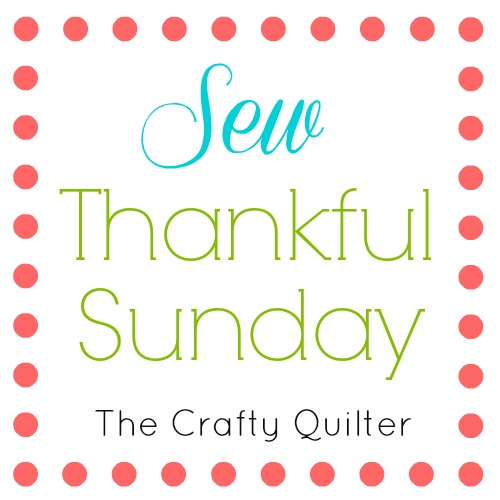 April is here and I wasn't sure if I would get to my Sew Thankful post this month.  But, I couldn't pass up the chance to share a few things that I know you'll appreciate!
(Remember, you can click on any of the images in this post and it will open up a new tab to the associated link).
1.  Jacquelynne Steves has just published her Spring edition of The Art of Home e-magazine and it is packed with great stuff!  It includes a recipe, mini table topper pattern, embroidery pattern, and much more.  Plus it's free (sew very thankful)!
2.  I love this Spinwheel quilt block tutorial from Alyce at Blossom Heart Quilts.  It's one that you will definitely want to add to your block library.
3.  If you want to learn some new quilting techniques, then join the School Bell Has Rung Sampler Quilt Along at Laugh Yourself Into Stitches.  Karen will walk you through the steps of making this sampler in five lessons.  This is my kind of school!
4.  Get back to basics with Katy at The Littlest Thistle as she shows you how to make a quarter-square triangle unit several different ways.  Plus she has included a cutting chart for different sizes and techniques!
5.  You'll love this Embroidery Hoop Storage Pocket tutorial by Ros at Sew Delicious.  It's so cute and functional, too!
6.  If you want to learn about a great tool for making flying geese or half-square triangle units, then check out A Quilting Life.  Sherri shows you how to use the Easy Angler II, and save time while you're sewing.
7.  It might be time for a Spring Table Runner and you can find it at the Sizzix Blog.  This table runner was designed by Karin at Leigh Laurel Studios.  I love the easy piecing!
8.  To pre-wash or not pre-wash your fabric is a much debated topic in quilting.  Pam at Heartspun Quilts has some informative thoughts about it that I think you'll appreciate.  (Personally, I don't pre-wash, but I recently learned the hard way that you should always use a Shout Color Catcher when washing a red and white quilt).
That's all for now.  Thanks for joining me and have fun checking out all of the blogs featured today.