Now that you've gathered your supplies, are you ready to start making your table topper?  This week we will do some easy piecing, and I'm going to give you some of my best tips along the way!
You can find the previous week's instructions here:  Spring Petals QAL, Week 1.  The entire QAL schedule with links can be found at the bottom of this post.
You can download the pattern here:  Spring Petals Table Topper
We will be working with the background fabric and corner triangle fabric this week, and we'll be laying the groundwork for our petal applique which will take place the following week.
TIP:  Fabric preparation:  As a general rule, I don't pre-wash my fabric as long as I know where it came from.  If it's quality quilting cotton, the chance of color bleeding is very small.  Shrinkage isn't a big factor for me, since most of the shrinkage will occur in the batting (which will depend on the type of batting you use).  I will often use spray starch on my fabric before I do any cutting.  This adds more stability to your fabric and gives you more control as you cut and piece it.
Cutting
Background squares:  You need (16) 5″ squares for the background.  If you're using a charm pack, you'll want to pick the lightest ones (assuming your petals will be dark).  If you're using yardage, you will cut (1) 5″ strip of fabric from each background fabric, and then subcut that strip into 5″ squares.  You may be using 4 different background fabrics as I did for this sample, so you'll need (4) 5″ squares from each fabric. Or you could use just 2 fabrics (as I did for the modern solid example here) and you'll need (8) 5″ squares of each.  You could also use just one fabric for all of those squares and you'll need 16 total.
Corner triangles:  Cut (2) 7 1/4″ squares.  Cut them on the diagonal once.  This will create the 4 corner triangles.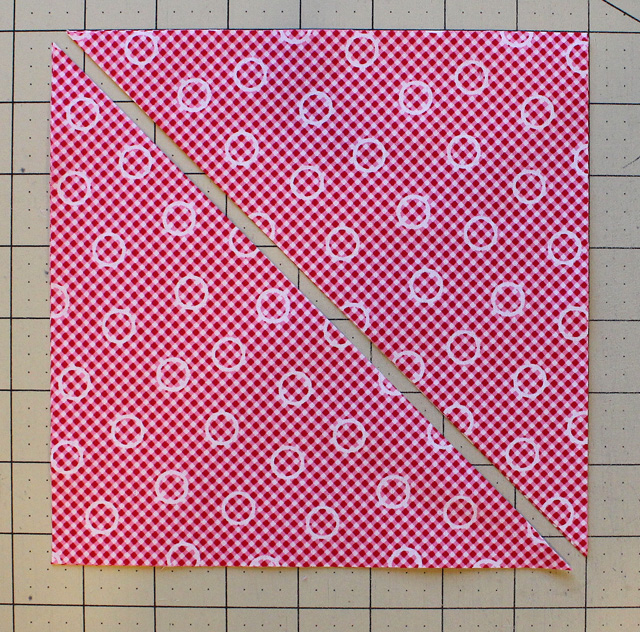 TIP:  Working with pre-cuts.  If you're using charm squares for this project, you'll notice that the edges are "pinked".  The manufacturer does this to keep them from fraying.  Use the outer point of the pinked edge as your 1/4″ seam allowance.  Since different brands may vary, it's a good idea to measure your charm square from those tips to make sure it's 5″ square.  Trim if necessary.
Assembly
Use 1/4″ seam allowance throughout (see tip below).
Machine set up:  I recently took a few pictures of how my machine is set up.  I use something called the Betty Bridge by Steady Betty to "even out" my throat/bed space and prevent the bottom seams from flipping up as it goes underneath the presser foot.
TIP:  1/4″ seam allowance.  I think it's so important to use a scant 1/4″ seam allowance when you're piecing fabric for quilting. I did a tutorial a few years ago that showed you how I get a scant 1/4″ seam allowance.  You'll see the Perfect Piecing Seam Guide being used to position the Sewing Edge Vinyl Stop (purple tape) in the photo below.
Once that's in place, I use the Sewing Edge to guide my fabric under my presser foot.  It feeds it in straight and perfectly scant.
It's worth the effort to test out your seam allowance by sewing together three rectangles that measure 2 1/2″ x 6 1/2″.  Once you sew and press your seams, you should get a square that measures 6 1/2″ x 6 1/2″.  If it's less than that, your seam allowance is too wide.  If the square is more than 6 1/2″ then your seam allowance is too narrow.
Fabric set up:  Place the 5″ squares into 4 rows with 4 squares in each row.  Alternate the fabrics to make it look scrappy (if you're using several different fabrics).
Piecing:  I like to chain piece and I work in rows.  I flip the second square of each row onto the first square with right sides together and pin.
I then stack them on top of each other starting with the bottom row and ending with the top row.  I take these to my sewing machine and chain piece them through.

If I leave them connected after chain piecing, I can easily put them back into place without getting them out of order.
TIP:  Use flower-head pins to number your rows.  I like to number them with a permanent marker (which can be removed with rubbing alcohol).  I then put a pin in the first block of each row just in case I sneeze and things go flying.
This is what it looks like after I've sewn the first set of pairs together in each row:
Then I do the same thing with the 3rd and 4th square of each row, sewing them into pairs as well.  At this point, I clip the thread in between each row because it's easier for me.  Some people like to keep them strung together throughout.  Finally, I sew the pairs together, connecting all four squares of each row.
Pressing:  I press my seams to one side (instead of open) most of the time.  If you want more detail about that, you can see my blog post, Pressing Seams to the Side vs. Open.  I think it's important that you take the time to "set" your seam first.  This means that you press it flat just as it was sewn.  This helps to sink the stitches into the fabric and evens out the seam, keeping it smooth and straight.  Then I flip the top fabric over and use my fingers to make sure the seam is open or flat (no tucks).  Then I use the iron to press the seam to the side.  I always press from the right side of the fabric.

Press the seams in each row to the same side, alternating directions of each row.  So the seams in my first and third rows are all pressed to the left.  The seams in my second and fourth rows are all pressed to the right.  The image below shows the wrong side of the rows, so the seams directions are reversed.  The important thing is that they're alternating.
Sewing rows together:  It's really important to nest the seams together in each row.  Because of the way you have pressed them, you end up with opposing seams.  This is good because it makes it easy for them to nest together and get a snug intersection.
Pin at the seam.  You have three options for pinning your seams together. (1) Use one pin on the leading side of the seam.  (2) Use one pin and pin diagonally, catching both sides. (3) Use 2 pins and pin closely to each side of the seam.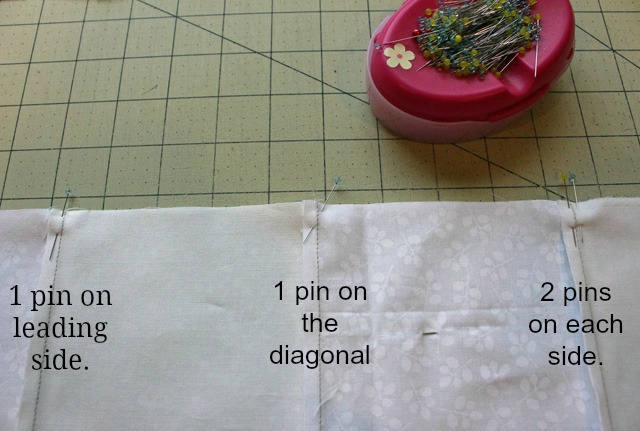 TIP:  When possible, sew with the top seam allowance facing the needle.  As you are sewing, you will be pushing the seam allowances together because the bottom seam allowance acts like a wall that the top seam gets pushed into.  Therefore you will get a snugger intersection.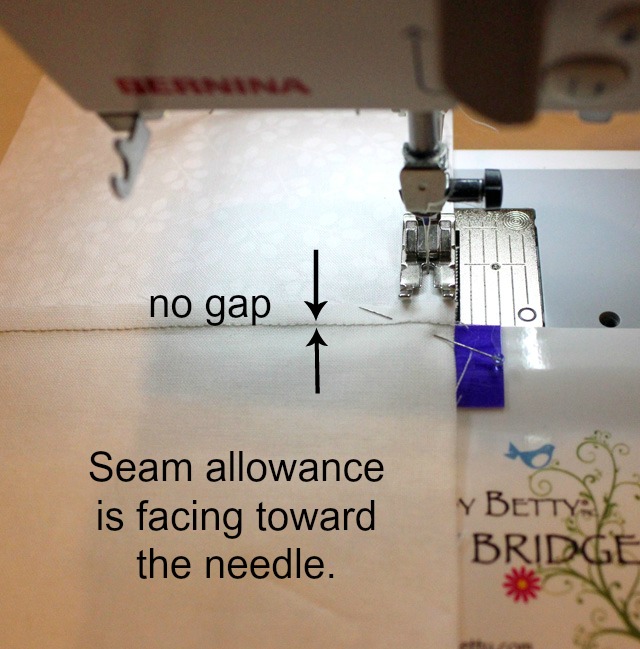 When the leading seam allowance is facing away from the needle, the seams are pushed away from each other because there is no wall forming from the bottom seam allowance.  There is a tendency for a gap to occur if you haven't pinned well.  It's not always possible to have the seam allowance facing the needle, but if you have a choice then take advantage of it.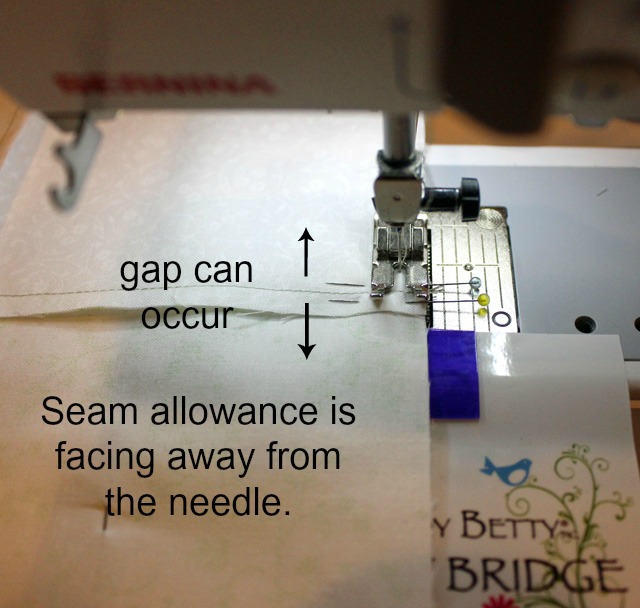 In the photo below, you can see how snug all of my intersections are.  Proper pinning and paying attention to which way the seam allowances are facing pays off!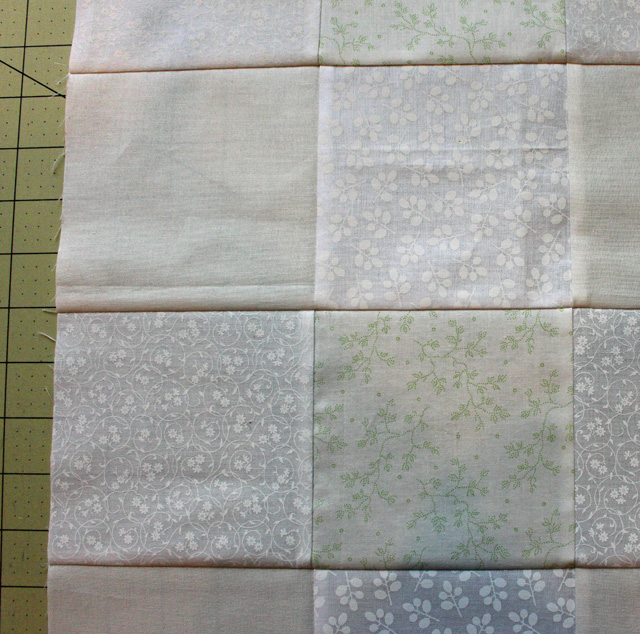 Once you've sewed the rows together, press the seam allowances to one side (it doesn't matter which side).  Your center background is now complete and should measure 18 1/2″ square.
Corner triangles:
Note:  I had a hard time deciding which fabric to use for the corner triangles.  I changed my mind a few times and I've settled on the red gingham with circles on it.  I like the picnic feel it gives to the top.
You could attach the corners after you have added the petals to your top. You could also "audition" a few options by distributing your petal fabric across the background square and set it on top of the corner fabric that you're thinking about.
Attach the corner triangles to the center background using the triangles created from the (2) 7 1/4″ squares that you have cut in half diagonally.
Fold each triangle in half to find the center and finger press a crease there.
Match the center of each triangle to the center of each side of the background square.  Pin in place.
Remember that the raw edge of the corner triangle is an exposed bias edge, so pin well and sew carefully.
Press seam toward the triangle.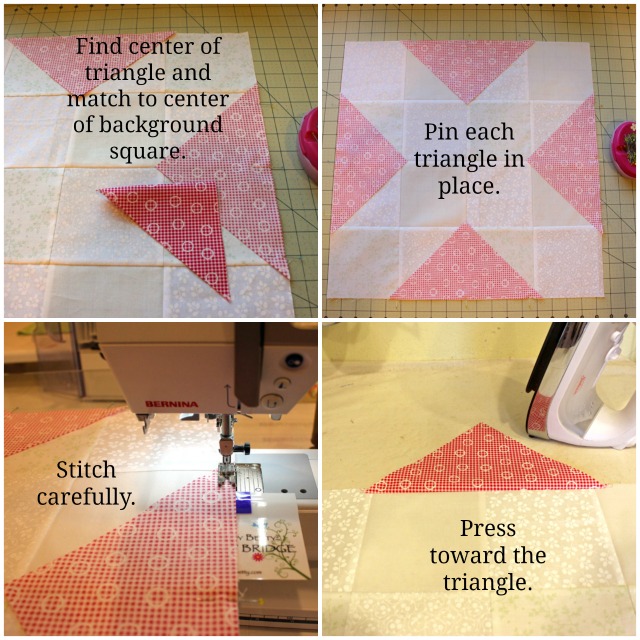 Now your table topper is ready for some petals!
It probably took you longer to read this blog post than it will to sew your table topper squares together!  If you find that you have extra time, maybe you should make another one!  If you're not excited about applique, you could leave it off of the second one and use fun fabric for the squares instead.  I'm just sayin'.
If you want to post pictures of your progress on Instagram, use the hashtag #springpetalsqal so we can all see!  I'll have a linky tool on the final week of the quilt along where you can upload pictures of your finished project.
Here is the schedule for the quilt along:
Have a great weekend!