Star Crossed Pattern and Plan B
I'm so glad to be participating in the Star Crossed Sew Along going on at the Fat Quarter Shop's blog, The Jolly Jabber!  They are celebrating the newly released pattern by It's Sew Emma titled Star Crossed.  It's a beautiful interpretation of a vintage star quilt that was found at Quilt Festival.
This pattern was so much fun to work with and the instructions were perfect.  I made a much smaller version using grey and cheddar yellow.
My Star Crossed quilt went in a very different direction than I originally intended.  Let me tell you how it began, and then I'll share some tips for piecing the blocks.
I love starting a new project.  It's my favorite part of the quilting process!  Sometimes I start a project with the fabric in mind and other times it's a pattern that gets me going.  Since this is a sew along, I had the pattern to begin the process.
I wanted to do something with solids and I had a color scheme in mind.  My inspiration was this Vintage Sampler BOM from Fig Tree Quilts (which has ended).  I absolutely love these colors together.
With that picture in mind, I chose grey, tan, yellow and rose as my colors for Star Crossed.  I used Kona solids and I was excited during the whole piecing process.  Until I put my blocks together.  Ugh.  Nope.  Not happening.  It might have worked if I did a scrappier rendition with more color variety.
This is where Plan B can be very handy to have around.  I even dipped into Plan C.  And I've made a Plan D.
Plan B:  I liked the grey and yellow (cheddar) together.  Unfortunately, I don't have enough of those fabrics to make a lap size quilt.  But that's o.k.  It's perfect for a baby quilt, so, baby quilt it is!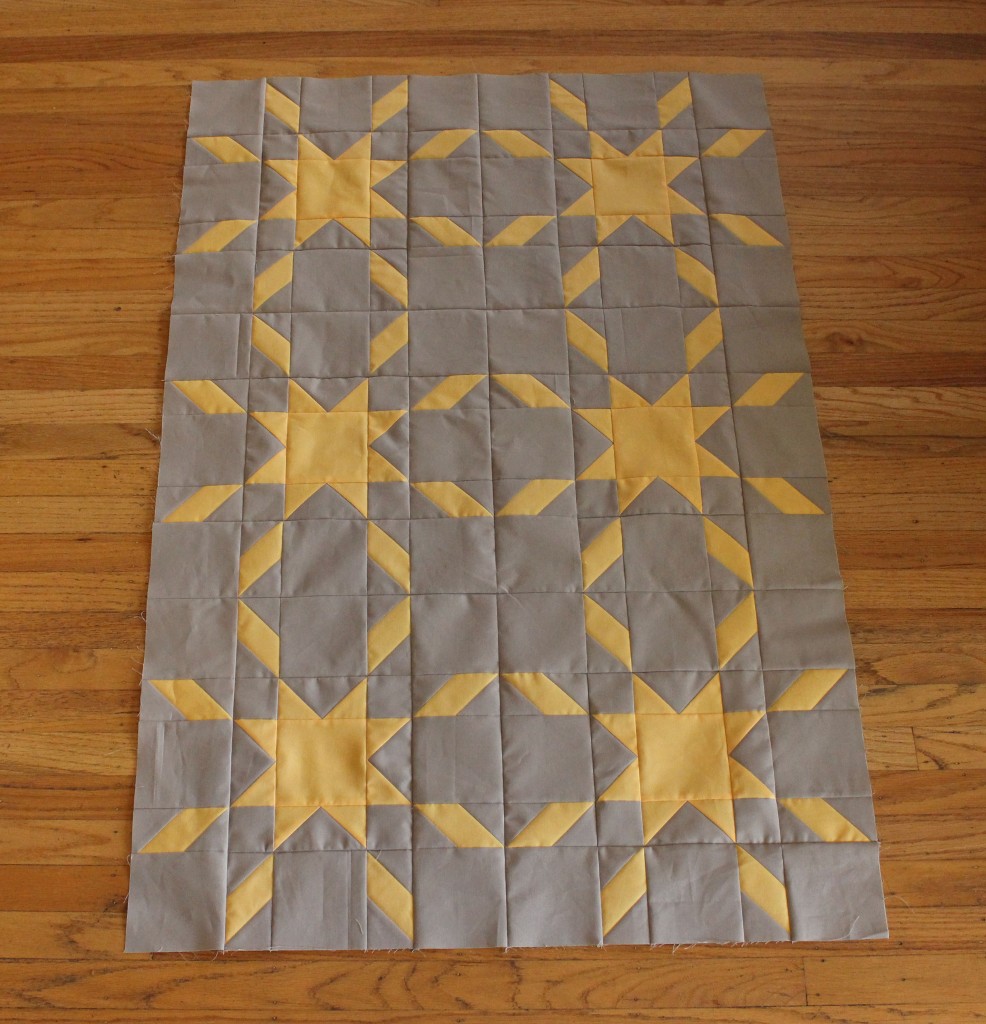 It's gender neutral and has a modern-vintage feel to it.  I really like it and I love the quilting possibilities in all of that open space.  I have a grand baby coming in July and he/she is going to be the recipient of this sweet baby quilt.  I can't wait to be a grandma and start reading some of my favorite books to him/her!
The other half of the blocks that I made in the rose and tan fabric are being criticized studied.  Plan C is not as easy as I thought it would be.  I like the sashing around the blocks.  It really makes the stars stand out and I think it's a great design addition for this quilt.  I'm having a hard time with the colors on this one, so let's put it aside for now.
Each Star Crossed block is 16 1/2″ (unfinished) square.  One block would be the perfect size for a pillow.  So, that's my Plan D.  I just can't stop with all of the planning!  I'm making a pillow from Cotton & Steel's Black & White collection.  So far, I have the block pieced.  I need to layer and quilt the top and then add the pillow back.
You'll notice that I added a different square of fabric for the center of this block. It's perfect for fussy cutting and it could lead to all kinds of possibilities for quilts and pillows and….
TIPS for piecing the blocks.  When you sew the flying geese unit to the center square, feed it through so that the flying geese unit is on the bottom.
I know most people say to have the flying geese unit on top so you can see the "x" (where the point is) and stitch right through the center of it.  However, on my machine, the presser foot has a hard time going over that big hump.  It's hard to sew straight through, and I end up with a wonky seam.  You can see below that my stitching missed the "x".
When you feed the flying geese unit through on the bottom, the feed dogs help move it through and I get a straight seam that goes right through the "x".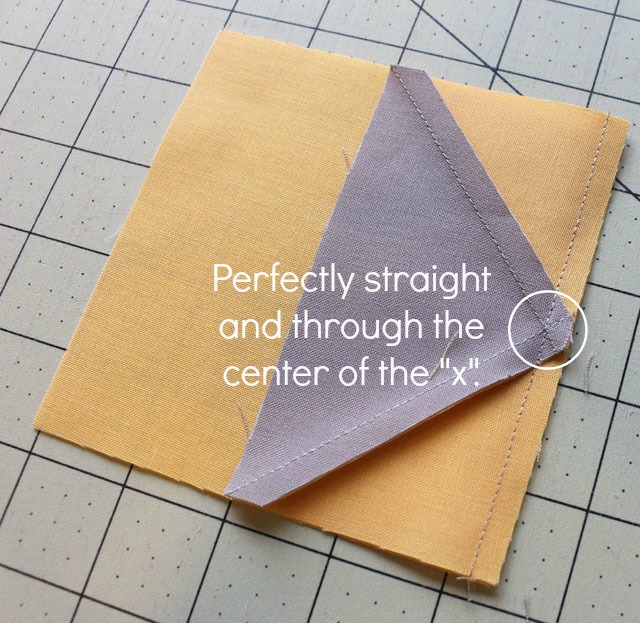 Another tip:  Make sure to match the points of the stars by using a setting pin.  To do this, you place a pin through the center "x" of the top seam and bring it through to the center "x" of the bottom seam.  That's your setting pin.  Then pin on both sides of that, close to the seam.  (You can also see this technique in my Pinwheel Star Block Tutorial.)
Take the setting pin out and when you're sewing, make sure to stitch through the center of the "x" so you get nice, sharp points.
Cooper has other ideas for this quilt.  He's just going to have to learn how to share.  (Don't worry, he already has his own quilt).
I'll be posting pictures of my progress of each of these "plans", so make sure to visit again soon.  Thanks for stopping by!