Mini quilt for Blogger's Quilt Festival
Right now, the Blogger's Quilt Festival is going on at Amy's Creative Side.  This is a virtual quilt show that we can all enjoy from the comfort of our own homes.  Amy has been hosting this quilt festival twice a year for the past several years.
I have a mini quilt that I've decided to enter into the Mini Quilt Category.  It could easily fit into the ROYGBIV (rainbow) category as well, but it's more of a mini quilt to me.  I made it a few months ago for a rainbow mini quilt swap on Instagram.
My swap partner was Rebecca Silbaugh who has a longarm quilting business and blogs at Ruby Blue Quilting Studio.  On top of that, she has written two books!  Yes, she was a little intimidating to quilt for.
This little quilt is my own design and it started with the center block.  The rest of the quilt evolved after that.  I love adding a little personalization to my quilts, so I appliqued the letter "R" in the center.  I wanted hexagons to be a part of this project, so the easiest thing was to applique those onto the border (in color order).  I was a little random in the placement of each set – trying to add a modern element in spite of myself!
I had a few firsts on this quilt.  I added some big-stitch embroidery (not sure if that's the correct term) around each color group of hexagons (before quilting).  And, I tried some organic, match-stick quilting around the hexagons to add some texture.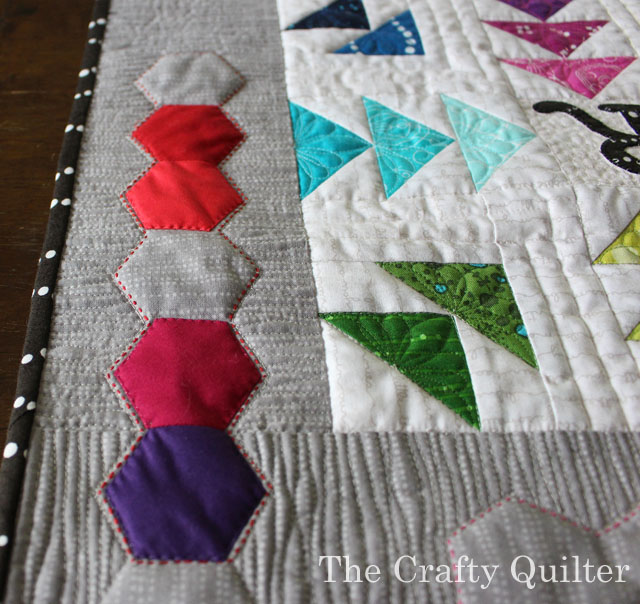 A little stitching in the ditch, some FMQ in the flying geese and pebbling around the letter "R" completed the quilting.  It sounds similar to making a recipe with a dash of salt and pinch of pepper!
I used this great text print on the back of the quilt along with a rainbow-hexagon label and hanging sleeve:
I love the opportunity to make cards and this was definitely one of those times.  I really enjoyed making this one:
I hope you get a chance to check out all of the other quilts entered into the Mini Quilt category, as well as all of the other categories.  You can still participate by entering your own quilt or by voting for your favorites.  There are prizes to be had!  Amy has some amazing sponsors that are supporting this quilt festival.  A big thank you to all of them!
Thursday, 5/21, is the last day to nominate up to three quilts for the Viewer's Choice award.  Make sure to go HERE to do that!  Then, all of the actual voting will begin on Friday, May 22nd.
Enjoy the show!