Recently, I was nominated for the One Lovely Blog Award by Cheryl at Meadow Mist Designs.  I've seen this award making its way around the blog world.  It seems like a great way to spread the love among bloggers who have a real passion for what they do and perhaps to introduce you to a blog that you may not have known about.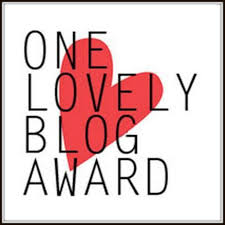 There are three things required of me to accept this nomination.  The first is to acknowledge the person who nominated me.  I had the pleasure of meeting Cheryl in person at QuiltCon 2015 in Austin, Texas.  Before that, we had been virtual friends through our blogs. Cheryl's blog, Meadow Mist Designs, is a great place to interact with other quilters and to find information and inspiration.  Cheryl publishes her own patterns, she's co-hosting the 2015 New Quilt Bloggers Blog Hop, and she just kicked off a Midnight Mystery Quilt Along that includes a pattern designed by her (and it's free).  She is a very busy and talented lady!
The second thing I need to do is tell you 7 facts you may not know about me.  Hmmm.  This could be embarrassing tricky, but I'll give it a try.
1.  I have a type B personality.  I'm extremely patient and forgiving. But my sewing room is (almost) always a mess.  It's kind of an organized chaos situation. I would much rather be sewing than cleaning.  But I can cook really well, and I do make my bed every morning!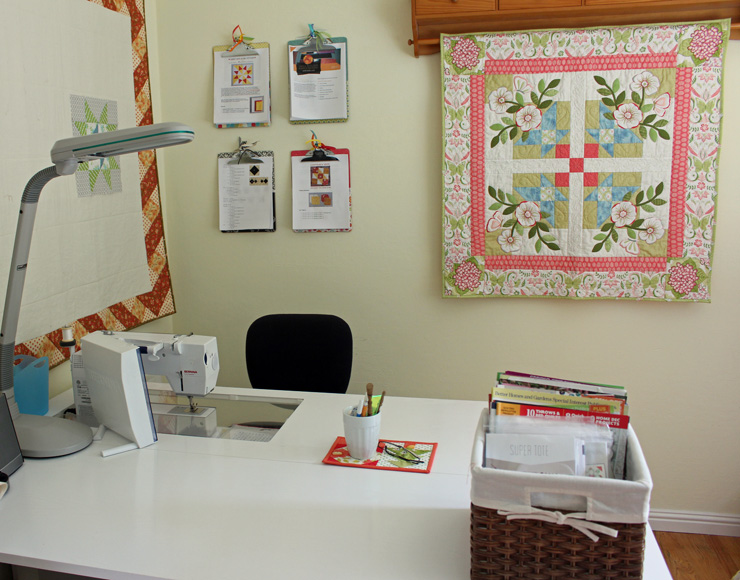 2.  I walk my dog, Cooper, along with Mr. Crafty Quilter every morning, rain or shine, around 6:00 or 6:30 a.m. for 45-60 minutes. Once in a while Mr. Crafty Quilter will go solo and let me sleep in.
3.  I'm always trying to lose 10 pounds.  Currently, it's 20 pounds.  Menopause has not been kind to me.  Enough said; I know I'm not alone.
4.  I never finished college.  I have an Associate of Arts degree and I was heading for a major in deaf education.  But, I was working full time and then got married at age 22.  Followed two years later by child #1, which was followed by three more children.  But you know what?  I always wanted to be a mom when I grew up!  It's been my dream job, and I've been very fortunate to stay at home and raise my kids.
5.  I'm not very chatty.  I don't like to talk on the phone much, and my version of a story is always going to read like the Cliff notes and not the thick novel.  Mr. Crafty Quilter is the exact opposite.  He's a natural on the phone.  He can talk to anyone, anyhow, anytime (and usually for a long time).  We're perfect for each other.
6.  I make my own deodorant.  And it works!  You can find the recipe I use here.  I'm also converting to organic and natural skin care, but it can be expensive.  So, I might start making my own facial products, too.  Our skin is the biggest organ of our body.  If a product isn't safe enough to eat, then I don't want it on my skin, especially my arm pits!
7.  I love being alone.  I could go for days without any human interaction and I would be just fine (of course this is only a theory, since I haven't had that luxury – yet). I love being at home alone.  I love shopping alone.  I love going for a hike alone.  I love driving alone.  But I don't go to movies alone or out to dinner alone. There, I'm not a complete loner.
Well, that list only took me three days to come up with!  Now onto the final thing I need to do (and my favorite).  I get to nominate 7 other blogs for the award.  And here is my list (in no particular order):
Amanda @ The Patchsmith
Lani @ Simply Fresh Vintage
Lea Anne @ Podunk Pretties
Lorna @ Sew Fresh Quilts
Amy @ Amy Made That!
Elaine @ SummerCrafter
Sheri @ Sunshine in the Attic
I hope you all have a great day!