Sew Thankful Sunday, July 2015
{I love the idea of "paying it forward".  I think the world would be a better place if we could spread some joy and acknowledgement of good deeds done by others (along with doing a good deed of our own).  That notion is the genesis of my Sew Thankful Sunday posts.  I highlight some great content that I've found on other people's blogs that I hope will inspire you and reward the originator by bringing traffic to their site.  If your blog has been featured without your approval, please let me know and I will take you off the current list of featured bloggers.}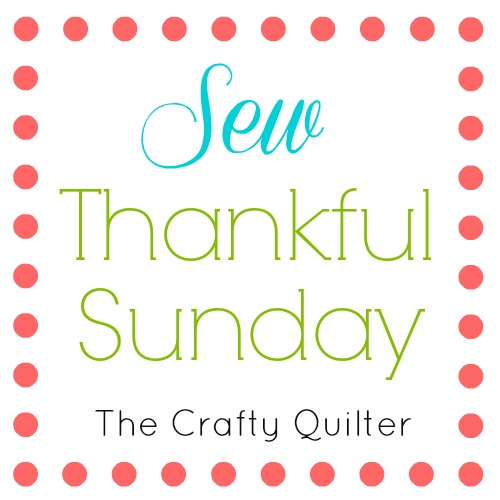 Happy Belated Independence Day!  Summer is in full swing here in California with trips to the farmer's market, the beach and traveling out of town.  Hopefully, there is still time for quilting and crafting!  I'm sure you'll find some inspiration today in that regard.
(Remember, you can click on any of the images in this post and it will open up a new tab to the associated link).
1.  This little project will definitely fit into your summer schedule:  Framed Summertime by Jen Daly Quilts is a fun project that stitches up quick.
2.  If you've ever been confused about how to line up angles when piecing together triangles, Heather of Anka's Treasures will help makes things clear.  She has many beautiful patterns that use angles, so I would consider her an expert!  These tips will work for any degree angle that you come across.
3.  I love making pieced blocks, and this Butterfly Block from Katherine at Sew Me Something Good is one of my latest favorites.  Simple enough to do and cute enough to please anyone!
4.  There's some awesomeness going on at Missouri Star Quilt Company AND the Crafty Gemini (isn't there always?).  They've teamed up to bring you weekly videos where Vanessa will show you how to create cute and functional sewing and crafting projects at Crafty Gemini Creates.  How great is that!
5.  I know it doesn't seem right, but Christmas in July is a big thing in the crafting world.  Connecting Threads is hosting the 2015 Gifty Galore Quilt Along that will get you ready for the holidays early this year.  The quilt along will require the purchase of a book, "Fast, Fun & Gifty", and will include some free patterns and tutorials as well.
6.  Make your summer nights comfy with this Star Bright Quilt pattern from Cloud 9 Fabrics.  This a free pattern using their First Light collection.
7.  It's nice when a project combines some portable handwork and a little bit of sewing.  You can find that combination with this Patchwork & Hexagons Table Runner from Audrey at The Cloth Parcel.  This is perfect for using up those mini charm squares.
8.  Before you finish you next mini quilt, check out these Tips & Tricks for Binding Mini Quilts from Caroline at Sew Can She.  Some of these ideas can be applied to regular quilts, too.
9.  Speaking of mini quilts, here's a cute Quarter Log Cabin Mini Quilt that you could make with your stash, compliments of Yvonne at Quilting Jetgirl.  She gives you multiple layout options for lots of different looks.
10.  It's been a while since I've used a color palette generator, but AnneMarie from Gen X Quilters recently reminded me of their usefulness.  She has a blog post with links to some great websites to inspire your next color palette and fabric pull.
11.  Even though the 4th of July holiday has passed, this Flag Pillow & Block tutorial will last throughout the summer thanks to Allison at Cluck Cluck Sew!  It's got simple piecing and the aqua background fabric really highlights the block well.
12.  I truly appreciate this great tutorial on Invisible Machine Applique (with a turned edge) by Lea Anne at Podunk Pretties.  She does a great job of photographing her technique (which is similar to mine) and it gives you results that look like you did it all by hand!
I really enjoyed putting this month's Sew Thankful list together!  These bloggers are so talented and generous with their time.  It's always nice when we can show our appreciation with a visit and a comment if you're feelin' it.
I hope your July is fantastic and full of good times and lots of quilting!