Sunday stash and a few WIP's
Sunday stash report:  I have attempted to NOT buy fabric online for a long short time, but I couldn't resist this bright bundle of One Room Schoolhouse by Brenda Ratliff for RJR Fabrics.  I saw it on Instagram and I was hooked.  Can you blame me?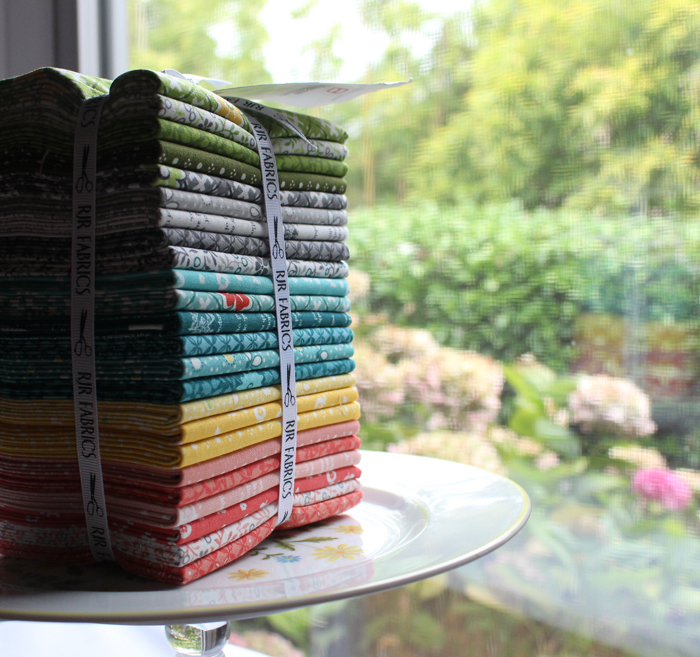 No plans for this group of fabrics yet.  I'm happy just looking at it on the shelf for now.
I must have a thing for charm packs. They're not too expensive and I get a selection of all of the fabrics in one grouping.  They're the perfect size for applique projects or a mini quilt.  I just received this beautiful package of Sundrops by Corey Yoder for Moda Fabrics.  I fell in love with Corey's first line of fabric, Prairie, and I'm excited to play with this group as well.
I had to try out the new 80 wt. thread from Aurifil.  I bought a 6-spool package from  Fat Quarter Shop and I have the perfect applique project to test it out on.  It's 100% cotton thread and at 80 wt, it promises to be a very fine thread for hand applique.  I'll let you know how it goes.
I'm plugging away at the Splendid Sampler blocks.  This little bunny, designed by Anne Sutton of Bunny Hill Designs is ready for some hand applique.  I love anything that Anne designs and I'm quite fond of her rabbits.  (I'm in the quilting stage of Rabbits Prefer Chocolate.)
I decided to use my Appliquick tools to do turned edge applique.  The nice thing about this technique is that you do all of the hard part first.  Once all of the pieces are prepared and everything is glued in place, you just hand stitch it down – and I'll be using the Aurifil 80 wt. thread mentioned earlier.
The 50th Splendid Sampler block was designed by Joanna Figueroa of Fig Tree Quilts, another favorite designer of mine.  This block marks the half-way point of the quilt along and I felt compelled to get it done even though I'm missing quite a few blocks from the first half.  I really enjoy piecing and this was a fun block to sew.
I've completed the August block for the Sugar Block Club BOM.  This was a quick make and I loved the fact that there were no diagonal seams that needed to match up.  Easy peasy!  I'm using Prairie by Corey Yoder for Moda (as mentioned previously).
And lastly, I have a new beginning quilt top sample finished.  I've been teaching beginning quilting for over 10 years, and I'm changing to a new book by Alex Anderson, Make Your First Quilt.  I love this book!  You learn how to make one block (Arkansas Crossroads) and then there are twelve different options for the quilt layout.  I'm making a very small sample, and I'll be encouraging my students to start small as well.
Next job is to baste, quilt and bind this one.  It's going to have to get in line, though, because I have my UFO for August to finish up first.
I hope you're having a great day!  Happy Quilting!