As I type this, it really feels like Fall in my neck of the woods.  Finally!  Rain is expected, but it's just been drizzling so far today.  A perfect day to do some sewing, baking and catching up with email.
Fall inspiration inside the house
Sometimes my older tutorials get lost in time.  Especially if you're new to my blog, you may have missed this Fall table runner tutorial from 2012.  It's made of three blocks set on point with setting triangles.  It would look great in any color scheme, but this one really stands out for Fall.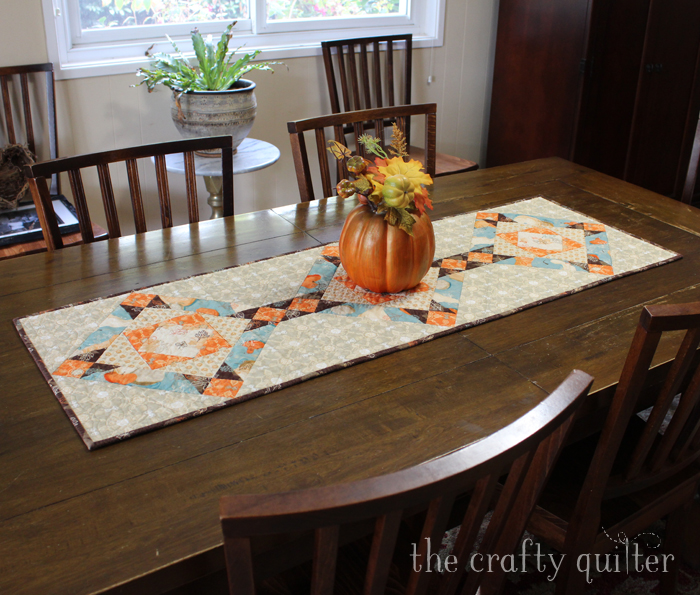 With Halloween around the corner, you may want to try using your fabric scraps to decoupage a foam pumpkin.  It's easy (and a little messy) – perfect for little helpers, too.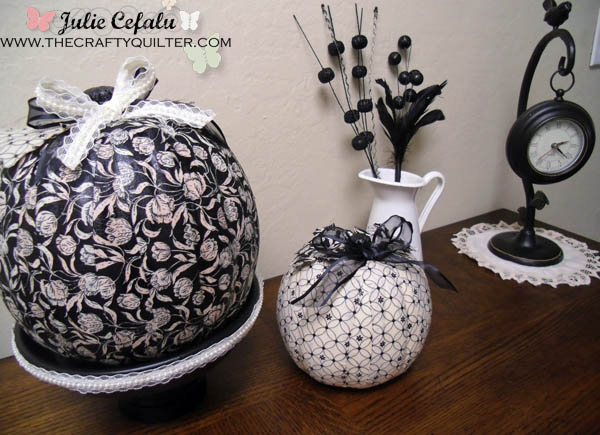 You could also make this Candy Corn Candle Jar in about 10 minutes.  All you'll need is some candy corn, ribbon, a candle and a glass jar.
This Halloween wall hanging is still my favorite quilted piece for October.  I love the black and cream colors and that applique is just adorable.  The pattern is from Fig Tree but I can no longer find it on their website.  They may have retired it.  Another one of their mini patterns that is equally as cute is Figs & Woolies Pumpkin Patch.
I have my Autumn Reflections quilt hanging in a corner of the dining room and I just love it there.  This is one of my favorite makes this year.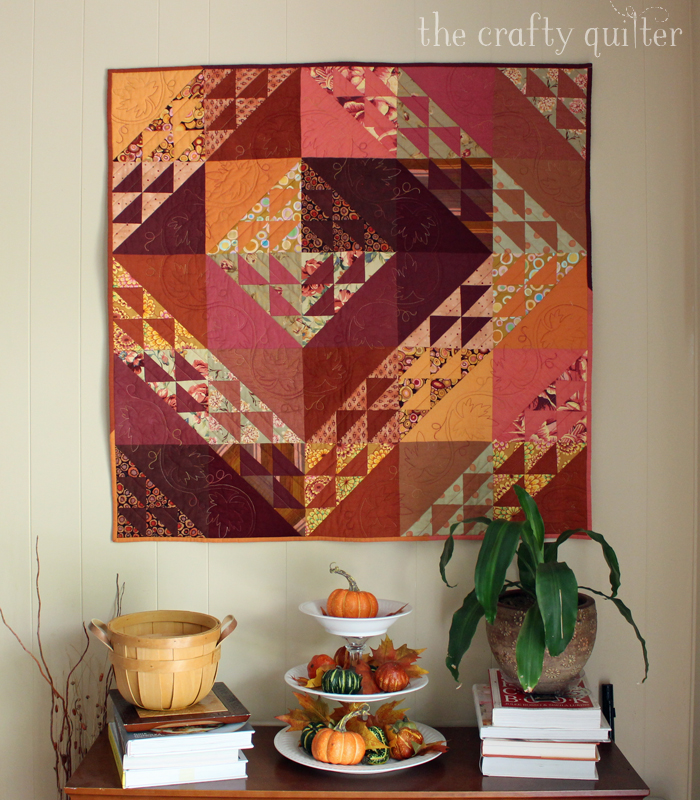 Here's an oldie but goodie.  This is a wall hanging from A Harvest Melody by Nancy Halvorsen.  This was made before I really knew how to applique.  It's still just fused in place -no stitching around those shapes!
This quilt is from 8 years ago (or more?) and still one of my favorites.  This is similar to a crazy quilt and it was so much fun to make.  I could do this one again.
I love decorating for Fall.  Our house has furniture and decor in rich, dark tones so it's a perfect backdrop to the traditional hues of autumn.
Fall inspiration outside the house
Outside the house, mother nature is just starting to show her colors.  The shadows are getting taller and the days are getting shorter.  I took some pictures around the neighborhood and our yard a few days ago.  It was a beautiful day, with temperatures still in the 70's.  Not that I'm complaining, but I'm ready to bust out my sweaters and boots.
Yes, I love this time of year.  If you want more inspiration, check out my Fall Projects/Decorations Pinterest board.  But be warned, you may find yourself spending far too much time on your computer!  (I say to grab a cup of tea and a cookie and just go with it!)
Happy Fall!
Save
Save
Save
Save
Save