Fall table runner tutorial
A few weeks ago I was showing off this beautiful fabric from Newcastle Fabrics.  You can find the details at the end of this post.
I finished this table runner a few days ago and I'd love to share the "how to" with you.
Please note that this tutorial has not been officially tested.  I try to be thorough, but sometimes I make mistakes, so let me know if you find anything "fishy".
It's made up of three 12 1/2″ blocks set on-point and measures 50 3/4″ x 17 1/4″.
Supplies:
Fabric A (block center square)     1/4 yard
Fabric B (sq. in sq. block)              1/4 yard
Fabric C (sq. in sq. block)              1/4 yard
Fabric D (block rectangles)           1/4 yard
Fabric E (block corner triangles) 1/4 yard
Fabric F (block corner squares)   1/8 yard
Fabric G (block setting triangles) 5/8 yard
Binding  1/3 yard
Backing (1 solid piece)    1 1/2 yards or pieced with left overs.
Cutting Instructions:
Fabric A:  Cut (1) 4 1/2″ strip; subcut into (3) 4 1/2″ squares
Fabric B:  Cut (1) 5 1/4″ strip; subcut into (3) 5 1/4″ squares and cut in half diagonally in both directions. *

Note

:  After making this project, I realized that you would normally use 2 squares cut in half diagonally once for each block so that you don't have bias edges on the outside. I had no issues with mine, but be mindful of this when making yours.
Fabric C:  Cut (1) 5″ strip; subcut into (6) 5″ squares and cut in half diagonally.
Fabric D:  Cut (3) 2 1/2″ strips; subcut into (12) 2 1/2″ x 8 1/2″ rectangles
Fabric E:  Cut (2) 2 1/2″ strips; subcut into (24) 2 1/2″ squares
Fabric F:  Cut (1) 2 1/2″ strip; subcut into (16) 2 1/2″ squares
Fabric G:  Cut (1) 18 1/2″ wide strip; subcut into (1) 18 1/2″ square then cut in half diagonally in both directions, and cut (2) 10 1/2″ squares then cut in half diagonally once.
For the setting triangles, I used a ruler called the Flip 'n Set.  So, instead of (1) 18 1/2″ square, I used a 9 1/2″ strip and cut triangles from that:
Block Assembly:
Step 1:  Attach Fabric B triangles to Fabric A center square by matching centers and stitch with 1/4″ seam allowance.  Repeat for each side, pressing towards triangles.  Your square should now measure 6 1/8″.  The triangles are not over-sized, so there should be no (or little) trimming.
Step 2:  Attach Fabric C triangles to step 1 finished square by repeating Step 1 as shown above.  These triangles are over-sized so the square will need to be trimmed down to 8 1/2″ square.
Step 3:  Add  corner triangles to side rectangles:  Draw a diagonal line on Fabric E 2 1/2″ squares.  Place a square at each end of Fabric D rectangles.  (You will have 4 extra squares for another step.) Stitch just to the outside of the drawn line and press towards the outside. Trim.
Note:  After pressing the corner triangles, I check to make sure everything lines up.  Turn the rectangle wrong side up and see if any of the triangle square is showing outside the rectangle:
If so, trim it even with the rectangle and then trim the seam allowance:
If you find that the corner triangle does not quite meet the base rectangle from the right side, then you can leave the base rectangle in place and only trim the seam allowance from the corner triangle. That way you can use the base rectangle as your seam guide when joining units together for a more accurate block.
Now you should have all of your pieces ready to assemble the block.
Step 4. Lay out the 8 1/2″ square-in-a-square center block, the pieced rectangles and corner squares as shown above.  Sew pieces into rows, pressing the center unit towards the middle, and the top and bottom rows towards the corner squares:
Sew the rows together, matching seams and pinning.  Press towards outer rows.
Your block should measure 12 1/2″ unfinished.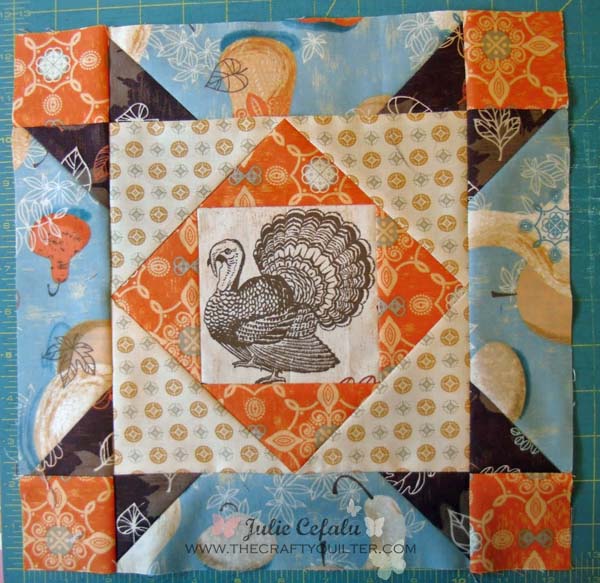 Step 5.  Prepare setting triangles.  With the (4) remaining 2 1/2″ Fabric D squares, draw a line diagonally from corner to corner on each.  Place one square on the center corner of each large setting triangle.  Stitch just next to the line and trim, pressing towards the corner.
Step 6:  Now you're ready to join the three blocks and setting triangles into rows.  Arrange your pieces as shown in the picture below:
Begin on the right side by flipping the setting triangles and corner triangle right sides together with the blocks and pin.
The setting triangles are over-sized – you will need to line up the top edge as well as the triangle seams (see 2nd picture below) before you pin.  The corner triangles (also over-sized) should be centered on the block and then pinned.  These will all be trimmed at the end.
The following picture is showing the "check point" where the triangles need to line up:
Press seams towards the setting triangles.
Step 7:  Repeat above step on the other side:
Step 8:  You will now have diagonal rows that can be sewn together.  Match seams, pin and stitch rows.  Notice that you will have 2 corner triangles remaining that will get sewn on at the end.  (Also notice the cute puppy in the corner :0)
Attach remaining corner triangles and press towards triangles.  Your table runner is almost done!
Here's another picture of the middle section where the half square triangles form a line or row through the middle:
Step 9:  Trim all edges using your ruler to guide you.  Line up the 1/4″ mark on the ruler beyond the point of the blocks.  You can also see that the 45 degree marks on the ruler are even or parallel to the sides of the block:
I love this part – when it's all trimmed and pretty and ready to be quilted!
I pieced my backing so that I could use up the fabric that I had (I'm oddly efficient like that sometimes, although you wouldn't know it by looking at my stash!).
I used Thermolam for my batting.  I like it because it doesn't shrink and it allows my table runner to lay really flat, even after washing.  It also has a little thermal property so it protects my table from really hot dishes (at least I hope it does).
For the quilting, I stitched in the ditch along the main seams first and then added some free motion quilting:
I have a large assortment of stencils that I like to use when I can.  Other parts are quilted without marking.
If you get started on your table runner now, you'll be ahead of the game for fall!
Please share pictures if you make one; I'd love to see yours too!
Happy Quilting!
~Julie