I'm participating in the I Love Home BOM!
I'm so excited to be participating in Jacquelynne Steves' 2017 Block of the Month, I Love Home!  This will be my third year as a featured blogger and my fourth BOM with Jacquelynne.
You can sign up here for this FREE block of the month which starts in August and runs through December.
Once again, there will be options for applique, embroidery or just pieced versions of this quilt.  I'll be doing the applique version, and I've decided to make each block an individual mini quilt based on the four seasons!  I'm starting out with Spring and I've found the perfect color palette for this one (which is very similar to the one Jacquelynne has used for the entire quilt.)
I love this color combination!  And if you want to work with those colors, too, Jacquelynne has fabric kits available for her version of I Love Home.  Act soon, because she's running an early bird special of $10 off each kit until June 27 (yikes, that's tomorrow!)
This year's BOM has some awesome sponsors who will be providing giveaway prizes each month for those participating.  Olfa is among the sponsors, and they have graciously given each participating blogger a super package containing a Splash rotary cutter, folding cutting mat and Endurance rotary blade.  Thank you, Olfa!
I hope you'll be joining me for this year's I Love Home BOM.  It's going to be so much fun!  The finished size of this quilt is 54″ x 68″, or you can follow me and make each 18 1/2″ square block into a mini wall hanging or perhaps a pillow – one for each season.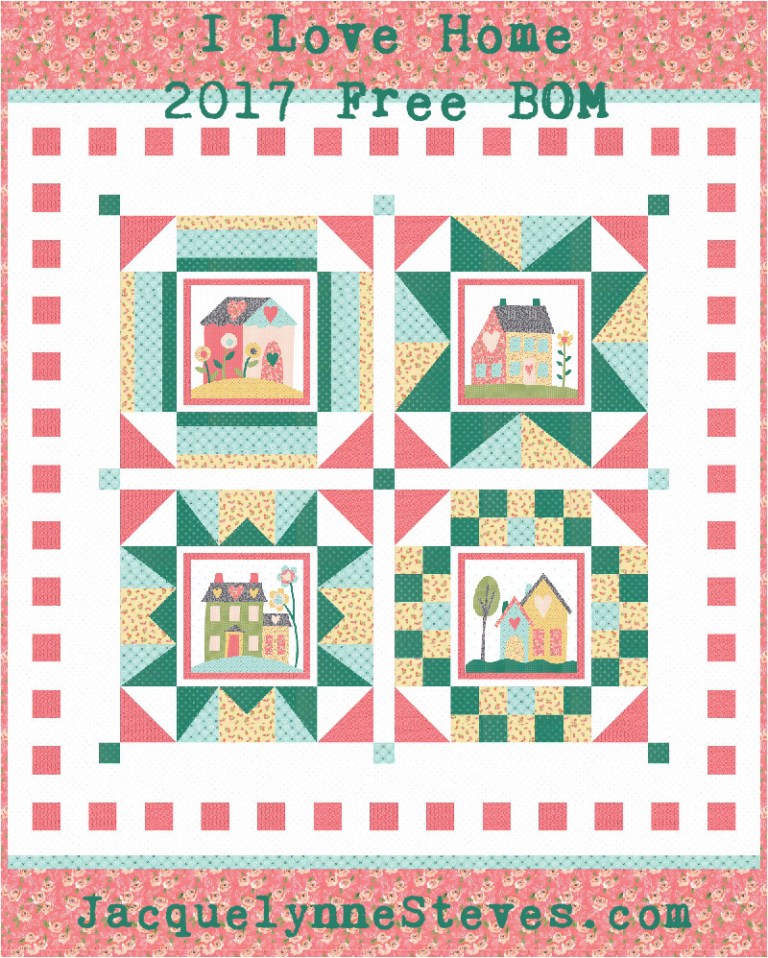 Once you sign up for this BOM, you'll receive the monthly instructions via email.  It starts in August, so you have plenty of time to sign up and get ready!  I look forward to sharing my progress along the way.  I've already started the first month's block, (I get the instructions ahead of time so I can blog about it) and it's already looking sweet!
Happy quilting!
Save
Save