Star Spangled Heart pattern is here!
Hey everyone!  I've been working diligently to get my latest pattern, Star Spangled Heart, ready for the upcoming 4th of July holiday.  It's now available in my Etsy Shop, and I hope you like it as much as I do!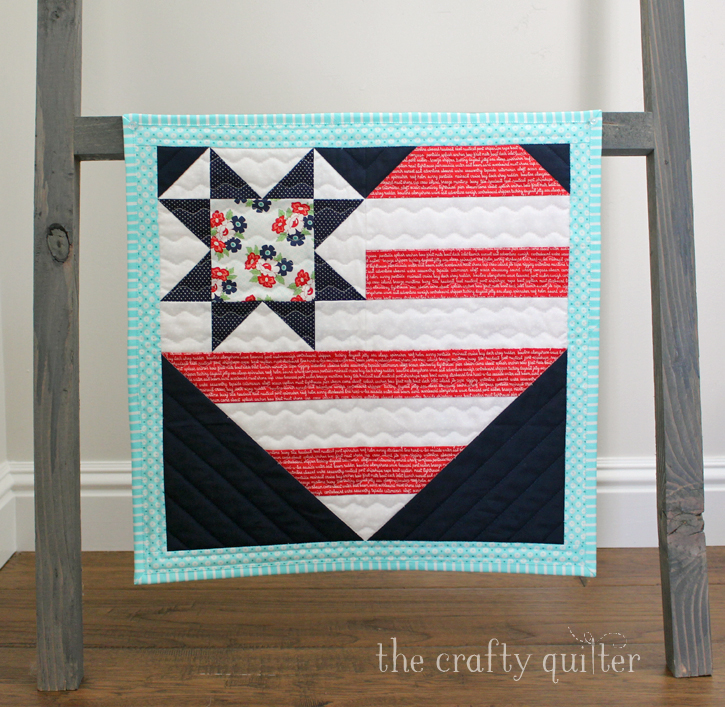 This mini wall hanging is 18 1/2″ square, and the pattern includes a smaller, 10 1/2″ square version.  The Sawtooth star works perfectly to form the left side of the heart.  It's a fat quarter-friendly pattern, or you could dig into your scrap pile and make it scrappy.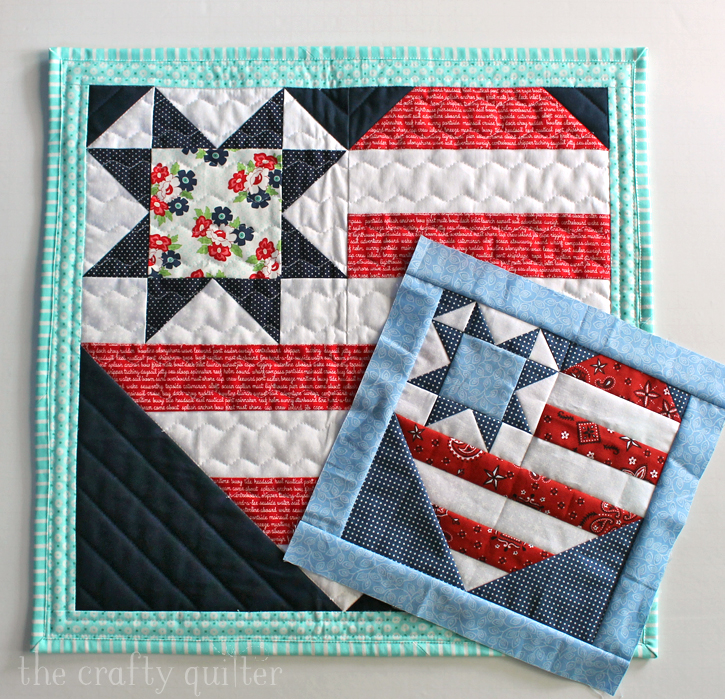 I used my walking foot and a serpentine stitch to do most of the quilting.  Straight lines in the blue background add definition to the corners.  I completed this wall hanging in two days, including the binding.
I've had a fat quarter bundle of Daysail by Bonnie & Camille for Moda sitting on a shelf waiting for the perfect project.  This is definitely a good pairing!  I love the addition of aqua in the border and binding.  You can see that I added a hanging sleeve (which still needs to be hand stitched down) which adds a little versatility in how I can hang it.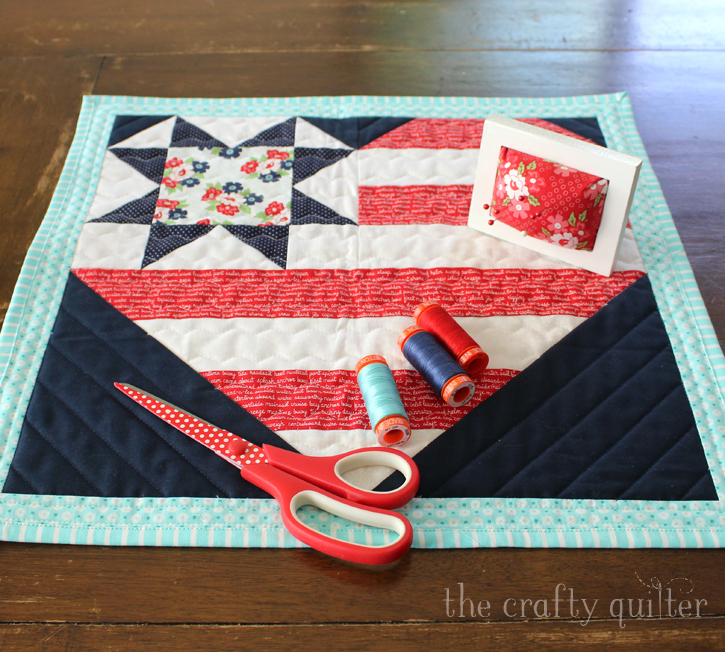 You could also make a nested Sawtooth star by following the cutting instructions for the large and small versions.  The 4″ star fits right inside the 8″ star.  That's on my "to do" list for this weekend.  Here's what a scrappy version of that would look like in EQ7.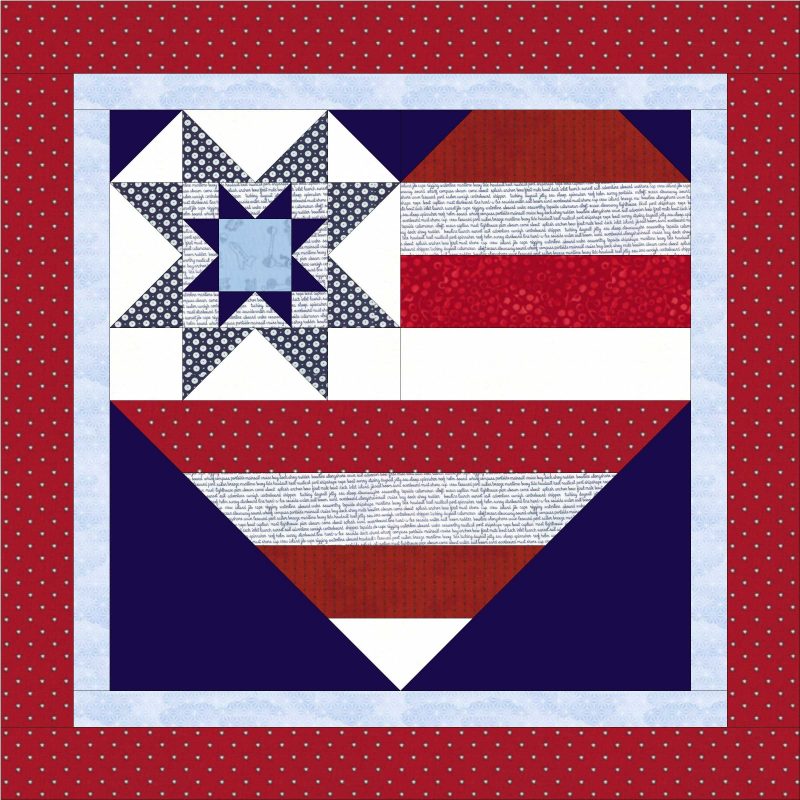 The pattern includes several layout options including a table runner and larger wall hanging made with four large blocks.
I'm heading back into my sewing room to dig through some scraps and work on my next Star Spangled Heart quilt.  I think this one might become a pillow because my blue and white chair could use one!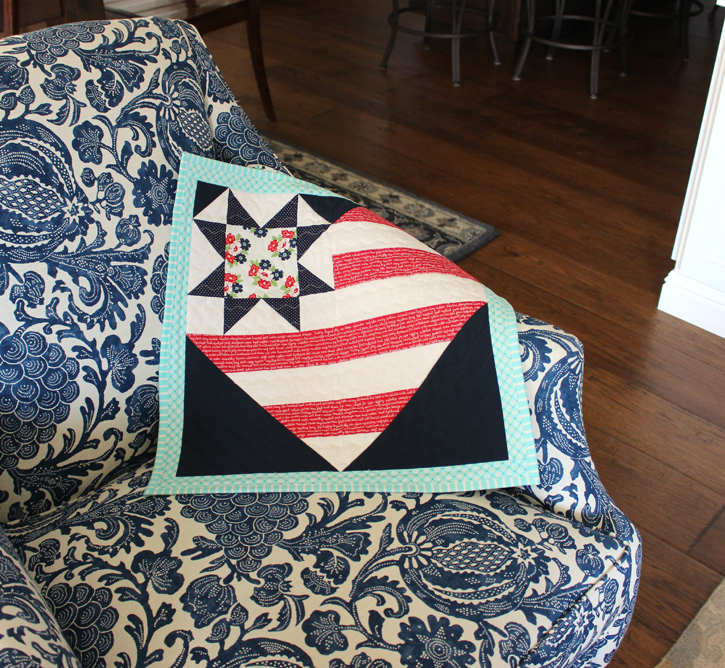 How's your summer sewing going?  Some people have more time to sew in the summer and others are too busy with kids at home or on vacation to fit in much time with the sewing machine.  If you end up making my Star Spangled Heart quilt, I would love to see it.  You can also use the hashtag #starspangledheart on Instagram and share it there, too.  It's always such a compliment when someone makes a project from one of my patterns or tutorials!
Thanks for stopping by and enjoy the rest of your weekend!
Save
Save