Easy scrap fabric storage bins
Is it just me or do your fabric scraps multiply like rabbits, too?  I keep adding to my scrap pile and it keeps turning into a disorganized mountain.  I finally came up with a solution:  easy scrap fabric storage bins.
I made these storage bins last week, and they make me so happy every time I look at them!  After returning from my trip to Tennessee, my sewing room was a disaster.  I should be embarrassed to show you these photos, but sometimes I like to keep it real.  This is what it looked like before: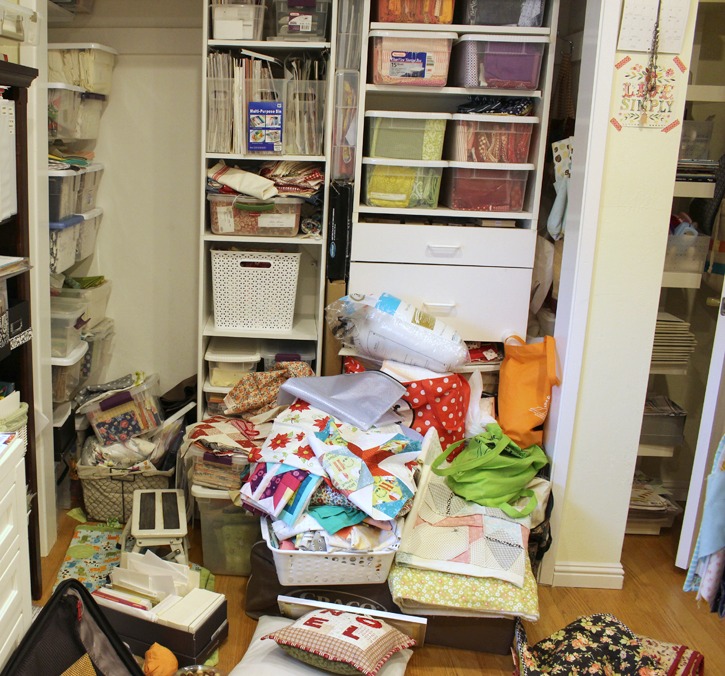 and after: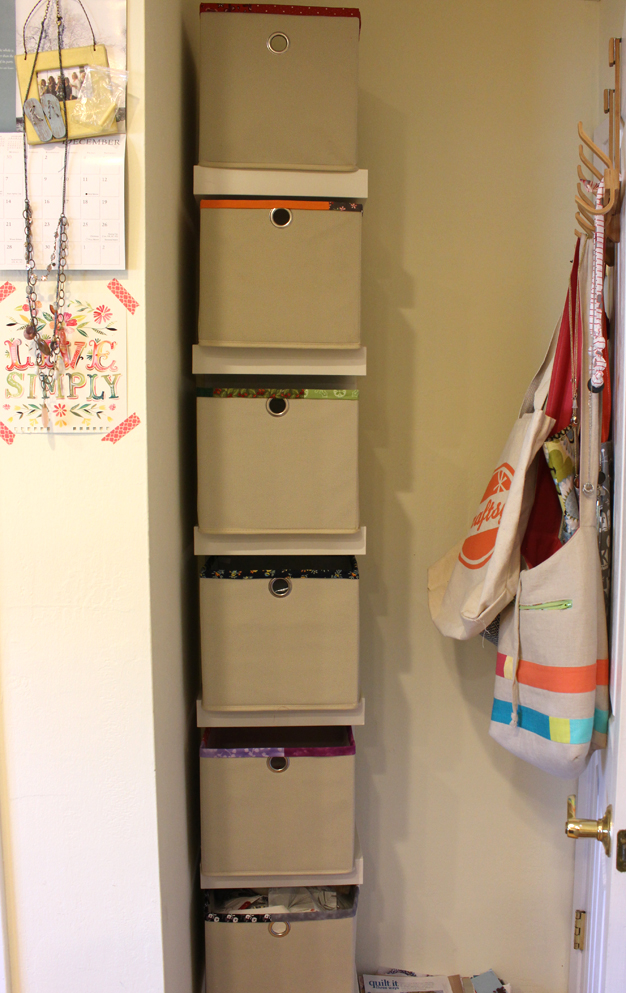 There's still too much stuff for one room, but I'm taking baby steps.  Let me get back to my fabric scrap solution.  I found these collapsible storage bins at Target and they were only $4 each on sale (I bought seven of them.)
They were a little too big (tall) for my shelf space, so I had to modify them by cutting down the cardboard inserts.  I also wanted them to be color coded, so I used my fabric scraps to make something similar to a binding strip to go around the top of each bin.
Since I needed to remove the top strip that went around each bin anyways (to make it shorter), it was an easy solution to get color and function at the same time.  Let me show you how I did it.
Other supplies you'll need:
First, remove the top strip (similar to a binding) using a seam ripper.
Second, cut 2 1/2″ wide strips of scrap fabric in your desired color.  You'll need 46″ total length.  Press the strip in half, wrong sides together, along the long edge.  Unfold and bring each long edge to the center-crease and press.  Fold in half along the original crease and press again.
Third,  assemble the bin and wrap the binding strip along the top edge of the storage bin and secure with the Wonder Clips.
Remove the Wonder Clips on one side.  Starting on the outside edge, apply the fabric glue underneath the binding strip on that side.  Replace the clips.  Rotate the bin and continue on to the next side.  Bonus:  no need to miter the corners!
Repeat until you get to the end.  Overlap the beginning and ending binding strips and glue in place.  You'll do the same thing on the inside edge of the binding strip.  Allow to dry for several hours or overnight.
Remove the Wonder Clips and you're done!  Well, almost.  You still have sort through all of your scraps.  I sorted AND ironed all of mine!  Here's how I grouped them by color:
white/black/low volume
red
yellow/orange/brown/tan
green
blue/turquoise
purple/pink
holiday/floral/novelty
I was surprised to find that the white, black and low volume bin was the fullest followed by the holiday and novelty bin.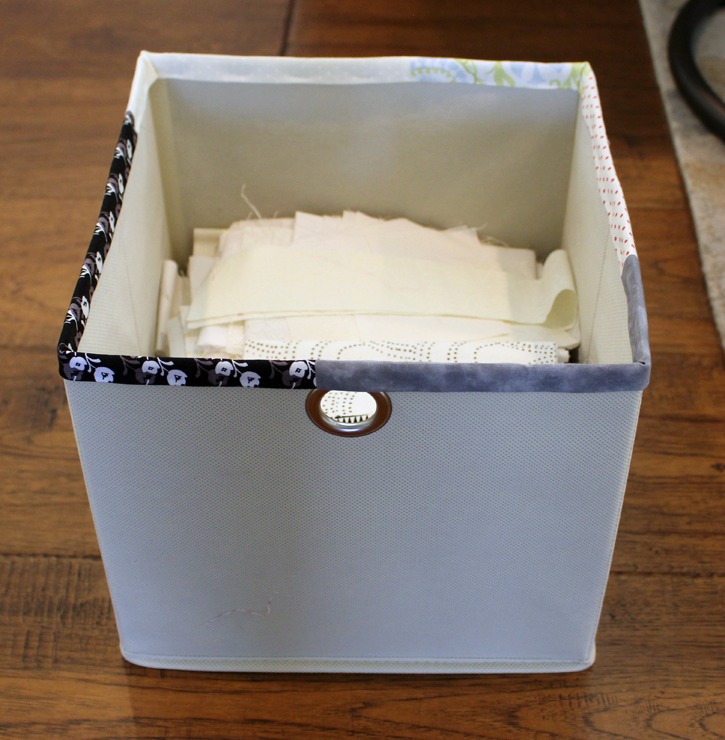 Because I have a small sewing room, I use every inch of space I can.  I have an awkward area behind my sewing room door that I've used to put an IKEA shelf up.  This is where my new scrap fabric storage bins live.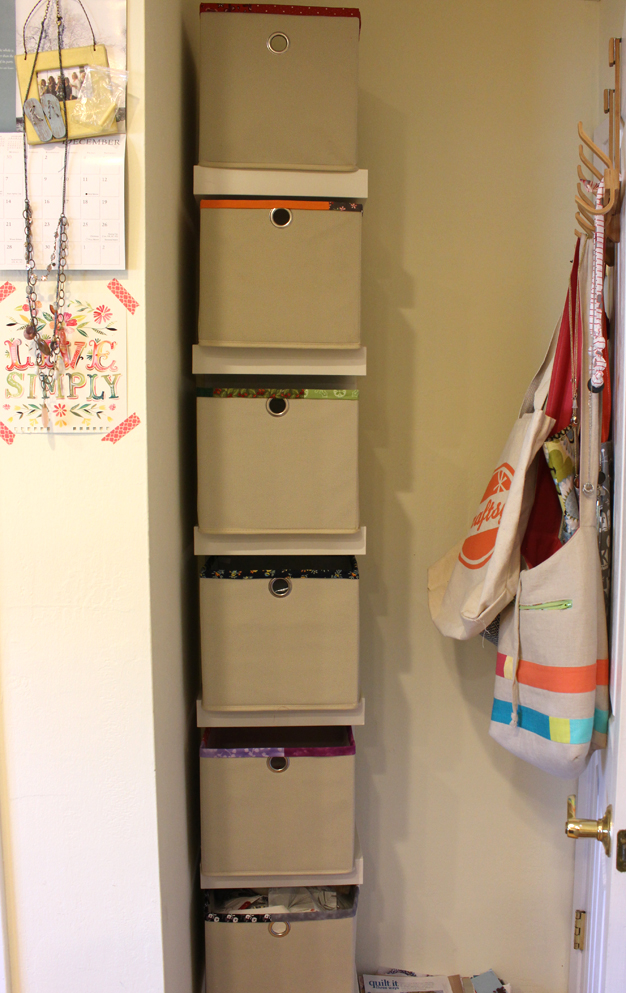 It's functional and I'm maximizing space.  I would love to be able to place my bins along a wall.  They're so much prettier there!
I now have a basket that I keep near my cutting table to put scraps in.  When it gets full, I'll sort the scraps and put them into my scrap fabric storage bins.  I'm debating on whether I want to cut my scraps into usable sizes such as 2 1/2″ squares, 5″ squares, skinny strips, etc.  Do you have any suggestions or ideas for your scraps?
My next task is to go through all of my rulers and scrapbooking supplies.  Maybe I'll free up some more space for fabric.  Ha ha!  Truly, I need to live a long life to use up what I already have.  I was able to donate a box of fabric and some quilt tops to Quilts for Kids.  It felt really good to give my unwanted stash a new home.
Have a great, organized day!
Save
Save