Reflections on 2017 and Plans for 2018
The turning of the calendar year.  Reflections and plans.  Admittedly, I'm not the best at assessing my past year and then setting goals for the upcoming year.  I think it's a great thing to do, but I tend to approach life with a "fly by the seat of my pants" mentality.  I'm a very "in the moment" person and I'm easily distracted.  I often start things and don't finish them, but I don't dwell or worry about what's in the past.  I'm always looking forward, never backward.  All of this is to say, I'm not very good at following plans and time management.  But I find joy in the process and my expectations are usually high.
I'm so glad there are other bloggers out there who inspire and motivate me to become a better blogger (and a better "creative").  Cheryl at Meadow Mist Designs is hosting a Best of 2017 Linky party and I'm joining her for that right here.  And Yvonne at Quilting JetGirl is hosting a 2018 Planning Party – yes, I'm up for that one, too.  There's no time like the present, and time is such a gift!
Let's start with my best blog posts of 2017.  I'm going to highlight my top five from this year based on the number of page views – starting with number 5.
5.  I Love Home Block 4, plus tips for finishing a quilt fast.  I had so much fun participating in Jacquelynne Steve's BOM this year, and so did many others!
4.  Easy Scrap Fabric Storage Bins.  I shared how to convert a collapsible storage bin into color-coded fabric storage, and I finally organized my scraps!
3.  I Love Home BOM, Month 1.  This was the first blog post in Jacquelynne Steve's popular block of the month program.  I really enjoyed turning each block into a seasonal mini quilt.
2.  Roundup of Turned Edge Applique Techniques.   This blog post was in response to many comments I received on your favorite applique techniques.  I did some research and consolidated some great tutorials and references for you.
 Quilted Heart Tutorial.  My most popular post this year and one of my favorites, too.  How can you resist these cute, vintage hearts?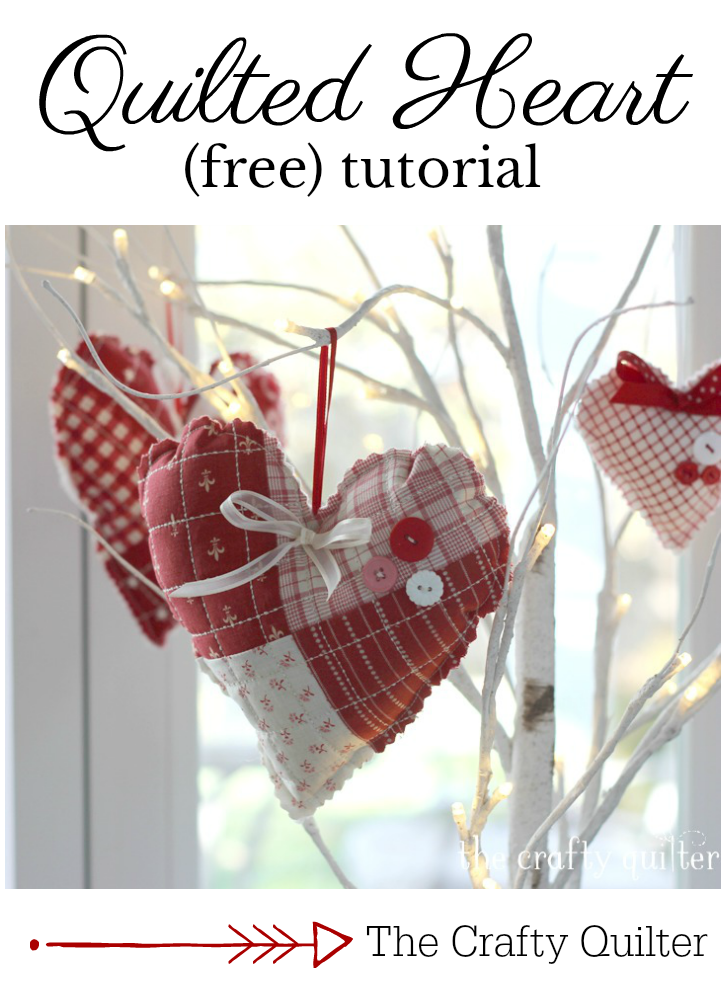 It was a good year all in all.  I gave my first guild lecture and workshop this summer – check!  I released two patterns for sale on Craftsy:  Star Spangled Heart and  Hexagon Advent Calendar and Pillow. Check, check!
Thanks for all of your support and encouragement in 2017.  I'm not good at keeping resolutions, but I think goals are a great way to start the year off on the right foot.  Perhaps I should schedule a mid-year check in?
Continue with Sew Thankful Sunday on a monthly basis.  I'm glad to know that most of you enjoy this monthly roundup of tutorials and ideas from other bloggers/designers.
Create more videos for The Quilt Show.  Yes!  I will be doing 12 videos for TQS this year and they will be about basic quilting tools and techniques.   If you didn't know, I already have a classroom on their website (here) with a variety of short quilting videos.  The new videos probably won't begin to be released until March of 2018.
Co-teach a new block of the month, The Vintage Sampler, at my local quilt shop (The Granary).  I took this year off of our BOM, but I'm excited to start up again in 2018 with this beautiful quilt designed by Barbara Eikmeier.  
Participate in Jacquelynne Steve's next BOM for 2018.  I've gotten a sneak peak at this next year's design, and I am SO excited for it!  You guys will love it, too.
Participate in the Stellar Stars BOM at Purple Daisies.  I couldn't resist this beautiful quilt and I hope I can keep up with it.  (I'm already giving myself an out.) 
Host at least one quilt along.  I have so many charm packs, and I want to do a quilt along that involves the disappearing 9-patch block and charm squares.  This will most likely happen in late spring.
Keep working on those UFO's.  They're like rabbits!  Every time I turn around there are new ones waiting to be finished.
Make a busy book (or quiet book) for my granddaughter.  This is something I really want to do.  I'm thinking of posting my progress and perhaps tutorials along the way.  Anyone interested?
Start my Christmas sewing in September.  I really fell behind this year, so I'm going to plan ahead and work on some projects sooner rather than later.
Spend less time on the computer and more time in my sewing room.  I'm going to buy a timer to limit the amount of time I spend getting lost on the internet.  And I want to set myself up in the sewing room so there is always something ready to pick up and sew.  I found this article, Time Management for Quilters, by Sherri at A Quilting Life very motivating.
Submit at least one pattern to a magazine.  Just do it, is all I have to say!
Keep producing new tutorials for all you wonderful followers.  I like the ease of free tutorials in that I don't stress about the professional quality as much.  They tend to be smaller projects as well.  And at the same time….
Create new patterns to sell.  I'm enjoying the ability to make my own designs and sell them online.  Plus the extra bit of money helps keep my blogging costs down.  I'd like to set up a Payhip store and become more proficient at graphic design software.  Which leads me to…..
Learn new publishing and graphic design programs.  This is something I'm always struggling with.  There's so much trial and error with learning new software.  If anyone has suggestions, please let me know.
I did it.  That sums up my reflections on 2017 and plans for 2018.  Whew!  By the way, I love my Quilter's Planner.  It is a creative way to keep me organized in my sewing room and in my household.  This year's planner is even better than before with colorful stickers, an awesome reference section, project planning pages, and 12 monthly block patterns that can be used to make a sampler quilt.  You can purchase your own Quilter's Planner here (affiliate link).
I'm linking up with Cheryl's Best of 2017 Linky party.
And I'm linking up with Yvonne's 2018 Planning Party.
Happy New Year to everyone!